Fifty years after opening its first pizza shop in Brooklyn, fast-food restaurant chain Sbarro currently has over 1,000 shops across 40 countries. Sbarro opened its first Japanese outlet in Kichijoji in early March 2010, followed by Shibuya on March 21, 2010. Spanning the two floors and seating 77 people, the shop is located at the East Exit of Shibuya station in what Chairman, President and CEO of Sbarro Inc. (NY), Peter Beaudrault (a big Japan fan who brought The Hard Rock Café to Roppongi in the 80s) describes as the 'Times Square of Japan'. The decision to erect a huge Sbarro billboard on the roof of the building came about after a Beaudrault remarked, 'This is the Times Square of Japan – we've got to have a billboard.' Right in the eye-line of JR Shibuya station's platform, the billboard is sure to draw a crowd.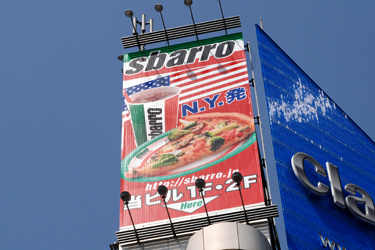 The offerings at Shibuya Sbarro are sure to thoroughly satisfy. The 'Sbarro Combo' at ¥1,280 includes the pizza slice of your choice, pasta, salad, garlic bread and a drink. There are plenty of pizzas to choose from, including a simple tomato and mozzarella cheese pizza, the 'Supreme' with toppings including Italian sausage and green peppers, and the 'Tuna Mayo Corn' topped with a generous serving of tuna and corn. Also on the menu is a special folded style pizza known as the 'Stuffed Pizza', a fluffy thick-crust 'Sicilian Pizza' and Sbarro's own roll-style pizza the 'Stromboli'.

Pasta dishes are also available in addition to pizza and are cooked freshly after being ordered. Customers can choose from two types of pasta, six types of sauce and ten types of toppings. We recommend the 'Tarako Pasta' (cod roe pasta) – a Japan-only item. Also worth a try is the pasta topped with basil sauce and fresh tomatoes. All items on the menu are available for take-out making it a perfect choice for those entertaining at home.