In association with Mori Building
In Japan, feasting on energy-boosting grub is the customary way to end a night on the town. This summer, beat the heat with cold brews at the World Highball & Beer Park at Toranomon Hills, then finish up the party with a plate of hearty noodles. We've picked out 10 visit-worthy noodle shops in the area for your slurping pleasure – all of which make for great lunch choices over the humid months, too.
Nanakura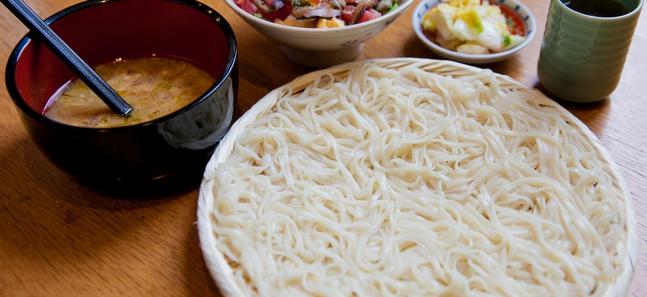 Found on the second floor of a retro building connected to Shinbashi Station and filled with restaurants, this renowned eatery specialises in Inaniwa udon, a local speciality from Akita Prefecture. The queues start forming here before lunchtime, with ravenous office workers lining up for an early bite of the thin, smooth noodles that are still just as chewy as standard udon. Dip the noodles in the homemade soup, a mixture combining duck paste and sesame with chemical-free fish broth, and slurp up the goodness while it's hot. On the side, you might want to consider one of the mini rice bowls topped with fresh fish. Nanakura often gets fully booked for dinner, so we recommend calling ahead.
Full details

Genroku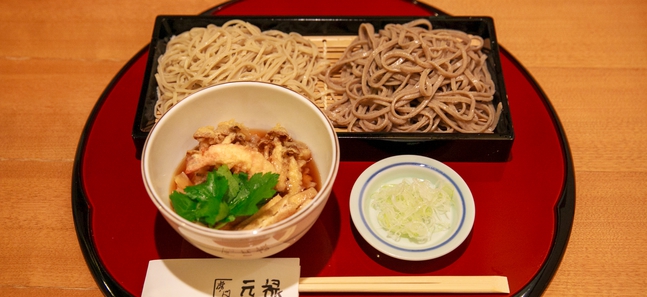 Sitting on a tranquil back street right underneath the Toranomon Hills skyscraper, this long-running soba spot oozes nostalgia. The noodles, carefully prepared by the gentle master, have a delicate flavour and combine nicely with the dipping broth. You'll want to try the set with two kinds of noodles served with a warm, savoury broth and accompanied by mushrooms, shrimp tempura and baked rice cakes. Available in summer, the cold noodle plate with tofu, fried eggplant and shrimp makes for a perfect escape from the sizzling summer heat.
Full details

Mikaku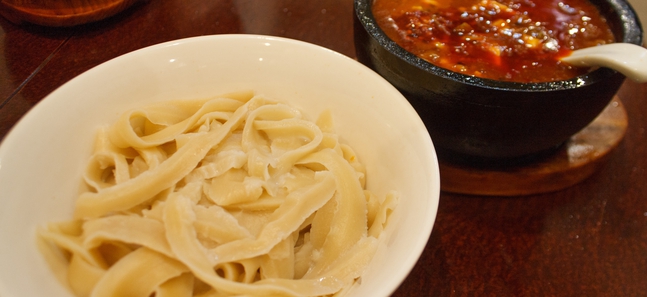 Found right by Toranomon Station, this Chinese eatery pulls in the crowds with its iconic knife-shaved noodles, served with stone pot mapo dofu. Seasoned with a cocktail of authentic Chinese spices, the fiery concoction goes nicely with the chewy dipping noodles, and can be customised for spiciness on a four-point scale. Out of 'mild', 'regular', 'hot' and 'burning', we went for the hot – two and a half times more powerful than the regular one, it certainly lived up to the billing. The 'burning' is probably rather diabolic, so make sure to get some practice before you try it.
Full details

Shiomaru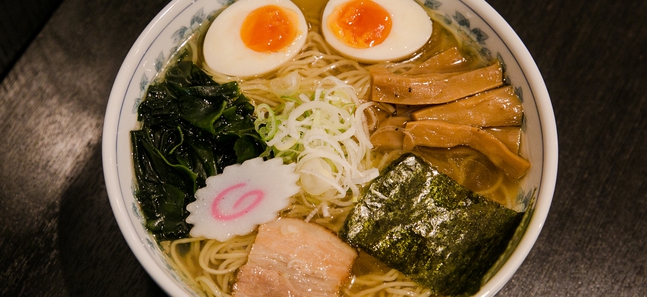 As you might be able to tell from the name, the signature dish at this Shinbashi noodle joint is shio (salt soup) ramen. Made with chicken and fish broth, the mixture has a light but addictive taste that makes it easy to finish your bowl and come back for more the next day. Customisation options are provided in the form of garlic and chilli powder, while a special cold noodle option is available in summer. We're also happy to report that upgrading to a larger-size portion is free.
Full details

Tomoecho Sunaba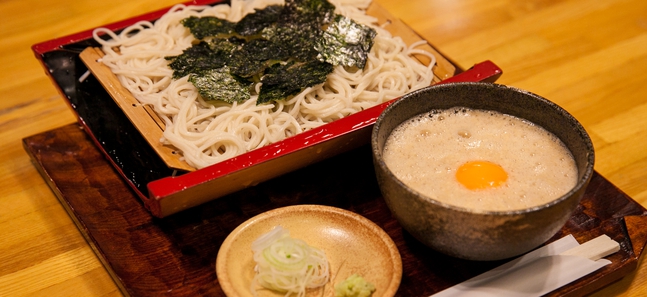 In business along Sakurada-dori near Kamiyacho since 1839, this venerable soba eatery actually boasts a history going back to the 17th century, taking its name from a quarry used during the construction of Osaka Castle. Run by the same family for five generations, Sunaba's speciality is a broth mixed with yam, first proposed by the restaurant's third-generation 'master'. Delivered directly from contracted farms, the yam adds stickiness to the dip and makes for a harmonious combo with the thin noodles. Definitely one to power you up on a hot summer day.
Full details

Anpuku Toranomon Hills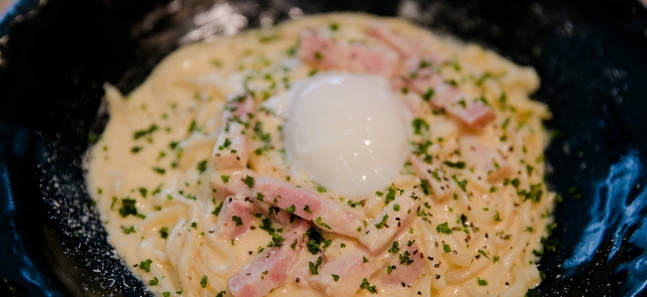 Specialising in distinctly creative udon, this Japanese restaurant on the fourth floor of the Toranomon Hills tower serves up a whopping 30 different kinds of noodles, inspired by everything from local flavours to Chinese and Italian cooking. Don't miss the signature Carbonara Udon (¥1,112), a chewy and creamy affair sure to satisfy hungry bellies. At night, order nibbles off the appetiser menu and combine your picks with a cup of sake.
Full details

Matoi Shinbashi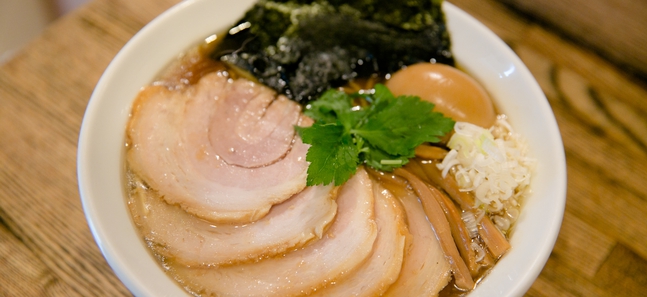 Craving ramen with rich soup? Matoi is the spot to satisfy your palate in Shinbashi – if you can find it. Hidden off one of the many less than inviting back streets in the area, the shop is accessed via a little path sneaking between dilapidated buildings and parking lots. The shoyu-flavoured double soup consists of chicken and niboshi (dried sardine) broth, while the dried squid topping adds to the dominating experience. Despite the unfortunate location and small space (10 counter seats), the restaurant is clean and packed with patrons from nearby offices around lunchtime.
Full details

Yokaro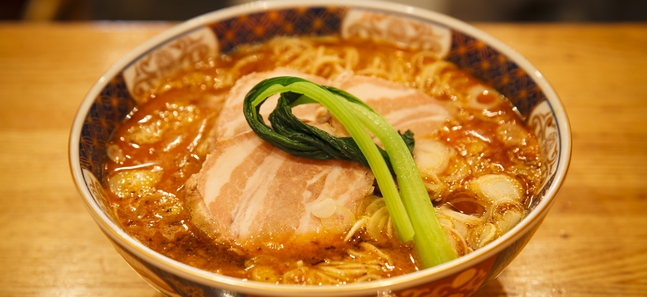 Found across from Toranomon Hills, this clean and spacious ramen joint specialises in tantanmen, a Szechuan-born noodle dish covered with a sauce made from sesame paste and chilli oil. Try the version with sliced pork on top – the most popular option here – and enjoy the spicy and aromatic homemade seasoning that really helps boost your appetite. Noodles here are thin and straight, making them easily slurpable even when cold, and sides of rice are free.
Full details

Nagasaki Hanten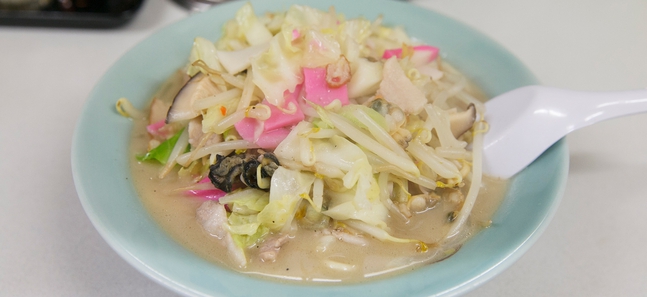 Just a five-minute walk from Toranomon Station, Nagasaki Hanten might be a little hard to spot compared to the sky-high Toranomon Hills complex right in front of you, but this Chinese-style restaurant always gets packed around lunchtime. The signature dishes here are champon (¥900) and dish noodles (¥900), both made with speciality noodles sourced from – you guessed it – Nagasaki. Acclaimed for its authentic taste, the champon is topped with cabbage, bean sprouts, split peas, shiitake mushrooms, oysters, squid, clam, pork and kamaboko (pasted fish), and served in a lightly flavoured soup with hints of grilled veg and seafood. Pay an extra ¥100 for a large size of either noodles or toppings, or go for the completely noodle-free champon soup instead.
Full details

Minatoya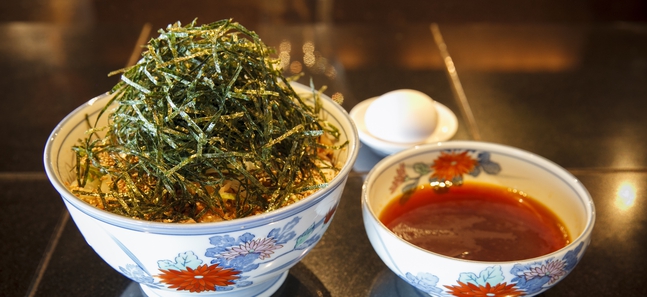 This slickly decorated stand-up soba joint is always packed with diners, and you can expect a wait if you're going at lunchtime. With good reason, too: the portions here are enough to satisfy even the heartiest eaters, while the flavours will tantalise more curious palates. The warm chicken soba is a popular option, though during the summer you'll want to opt for the cold niku (meat) soba, topped with nori, spring onions and sesame seeds and given added punch by a generous dousing of rayu chili oil. Once you've polished off the noodles, grab an egg from the bowl on the counter and crack it into the broth to produce a mellower taste that'll keep you slurping until the last drop.
Full details

For more info on the World Highball & Beer Park held at Toranomon Hills Café, click here.
By Time Out Tokyo Editors