Over the last few months we've been very busy eating our way through all the new openings in Tokyo, just so that we could round up our favourite spots for you. Finally, we're ready to share them. In our latest magazine issue, which you can pick up here or order online, we present the 'Best of Tokyo 2015' – a special section packed with all the latest hotspots and heroes, including the restaurants that made us sit up and take notice over the last year. For the cherry on top, we invited guest food critics Guy Dimond (Time Out group food & drink editor) and Susan Low (Time Out London reviewer) to fly over from the UK and review the restaurants featured below. Whether you're into Japanese or international cuisine, are ready to splurge on nine courses or just need a quick fix after a long night out in Roppongi, there's bound to be something on this list that tickles your palate's fancy.
Rarest sushi...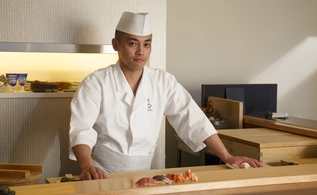 SUSHI RINDA
Jiro may dream of sushi, but the rest of us dream of being able to get into a high-end sushi bar without the fuss of a weeks-ahead reservation, and not pay an emperor's ransom for it. Sushi Rinda is one such sushi-ya, with the bonus of an engaging itamae (chef) who converses in English; Yuta Kono worked in New York for a few years. Just order the chef's selection (omakase) and settle in for the rapidfire selection of nibbles. Besides the familiar tuna cuts and salmon roe, you'll find seafood you rarely see outside Japan. Sushi Rinda full review and map

Funkiest chicken...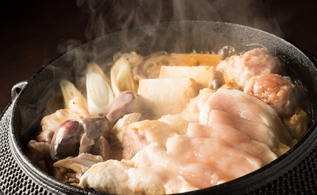 TORIRYORI SOREGASHI
A steep flight of stairs leads up from an undistinguished row of shops to this hidden flight of fancy. Soregashi ('someone') is dedicated to chicken, but is unlike any other roast chicken, yakitori or fast food chicken shop you'll find. Instead you discover a sophisticated sake bar with a long bar counter and a cool jazz soundtrack. The large sake bottles on the countertop are labelled with an x-y axis, graphically depicting the sake's style: light or heavy, cold or hot. Pick your preference, then choose one of the three set meal options. Toriryori Soregashi full review and map

Beefiest upmarket barbecue...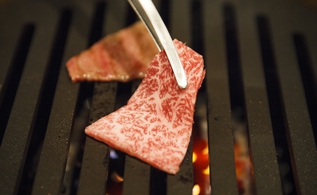 YAKINIKU STEAK ATSUSHI
In Japan, eating beef was taboo until the emperor lifted the ban on meat consumption in 1871. These days, Japanese Yamagata beef, considered by steak-fanciers the non plus ultra for its rich marbling of fat, is justifiably famed. Yakiniku (grilled meat) restaurants such as this are temples to the appreciation of beef, and Atsushi does Japanese beef proud. The interior is sleek, dark and small, like dining inside a black lacquer bento box. Gas barbecue grills are set into the glossy black marble tables, Korean style. Yakiniku Steak Atsushi full review and map

Most trendsetting cuisine...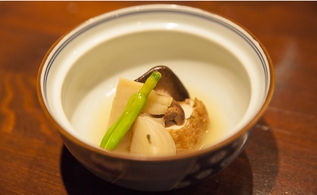 SHIOJIRI JOZOJO
Chef Nobuaki Fushiki brings a special spin to what still looks like an ordinary neighbourhood wine bar; the room looks comfortable, not at all designed, the culinary equivalent of an old pair of slippers. The menu begins with simple options (lunchtime bento boxes start at ¥700) but the bill can ramp up quickly if you order more unusual items such as horsemeat sashimi. Highlights of the self-styled hakko-ryori ('fermentation cuisine') on our visit included the chef's version of a dish of cuttlefish shiokara, marinated in hishio and amazake, rather than, as is traditional, in its own guts... Shiojiri Jozojo full review and map
Most creative nine-course Italian...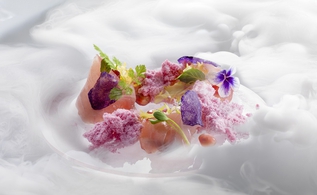 HEINZ BECK
A European joke in several languages goes: 'In heaven, cooks are French, the lovers Italian; in hell, the bosses are Italian, the cops German.' It's a good thing, then, that German-born Heinz Beck chose chef as his first profession, then moved on to being an acclaimed restaurateur in Italy before opening this Marunouchi branch in November 2014. The uppermost floor has elevated views of the Imperial Palace canal with high-rise prices to match; the nine-course tasting menu is delivered with Swiss precision and German efficiency. Make sure you have at least two hours spare to appreciate eye-candy such as freeze-dried purple potato with a 'snow' of pomegranate, or a tennis ball of frozen red berry juice. Heinz Beck full review and map

Richest ingredient combo...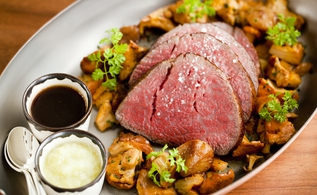 ANDAZ TAVERN
The flagship restaurant of the Andaz Tokyo hotel has everything you'd expect of an international luxury brand. It's dressed to impress, has tinkling live piano music, aerial views across Tokyo, and an international menu of luxury ingredients with prices to match. On our visit, both fish and meat cookery were impeccable, for example in a perfectly rare beef sirloin that was crusted with pepper and served with a red and golden beetroot. The jury's still out on the caramelised avocado set in a tumbler of bitter chocolate mousse. But for a special occasion where money's no object, Andaz might fit the bill. Andaz Tavern full review and map

Gutsiest chicken...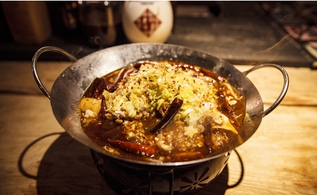 KURONEKOYORU GINZA
Forget what you think you know about Chinese food before crossing the portals of Night of the Black Cat (as the name translates). Glitzy Ginza is not where you'd expect to find gutsy, spicy Chinese food in an atmosphere reminiscent of a Sichuan village. Don't come here looking for sweet and sour pork either – you're more likely to find dishes such as mountain goat stew or duck brains on the lengthy menu, which also includes seasonal dishes aplenty and Japanese-inspired starters such as scallop and sea urchin sashimi. Kuronekoyoru Ginza full review and map

Best 'East and West' brunch...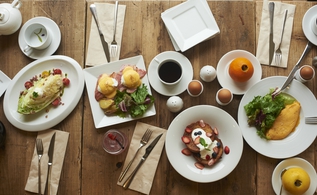 EGGCELLENT
At weekends you'll find a queue outside this brunch place in a Roppongi Hills shopping mall. As the name suggests, eggs are cooked every which way: omelettes, poached, pancakes. The Half & Half Benedict is half English muffin with bacon and poached egg topped with hollandaise sauce; the other, Japanese Benedict, is a rice cake with avocado, marinated tuna, poached egg and barley miso sauce with lotus root flakes. Many young women frequent the place, partly because it's affordable in a pricey mall. Another part of the attraction is the family-friendly atmosphere; baby chairs, children's books, colouring crayons and pads are all provided. The açai smoothie, made using the in-vogue Brazilian fruit, is well worth the ¥800 charged. Eggcellent full review and map

Fishiest ramen in the 'burbs...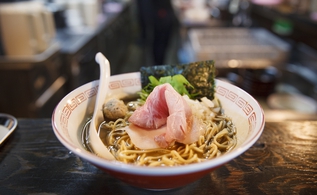 RAMEN KOIKE
This ramen bar used to specialise in tsukemen, the 'dry' noodle and soup combo. But since the autumn of 2014 they've innovated with a dish that mixes traditional paitan (slow-cooked chicken soup, in this case simmered for two days) with niboshi, small dried anchovies. Blue-on-white boxes of these niboshi teeter between the plate glass window and the diners, like a Hokusai wave ready to break. But it's the aroma of the fish that hits you first: pungent like a freshly opened tin of anchovies, yet the salty stock tastes mainly of umami savouriness. Ramen Koike full review and map

Gloopiest soupless ramen...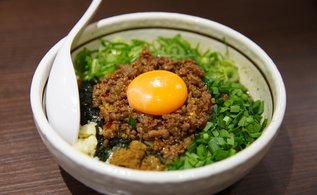 MENYA HANABI
The outside of this ramen-ya is decorated like a box of firecrackers, but the real fireworks take place in the kitchen. Make your selection at the ticket machine and take your place at the brightly-lit L-shaped counter for a bowl of maze-soba (soupless ramen, ¥780) topped with raw egg yolk, a spicy mince of pork and beef, spring onions, matchsticks of nori, powdered dried fish, and chopped raw garlic (set the latter ingredient aside unless you're dating a vampire later). Menya Hanabi full review and map

Hottest Thai-style chicken rice...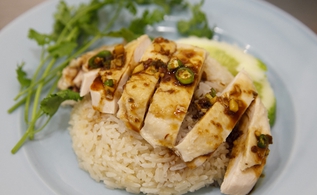 KAITHONG
Despite Kaithong's bubblegum-pink and stainless-steel brashness, there's something Henry Ford black about this Shibuya newcomer: you can have any dish you like, as long as it's Hainanese-style chicken rice (Khao Man Kai). There's much to be said for sticking to what you do best, and the chicken rice here is very good – good enough to queue for (and you'll probably have to). For ¥800 you get a plate of flavourful chicken poached until tender, perched atop a mound of aromatic Thai rice; plus a bowl of chicken broth, a soft drink, a fistful of fresh coriander and – the pièce de resistance – a little bowl of fiery, chilli-spiked dipping sauce that reveals its Thai ownership (and can be habit-forming). Kaithong full review and map

Crispiest all-night fish and chips...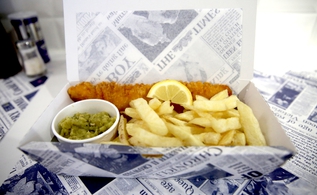 MALINS
Named after Mr Malin, said to have opened the first fish and chip shop in London back in 1860, this place is a little slice of Britain. The kiosk-like shop is decked out in white and blue, there's a framed picture of the Queen on the wall, and bottles of malt vinegar adorn the few small tables in the dining area (takeaway is available too). The only thing missing is the waft of eau-de-chip fat that usually accompanies a post-pub chip stop in Blighty, but Malins is all the better for that. The menu includes battered sausages and pies, but the solitary fish option of cod – sustainably sourced, from Japan – is the reason to visit (or to call up and order, since they recently started a delivery service). The taste and texture is just as it should be: a hot, crisp carapace encasing flaky, moist flesh. Chunky, perfectly fried chips meet the gold standard too. True Brit drinks such as Fentimans Cola or Brew Dog's Punk IPA round off the experience. Malins full review and map

Homeliest lunch...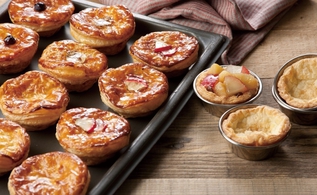 LITTLE PIE FACTORY
For Aussies, Brits and Americans, pies are one of the most nostalgia-inducing of comestibles. The saying 'As American as apple pie' gives a clue to the cultural importance of this sweet object of desire. The pies at this impossibly cute shop, which opened in November 2014, don't disappoint. The gorgeous aroma of buttery pastry grabs you as you walk through the door, and the pies – both sweet and savoury – are hot, flaky, hand-held pockets of bliss. Little Pie Factory full review and map

All reviews are featured in issue 5 of Time Out Tokyo magazine.