The rainy season is upon us, which makes staying in a much more attractive option than getting soaked up to your thighs. But what do you do about lunch or dinner then? Aside from bribing your better half to trudge their way to the store while you 'wash the dishes', you might pick up the phone to order in. However, in these modern times, trying to arrange a good old-fashioned delivery in Tokyo by phone can be a hassle – if you only speak English, that is. Fortunately, the internet is here to save you from your rumbling stomach. We hit the web streets, and here are some of the best food deliveries we've tried.
Delivery times are estimates, based on the time taken to reach us in Hiroo. Most of the venues featured are takeout/delivery only, with their English service available through www.maishoku.com.
Pizza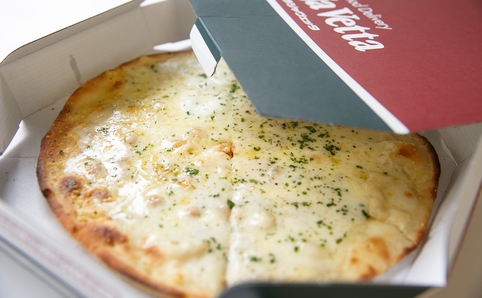 Rajavetta
Even though it has a South Asian-sounding name, this place serves up an eclectic menu of pizzas, pastas, curries and steaks. We tried their Quattro Formaggi pizza – because the true test of pizza quality is surely in the classics – and it was absolutely loaded with cheese and had a lovely thin crispy base. This is also one of the few delivery outlets where you can reach the minimum order amount with just a single, reasonably priced dish – big bonus points for that.
Minimum order ¥1,600, delivery time about one hour, delivery to most of central Tokyo. Order here
Curry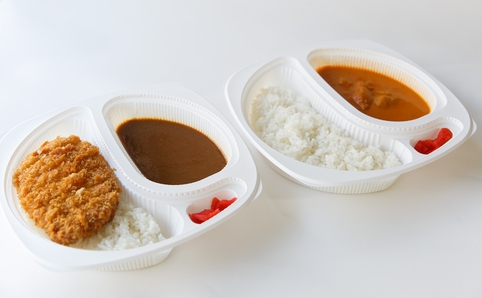 Curry Zen
This Roppongi takeout-only spot serves up feel-good Indian-Japanese curries – perfect for that rainy day. Our butter chicken was soft and creamy, while the pork curry (tonkatsu) was just the right balance of crispy batter and tender pork. Add some spice if you like it hot (although the 'hot' version we ordered was still quite mild).

Minimum order ¥2,000, delivery time about one hour, delivery to most of central Tokyo. Order here
Okonomiyaki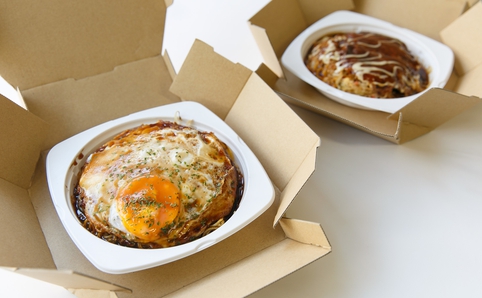 Okonomi-9
An all-round crowd pleaser in restaurants, this traditional comfort food is never quite as good when it's store bought. So we were surprised when we saw okonomiyaki could be delivered to your doorstep. No sizzling hotplates? No spatulas? How are they ever going to make this taste good and look appetising when delivered in a box? Luckily, we were proven wrong by Okonomi-9's Hiroshima-yaki and pork ball okonomiyaki. Both were a generous size, and hit the spot: creamy, covered in just the right amount of sauce, and the Hiroshima-yaki was even topped with an egg. The order confirmation email took a while to arrive, but once it did, our okonomiyaki was delivered within 15 minutes. Now that's fast food.
Minimum order ¥2,000, delivery time from 15 minutes to one hour, delivery to most of Roppongi, Azabu and Shibuya. Order here
Rotisserie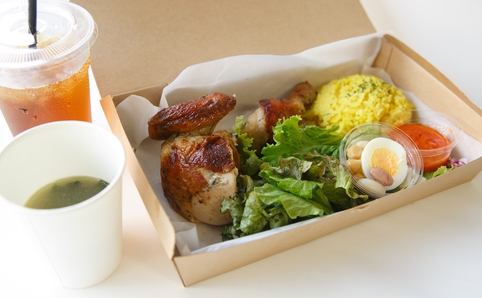 Rotisserie Chicken Alze
Finding perfectly crispy roast chicken in Tokyo can be a challenge, but Alze more than lives up to the name. Our lunchbox, which included chicken, salad, bread or rice, soup and a drink, was huge, and could've easily been shared by two. The star, of course, was the chicken: roasted but still tender, with a layer of slightly crispy skin – the quality rivalled most of the other takeout dishes we tried. Evening options include a quarter, half or whole roast chicken, all served with roast potatoes.
Minimum order ¥2,000, delivery time about one hour, delivery to Minato and parts of Chuo, Chiyoda, Shibuya, Shinagawa and Meguro. Order here

Chinese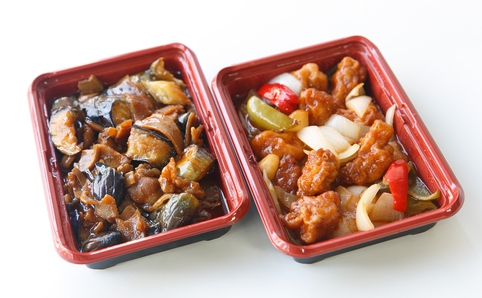 Hong Kong Roji
Chinese is an ever-favourite takeout option, and Hong Kong Roji takes it to the next level. The sweet and sour pork was succulent, with a good amount of vegetables too, while the eggplant and pork packed a flavourful punch with its black vinegar and chilli sauce. Don't forget to order rice if you're choosing from the la carte menu: only the lunch sets include rice.
Minimum order ¥2,000, delivery time about one hour, delivery from their restaurants in Shibuya and Harajuku. Order here

Burgers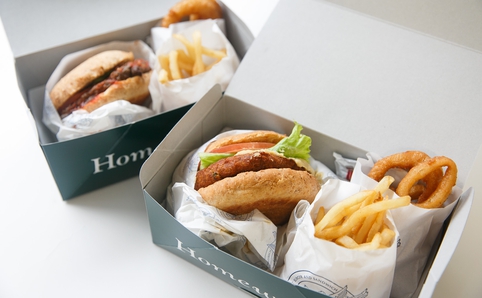 Homework's Burgers, Hiroo
This burger joint is just around the corner from our office, but we decided to test their delivery service anyway. They serve burgers that almost make you feel healthy: you can choose a wholewheat bun, the patty is 100% beef and not overly chunky, and the entire thing just feels and tastes less greasy than your average fast food. There are vegetarian options too – definitely try the falafel burger, which is smothered in hummus besides the usual condiments.
Minimum order ¥2,000, delivery time about 90 minutes, delivery to most locations within three kilometres of their restaurants (in Azabu Juban, Hiroo and Shinagawa). Order here

Southeast Asian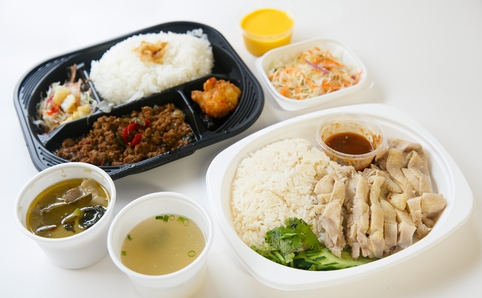 Oriental Deli
Although plenty of the dishes from this food delivery deli are Thai-style, the flavours and textures are more Laos meets Malaysia, with Indonesia's nasi goreng making an appearance on the menu as well. We tried their simple Khao Man Ghai (chicken rice) and the Special Lunchbox (changing menu) - ours included Gapao rice, which hit the spot but the ingredients were a bit coarser than your standard Thai fare. While the flavours were pretty straightforward (next time we'll try the green curry), we'd still rate this as good value as both came standard with a (Thai) soup and salad. The sweet mango puree dessert pleasantly rounded off our spicy mains.
Minimum order ¥2,000, delivery time about one hour, delivery in Shibuya, Shinjuku, Chiyoda, Minato and Shinagawa. Order here
Photos by Yasuhisa Shimbo