Although craft beer still occupies only a tiny slice of the local market, it sure looks like there's no stopping the microbrew revolution in Japan: the opening of new breweries and bars continues unabated while decidedly out-of-place players are doing their best to make a quick yen off the movement – industrial brewers have been rolling out new and 'crafty' products at an alarming pace this year. Serious boozehounds will do well to steer clear of these concoctions and instead seek out some of the Tokyo region's many fine brewpubs, where you can not only sip suds but chat with the brewers, learn more about the production process, and soak up the local atmosphere as well. Read on for our top ten picks of brewpubs in and around Tokyo, and make sure to also check out our guide to Tokyo's best craft beer bars.
Campion Ale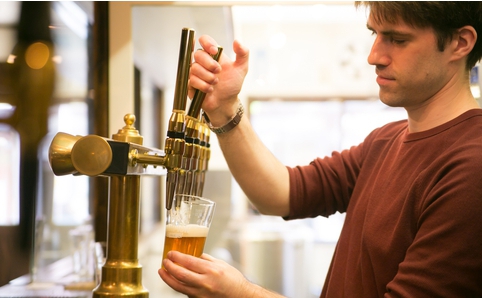 A comfy tavern that should stir the heart of every lover of English beer, Campion stocks up to five varieties of ale every day, with UK-sized pints going for a still-acceptable ¥1,000 (this is Tokyo, after all). We recommend the Bitter, a straightforward, malty brew with a beautiful golden shade, while your second choice should be the excellent Porter. Unlike at so many of the city's faux-British pubs, the food menu includes some very decent shepherd's pie and beef stew.
TY Harbor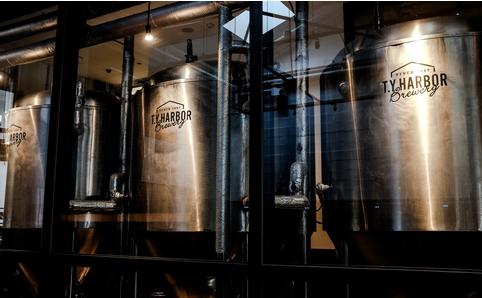 Tennozu's pioneering TY Harbor produces a range of Californian-style ales and porters, and the attached restaurant serves up straightforward, very decent diner fare. The canalside location is one of the few places where you can sit outside and drink on the waterfront. The facility underwent a significant facelift in March 2015, adding a bunch of seats in the upstairs area and spicing up the food menu: in addition to the familiar chilli dogs and NY-style salads, you can now snack on wagyu burgers, gourmet fried chicken and 'Cowboy Steaks'.
Lambic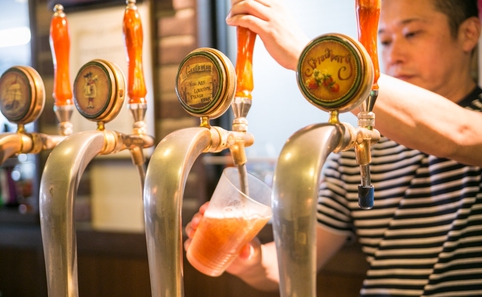 Atsugi Beer Brewery has been producing top quality Belgian-style beer since 1997, so they've had plenty of time to perfect their craft. Next door is brewpub Lambic, where you can sample all varieties of Atsugi Beer at the amazingly reasonable price of around ¥600 for a pint – which makes up for the fact that the venue is a little out of the way; about 50 minutes from Shinjuku. The selection includes both light and rich ales, with one of our favourites being Framboise Lambic, a beer originally from Belgium that balances sweet and sour flavours and has a hint of raspberry aroma. If you're hungry, choose from dishes such as pork ribs in ponzu sauce and stone-baked bibimbap.
Yokohama Beer Stand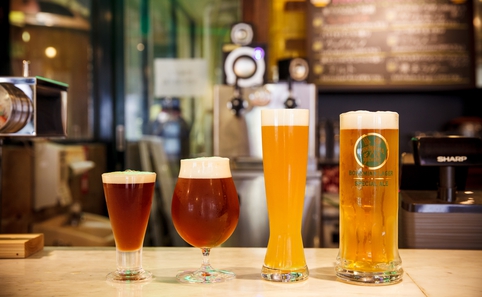 Look for a small bar counter tucked away inside the restaurant Sul Ponte Umaya no Syokutaku and take a seat to taste freshly brewed Yokohama Beer. The copper cooker and storage tanks you see in the back are made in the Czech Republic, and there are five regular beer varieties, including the Pilsner, which took first place at the Japan Brewers Cup, and the Weizen, which won a gold medal at the International Beer Competition. If you're lucky enough to visit during the preparation stages, you'll be pleasantly enveloped in the aroma of mellow malts wafting through the restaurant.
Beer++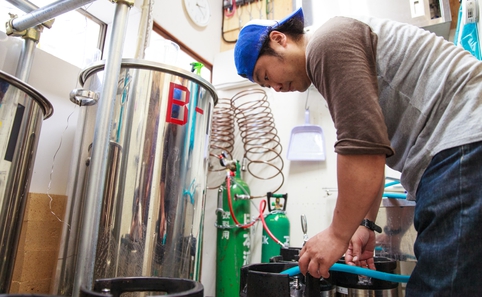 Operated by the Jujo Suiken Brewery, Beer++ charms with its log house-inspired interior and two-storey layout: the ground floor houses the brewery and a bar counter while the upstairs area is where to sit down with your suds. In addition to the three signature beers – Pale Ale, Citra Ale and Amber Ale – they offer seasonal, mainly fruit-flavoured specials and excellent salads, made with organic veg grown on the roof of the pub (!). Stop by Beer++ next time you're up in Jujo – you won't be disappointed.
Miyata Beer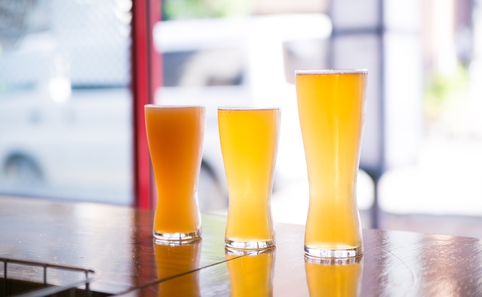 Miyata may be a tiny bare-bones joint on a residential street not far from the Skytree, but it has managed to assemble quite a following since kicking things off in spring 2014. The modus operandi here is very clear: focus on the beer and let the rest sort itself out. Two or three brews on tap is common, with the impeccably crafted Golden and Pale ales especially worth checking out. Remember to fill up before making the hike – the busy and dedicated brewer has no time or space to cook.
Spring Valley Brewery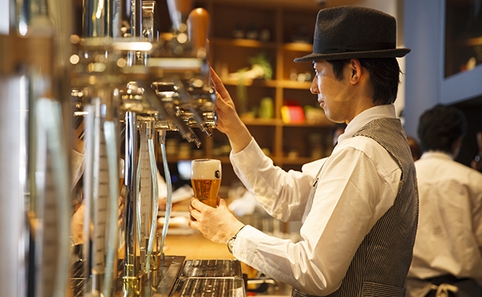 Ok, we were a little hesitant to include this one, but here goes: beer behemoth Kirin's craft venture is part of Daikanyama's much-hyped Log Road complex and offers a six-variety lineup, including the crisp, bitter 496, the rich, fragrant After Dark and the raspberry juice-infused Jazzberry. We recommend trying out the Beer Flight option (¥1,000), which lets you sample the entire lineup in 120ml taster portions. Note: you may feel the need to wash off any lingering corporate smell afterwards.
Asagaya Beer Workshop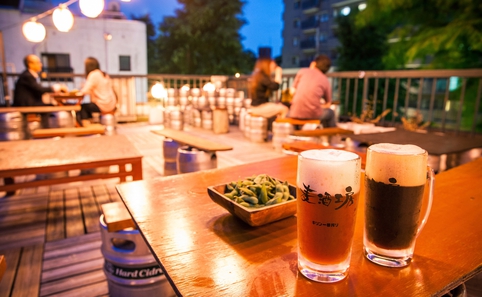 The Beer Kobo or Workshop 'chain' operates five brewpubs along the Chuo line, serving up the same fine suds across the board. This Asagaya branch is a little more spacious than the others, occupying an entire two-storey building on the north side of the station, complete with a no-frills but atmospheric rooftop terrace. Their Blonde Ale is the most popular choice, but we have to recommend the flavourful IPA with its tempting grapefruit aroma. ¥500 and change for a tankard feels like a bargain here.
Hikawa no Mori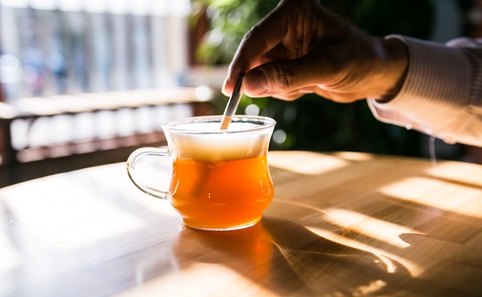 Saitama's first brewpub swung its doors open in spring 2014 and has managed to attract a loyal following with a selection of around 10 beers, some of them even coming in two versions (extra malty or extra hoppy). The appropriately flowery Hana and the powerfully bitter Shuu are the stars here, while the German sausages and other pub grub offerings are doing a roaring trade. The owner wants to start growing local hops in the near future, so this one might yet have plenty of room for growth.
Fussa no Birugoya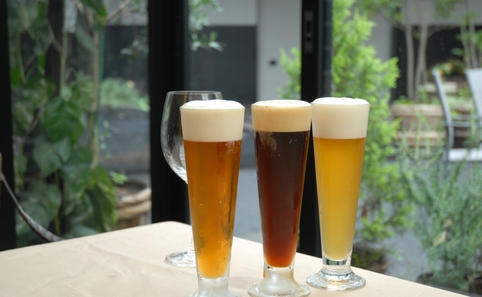 The illustrious Ishikawa family has been churning out delicious Tama Jiman ('Pride of Tama') nihonshu by the Tama River in Fussa since 1881, but moved into beer brewing as recently as 1998. Their Tama no Megumi brews can all be sampled at this rustic pub and restaurant that's located on the brewery grounds and features a comfy garden terrace and Italian-inspired bar grub. Don't miss the extra-sparkly Bottle-Conditioned Ale, a bitter but finely balanced rarity.