Tokyo has achieved world-wide fame due to its animal cafés. The original craze started with cat cafés, but has slowly expanded to accommodate a wide range of animal lovers. High time for a list, we thought. Of course, we had some ethical concerns as well, so we sought out those cafés that seemed as animal-friendly as possible, with few to no cages and enough space to wander. Whether the animals seemed stressed or not, and was well-cared for was a factor as well. Bonus points for those who give the animals 'off time', in which you're not allowed to pet them or be near them. With this in mind, we've compiled our top spots around the capital, ranging from the ubiquitous cats down to snakes and owls.
Note: venues either have a cover charge or require one drink order.
Cats
Temari no Ouchi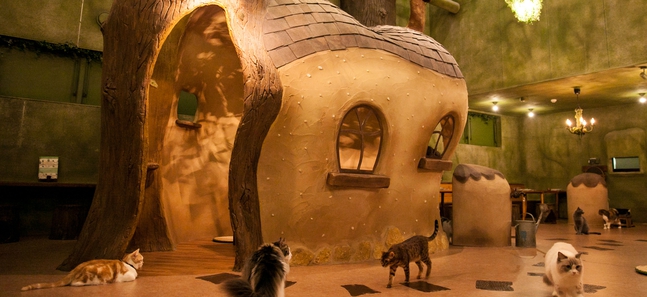 Even just arriving at Temari no Ouchi, it's clear that this isn't your average cat café. The doors are shaped in a fairytale-esque arch, and as soon as you step inside you're transported into a cat-filled world. There's plenty of space for the cats to run around or nap, and they can always retreat to the back of the room, where there's a (cage-less) staff section. The menu features a variety of drinks (everything from coffee to cocktails) and food – the snacks and cakes are quite popular.
Cover charge: ¥1,200 weekdays, ¥1,600 weekends, ¥700 after 7pm
Full details
MoCHA (Shibuya)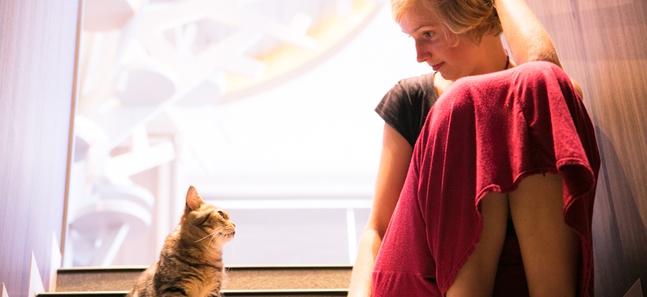 Lovers of small, cute cats, beware: you might not want to leave this place. We wandered around for over an hour and still didn't want to leave the little ones. Opened in July 2015, MoCHA's Shibuya outlet houses a wide variety of cats, most of whom are still quite young. The entire decor seems as if it was designed with nothing but the cats' well-being in mind, with lots of perches, hideouts and even small alcoves through which they can run to the staffroom if the attention just gets a bit too much. We went there on an early Thursday afternoon, and although there were a reasonable amount of people, the two floors and ample seating space meant it was never cramped. With the ¥200 per 10 minutes price tag, the flow of people also changes – office workers popping by for half an hour during their lunch break and locals who just want to while away the afternoon. Nab a seat in one of the hanging chairs or on one of the couches downstairs for some of the best petting action.
Cover charge: ¥200/10min
Full details
Rabbits
Ms Bunny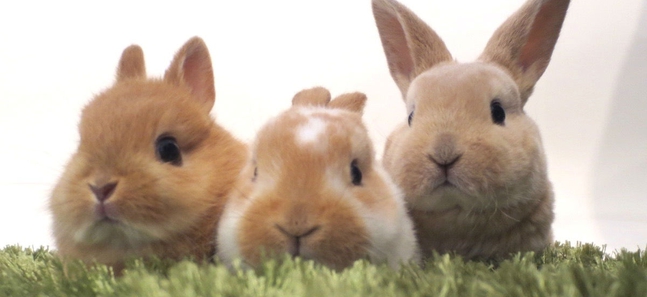 Unlike some animal cafés, where the focus is more on the café aspect than the animals, Ms Bunny really puts the spotlight on the rabbits. The tiny café houses about 12 bunnies, along with a handful of hedgehogs. Although the bunnies are in cages, they all have 'off' times to ensure they don't get too stressed out, and you're only allowed to have one rabbit for 10 minutes at a time – staff carefully monitor this. There's quite the variety, both in breed and in character. Our bunny, which was described as very genki (energetic and cheerful), was hyperactive and preferred to roam around than quietly sit, unlike some of the others. Good on him, though. The rabbit treats (¥300) are a good investment, as it calms down even the feistiest ones down (for a second, that is). The ¥850 (¥1,000 on weekends) cover charge includes holding two different rabbits within 30 minutes – if you want more variety within the same time, it's ¥300 per extra rabbit. There's even the possibility to take their superstar bunny Karumen out for a walk in Roppongi; ask staff for options. If you can't get enough of the bunnies and would rather take care of one at home, don't worry: most of them are for sale as well.
Cover charge: ¥850/30 min weekdays, ¥1,000/30 min weekends
Full details
With Bunny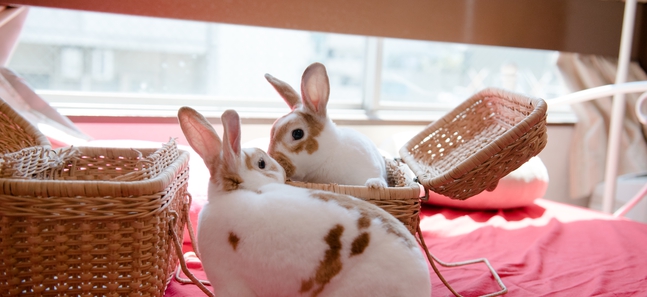 With an impressive five floors and an additional rooftop terrace, With Bunny is one of the largest animal cafés in town. Rather than just being your average rabbit café, it bills itself as a theme park and museum for educational experience, and wants you to engage and bond with the bunnies. You can choose one bunny per person, but if you're a die-hard bunny-lover, you can ask to switch after a while. There is a range of different courses, from 30 minutes to 2 hours (from ¥2,480, one drink incl). Be warned though: the various add-ons can make it quite a pricey endeavour, and if you're after a more full-on experience (including taking them out for a walk on the rooftop), expect your bill to rack up quickly. So yes, the prices are a bit steep, we know. But instead of going to cramped and cheap animal cafés, why not go to a place which actually takes good care of them? Happy rabbits make happy customers, too. And with 26 bunnies hopping around, you're sure to get the most out of your bunny quality time.
Cover charge: from ¥2,480
Full details
Dogs
Dog Heart from Aquamarine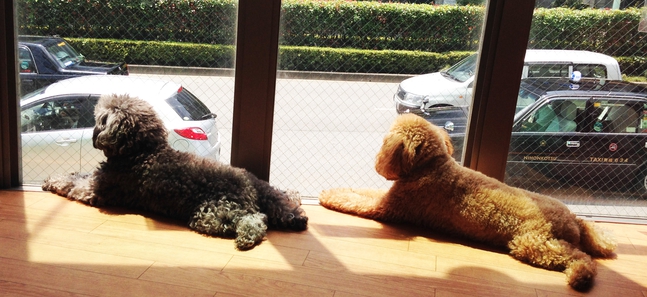 You should only visit a dog café if you truly love dogs. You need to love that they will climb on your lap and lick your iPhone and make your hands smell like dog and fight over bones and possibly do their business on the floor right in front of you. If you're visiting Dog Heart, in particular, you should also love toy poodles since they make up the majority of the pups here (there was also one beagle in the mix when we visited). Like many animal cafés, the café section is not a big feature of the place – it's hidden at the back and only as we were leaving did we notice the table and chairs peeking out. But that's okay, since your main reason for visiting will be to make friends with Ribon, who has clearly mastered the art of dominating attention by charging for your lap the minute you sit down and not budging, no matter what histrionics play out around you. We only stayed for 30 minutes, but you can also rent one of the dogs for an hour and take them for a walk to nearby Yoyogi Park. Either way, it's bound to lift your mood, as dogs do.
Cover charge: ¥950/30 min, ¥1,550/60 min, one-hour dog rental, ¥3,600
Full details
Birds
Kotori Cafe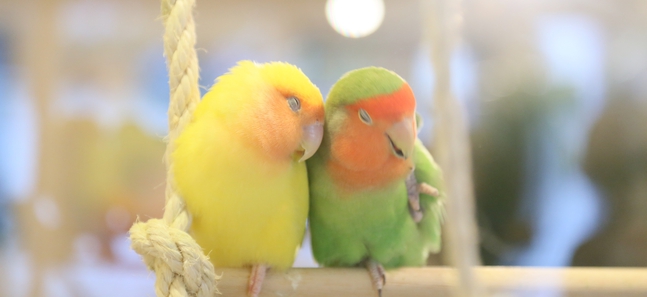 A very colourful, flapping affair greets you when you walk up to the entrance of Kotori Cafe in Omotesando. The entire front window is actually one of the four glass aviaries built in the café. There's no cover charge, but you'll be expected to order at least one drink, and your visit will be limited to an hour when it's busy. The birds themselves are happily chirping away while you sip your coffee, and are of a startling variety: everything from the slightly larger white cuckatoo named Taichi and a mid-sized parrot to rosy-faced lovebirds and technicoloured canaries make an appearance. For those who want a small petting session, the café offers five-minute options as well (at a charge).
No cover charge, drinks from ¥800
Full details
Cafe Baron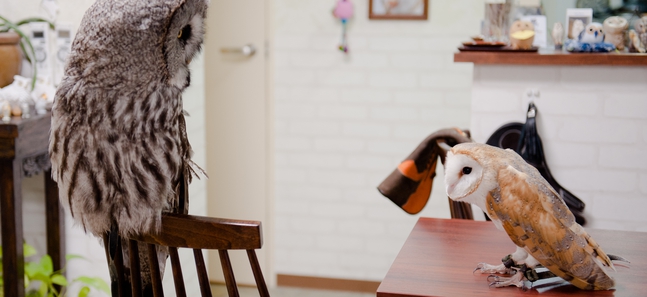 Heads up: you're not allowed to touch the birds here, even though they're flying around freely. Although the owls have been trained to be around humans, being touched makes them a tad stressed. At Cafe Baron, you can sip on tea or coffee carefully selected by the owner, or enjoy a bowl of curry, while engaging in a stare-off with the feathery creatures. Believe us, it's more tranquil than it sounds.
No cover charge, drinks from ¥500, food from ¥800
Full details
Fukurou Sabou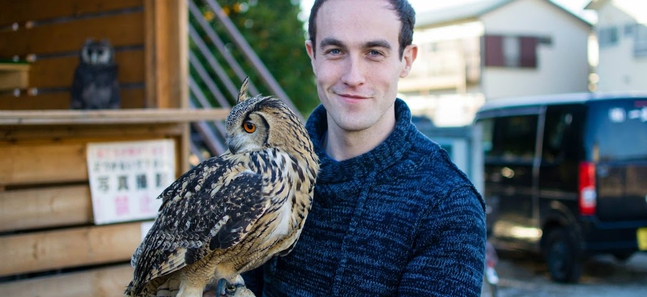 The space inside Fukurou Sabou is small, with three tables of four cosily accommodating small groups and dates beside each other. There's a friendly atmosphere held together by a sense of collective appreciation; excited chatter and laughter between tables is punctuated by moments of hushed silence each time a new owl is brought in. One menu is used to order your mandatory drink, another to 'order' your owl. Owls range from ¥300 to ¥1,000, based on how rare they are rather than size or popularity. Though we have ethical concerns about keeping nocturnal animals awake during daytime hours, the issue is mitigated to some degree by the owner's fondness for his birds and the fact that they are ensured rests. When we selected the smallest (and no doubt most popular) owl we were told that his 'shift' was over and asked to choose another.
Cover charge: ¥300-¥1,000 depending on the owl, drinks from ¥500
Full details
Snakes
Tokyo Snake Center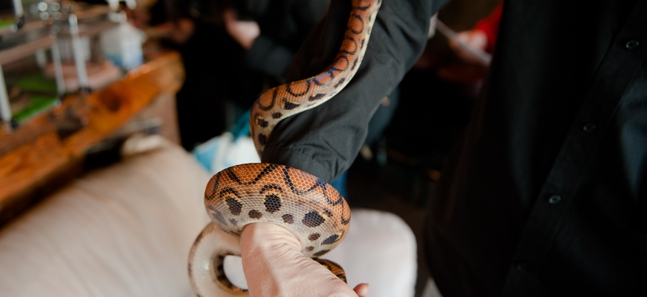 Housed inside Harajuku's Social Lounge Ajito is Tokyo's latest addition to the already long list of animal cafés. Only open on weekends, the Snake Center is home to a slithering collection of serpents, all very well trained and non-poisonous. Pay ¥1,000 at the counter for entrance, one drink and the right to pick out a snake of your choice to hang out with, and spend a few hours nibbling on cake and sipping coffee while your reptilian friend observes you from the safety of its transparent box.
Cover charge: ¥1,000 (incl one drink)
Full details
Goats
Sakuragaoka Cafe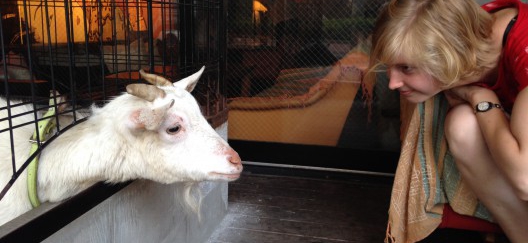 More of a cafe-with-goats than a goat cafe, this leisurely Shibuya spot is a good place to kick back with a coffee and stare at goats. The specimens are named Sakura and Chocolat (guess which colour is who), and generally seem quite okay with their surroundings – for those spiritually inclined, they even have a massive crystal hanging about. Nab a table outside for some real intimate moments, as the goats often try to stick their head through the bars to nibble at anything within reach. Watch a video clip of their antics on our blog.

No cover charge, drinks from ¥500, food from ¥700
Full details
By Time Out Tokyo Editors