Tokyo's newest Mexican cantina serves 'fresh and fast'
Frijoles, Tokyo's newest location for California-inflected Mexican food, aims to bring Tokyo 'real food, served fast'. This casual cantina-style space with seating for 32, is conveniently located a minute from Azabu-juban's Ichinohashi intersection, situating it an area popular with ex-pats and right in the middle of one of Tokyo's most international neighbourhoods.
For Tokyo-based fans of Mexican food, some may say that pickings are slim. Of course there's always the chain-restaurant version of Mexican. Then there's the really authentic but rather expensive place complete with mariachis and elegant décor. Finally, there are the places that claim to serve Mexican and dish out ground beef heaped on white rice. In these financially tight yet food-conscious times, not blowing up to ¥4500 on a meal just to satisfy your craving for proper stuffed jalepeños or wondering just what might be lurking in the mystery beef on your taco may trim your options close to nil.
'I had been living the States for nine years and working in the restaurant business. When I came back to Tokyo I realised that there were no Mexican restaurants like the ones that there were in California. Nothing fresh and fast like the Tex-Mex places or burrito shops, so I decided to open one to fill this gap we had in Tokyo,' says Hiroshi Miyano of how the idea to open Frijoles came about.
'For years now I've heard people saying how great it would be to have something like this in Japan, but in the end it turned out being the same types of places like Krispy Kreme and Coldstone Creamery coming here. I love Mexican food, and I knew others would want to have it or be able to try it if they were first-timers, so I wanted to bring them the Mexican food I was familiar with. People in Japan often think Mexican food is stuff like taco rice, and I wanted to bring them something closer to the real thing.'
Serving up a small menu centred on soft tacos and burritos, reminiscent of North America's Chipotle restaurants, Frijoles aspires to be the place to go for a quick lunch or an early evening bite. 'We wanted to keep the menu small so that we could be sure that the quality of the food was the priority,' Miyano comments. The menu stresses ingredients that are selected and provided especially for the restaurant and prepared on-site. 'We make everything from scratch every day on a gas grill. We don't have a microwave, and we make our own adobo from spices and ancho chiles we roast and grind right in the kitchen,' explains Miyano.
The menu's stars, burritos and tacos, are only as good as the tortillas, and Miyano went to great lengths to be sure that these weren't just any tortillas. 'We have the tortillas for the burritos, tacos and chips made exclusively for us every day by a noodle-maker in Saitama. He's a former chef and we experimented about 30 times until we came up with the best recipe.' Though flavourful and sturdy (they don't fall apart halfway through the meal), they could spend a bit more time on the grill to bring out the texture.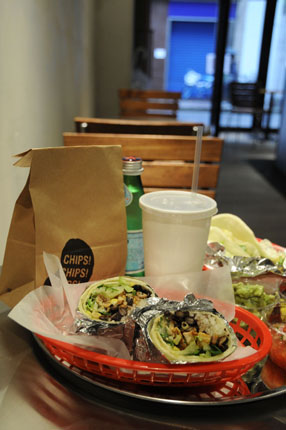 Burrito
The tortillas are filled with a pleasantly smoky adobo marinated grilled chicken and beef, or the very popular braised carnitas pork. If the carnitas is what you're craving, be sure to get there a bit later in the day, when the long braising process has been completed. On the other hand, get there too late and they might be out; because of the small-batch process, once they're out of it, it's done for the day.
The meats are followed by a helping of tender, stewed black beans (no bland dried beans, these) or the lesser-known (in Japan) pinto beans which are lighter in flavour. The meat and beans are balanced with cilantro-lime rice. Where traditional Mexican cooking uses a more savoury rice, the sweetness of the Frijoles long-grain rice at best seems novel and at worst overpowers the cilantro-lime seasoning. The tacos and burritos also come in vegetarian versions, dressed with beans and guacamole.
Salsa is one area where Frijoles has definitely decided to do things differently. Unlike the generic, foamy tomato hash you might find at many Mexican restaurants, the tomatillos, corn and arbol chiles found in the four varieties of salsa add personality to your taco or burrito. Try them with a serving of the handmade guacamole and a brown paper sack of the kitchen-fried, incredibly crunchy tortilla chips.
Drink options hint at the restaurants North American tinged origins, with free refills on soft drinks. Frijoles has a selection of beers to help wash down your meal, with both classic Mexican ales (Negra Modelo and of course, Corona) and domestic brew Coedo (Kiyara and Ruri varieties) available. For an unpretentious tipple, try the original margarita: a potent mix served in a plastic cup.
Although the lunch rush gets hectic, there's always the take-out option. If you don't see what you like on the menu Miyano encourages patrons to ask and they will try to accommodate you, especially in the case of kids. Frijoles features English menus and English-speaking staff to make things even more convenient.
'For people who grew up eating this kind of food, we want to bring them something they miss. For those who haven't, we want to introduce them to fast, fresh Mexican,' muses Miyano on his hopes to expand the restaurant to other parts of Tokyo in 2010.