Let's face it: connecting Shinjuku with Saitama's Kawagoe, the Seibu Shinjuku line and its yellow carriages simply don't have the name recognition of the Chuo line, Tokyo's other main westbound railway. Compared to the Chuo's Koenji and Nakano, known as some of the city's trendiest 'hoods, stations like Nogata, Numabukuro and Araiyakushi-mae along the Seibu are quiet and unremarkable, rarely attracting neither positive nor negative attention. Still, that state of affairs has allowed these spots to develop a quirky culture all of their own, something like a suburban version of that found on the picturesque streets of Yanesen.
'Aranumano' (for Araiyakushi, Numabukuro and Nogata, and yes we made it up) is where you can soak at an age-old public bath after trying your hand at ping-pong with the locals, exploring the backstreets of run-down shopping arcades or visiting a philosophically inspired park, before descending into a world of old-school izakayas, ethnic eateries and box-sized cafés. Our three-part area guide series shows you where to eat, shop, stroll and drink in Aranumano: first up is Nogata, the westernmost of the three stations and a worthy stop for gourmands on a budget.

Let's start with lunch
With a grand total of five shotengai (shopping arcades) in the vicinity of the station, you won't have any trouble finding places to spend money in Nogata. Here, we look at spots found along the streets closest to the station, while also highlighting the area's status as a ramen 'battleground'.

Nogata Shokudo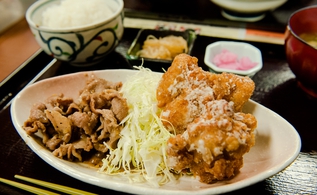 A neighbourhood classic, this always-busy eatery has been feeding hungry Nogatans since 1936. Just stopping by for a beer seems to be a popular option for many locals, but we recommend eating your fill with the 'A Set' (¥920), a teishoku consisting of fried chicken, ginger pork, miso soup, rice and pickles – enough to satisfy even the most ravenous of eaters. The highlight is probably the wonderfully juicy karaage chicken, which goes nicely with the Shokudo's homemade tare sauce.
Full details

Nogata Hope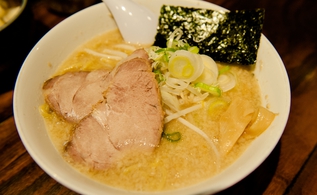 Now operating a total of six shops in Tokyo, Nogata's last best hope (at least when it comes to ramen) got started here. Once one of the leading lights on the 'ramen battleground' that used to engulf Kannana-dori and its surroundings, Hope offers its signature Nogata Hope Ramen (¥740) with a rare triple soup: chicken and vegetable mix, pure vegetable, and pork base. The resulting tonkotsu concoction is punchy and a little greasy – consider telling the staff you want your fat cut down a notch.
Full details


And now for that shopping
If you still have a few yen left over after lunch, it's time to start exploring the multitudinous retail options available near the station. Edible souvenirs are particularly well represented.

Torifuji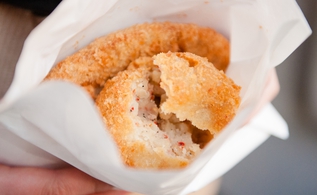 A yakitori joint by trade, this shop has two locations in the area and serves up a nice selection of small sides – try the tuna menchikatsu (¥190) or the spicy potatoes (¥130), which together are almost enough for an entire meal. Tastes great both when fresh and after microwaving.
Full details

Harumichiru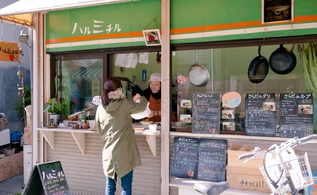 Grab some healthy grub on the go at this bento shop, which offers veg-heavy set deals complete with salad, rice or pasta, plus a main dish of your choice. All the food is homey, sparingly seasoned and healthy – which is why Harumichiru enjoys enduring popularity among the area's trendy ladies.
Full details

Nogata Bread Factory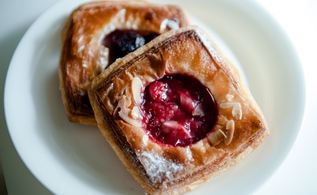 There's been a queue outside this tiny bakery practically ever since it opened in November 2014, and the pastries are the reason why: their croissants, danish bread, curry rolls and the like often sell out long before closing time. Their raspberry danish (pictured above) is a buttery, airy creation topped with just-right raspberry jam and a little melted cheese, and is sure to put a smile on your face even on a rainy day.
Full details

Kintoki Senbei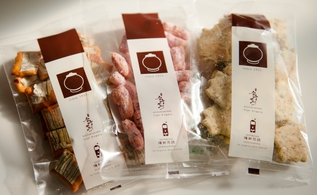 Holding its own since 1933, Kintoki is a wonderfully old-school senbei (rice cracker) shop that's trying to keep up with the times by always developing new flavour combinations. In addition to their seasonal specials, our visit saw creations like a thin cracker wrapped in soft nori seaweed and one paired with a combo of nori and cheese. If you're looking for a gift, try picking up one of their variety bags (from ¥150).
Full details


Time for a coffee break
Muku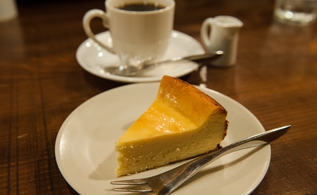 Regulars pack the room throughout the day at Muku, Nogata's top kissaten (old-school café). If you need a little something sweet, order the Cake Set – a decent cup of coffee plus a choice of handmade cheesecake (our visit saw options like cream cheese, orange cheese, chocolate cheese and rare cheese) – and kick back while listening to the locals' chatter.
Full details


Break out the booze
There's one more eatery in Nogawa that every visitor to this neighbourhood should stop by – unless you've sworn off alcohol altogether. This skewer specialist isn't exactly the kind of spot you'll want to while away the hours at though, so we're also giving you an alternative boozer to consider.

Akimotoya
Stepping out of Nogata Station, look for the blue noren curtain with the word 'yakiton' (やきとん) on it and you'll find Akimotoya, a certifiably down-to-earth izakaya specialising in roast giblets (motsuyaki) and other pork skewers, available from ¥120. Miso-dipped skewers are their most popular dish, followed by the eminently beer-compatible motsu-nikomi stew. The Hoppy cocktails complete the experience.
Full details

Tamae Tent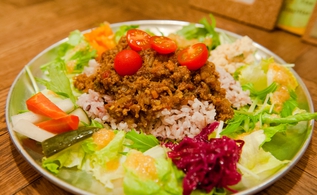 As the name suggests, the interior of this quirky eatery is designed to resemble a tent – albeit a rather spacious and colourfully decorated one. The regulars seem to be fond of the shop's smoked meat and fish, but we recommend the excellent, veg-packed keema curry or the spicy taco rice. Still, if you're only here for a drink or three, the smoked appetisers are well worth a shot, as are wintertime drinks like glühwein and warm sangria.
Full details
By Time Out Tokyo Editors