'Mobile Suit Gundam', perhaps the most internationally recognised series of Japan's renowned anime culture, occupies a special place in not only in Japanese society, but its fan's hearts.

The fictional-future storyline of this now hugely popular series follows the adventures of a young boy who, in a time of war, pilots a giant robot called a Mobile Suit. Since its first broadcasts in 1979, the 'Mobile Suit Gundam' has also been adapted into numerous sequels and spin-offs, including TV shows, movies, comics and video games – and become one of the most popular robot-based animations of all time.

On April 24, 2010 yet another spin-off was added to the franchise: the world's first official Gundam Cafe, opened in the centre of the Gundam fan world, Akihabara. The café is operated by Japanese toy manufacturer Bandai, and inside this Gundam themed wonderland the interior is styled to have a futuristic feel, transporting visitors into the universe of the robot story.

Visitors will find at least one of the female staff members dressed in a uniform styled after one of the female Gundam characters, and there is even a corner of the shop dedicated to selling themed products ranging from ningyo-yaki (sweets filled with bean jam baked in the shape of a Gundam) right down to special Gundam coasters.

This miniature Gundam theme park-like café isn't just for hard-core Gundam fans looking to discuss the latest Gundam news – there's also plenty here for both those who have only just started cultivating an interest in all things Gundam, as well as tourists from overseas who might be looking for more insight into the Japanese world of anime.

Throughout the year, the café plans to both run various themed promotional campaigns and to make alterations to its overall theme to evolve just like the Gundam robots did in the original animated series. The café's current version, dubbed Gundam Cafe Ver 1 is styled with a theme that celebrates what they call the 'Gunpla 30th Anniversary', and starting with the original Gunpla (plastic model Gundam kit) that was first released in 1980, exhibits approximately fifteen select types of Gunpla models.

To help you get the most out of the café, we've put together a guide to the intricacies of Gundam Café Ver 1. Amongst the various details incorporated into this unique café, there are at least a few that will surely rouse a renewed interest of even the most been-there-seen-that of Gundam fans.

A 1:1 scale replica V-fin Antenna
Outside, above the café's main entrance is a life-sized replica of the V-fin Antenna from the main head of the Gundam robot featured in the original Mobile Suit Gundam animated series. From below, this really gives you an idea of how big one of these robots might be in real life. Enter the café, and visitors will be struck by interior design that incorporates various quirks such as lines of LED lights set in bright white walls, and smooth curved lines to create a spacious feeling and unique futuristic atmosphere.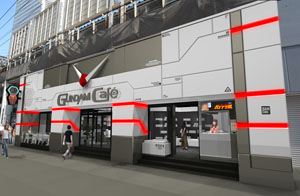 ©Sotsu Sunrise Exterior
A 1:12 scale model Gundam
As customers cross into the café's main lounge area, they'll find an elevated 1:12 scale model Gundam greeting them that (oddly enough) is positioned to face the direction of Shizuoka City, in Shizuoka prefecture. The Gundam is positioned as such in prelude to an exhibition scheduled to run from July 24, 2010 until Jan 10, 2011 at JR Higashi-Shizuoka Station, in Shizuoka City. The exhibit will feature a life sized (18m tall) replica Gundam from the Mobile Suit Gundam series – the very same replica model that was displayed in Daiba, Tokyo, in July 2009 and built to celebrate the 30th anniversary of the series premiere.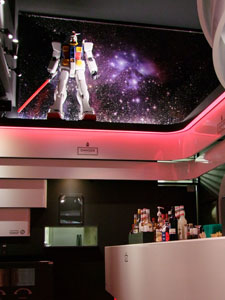 Drink some 'Jaburo-coffee'
Aside from the regular drink offerings at Gundam Cafe, the drink that will undoubtedly catch the eye of any Gundam fan is the café's 'Jaburo-coffee'. In the original Gundam series Jaburo is the name given to a headquarters and stronghold located in the area that, on an actual map of the earth, would correspond to South America. The catalyst for creating a Gundam Cafe is said to have come about when Bandai learned that there were coffee producers growing high-grade coffee in this very same area of South America. The regional coffee is used to create a special blend for the café's 'Jaburo-coffee' that spares it an overly sour or bitter flavour, while giving it a full body and interesting depth. Bandai also assured us that there's no need to worry because the coffee beans produced in modern day 'Jaburo' remain unaffected by any harmful radioactive fallout that may have occurred during the previous Mobile Suit Gundam wars.

In addition to 'Jaburo-coffee', the café also offers another thirty or so different drinks and, after 5pm, when the café opens for their bar time, they also offer a range of alcoholic beverages – including a range of Gundam themed cocktails such as a vodka-based 'mono-eye' cocktail that's created with the aim of bringing to mind the image of a Zaku Mobile Suit.

The food menu consists of approximately thirty-five different items and includes fare that, in addition to sporting Gundam-related names, come garnished with Gundam motifs such as those of the mighty Earth Federation Force, and their opposing force, the Zeon Army.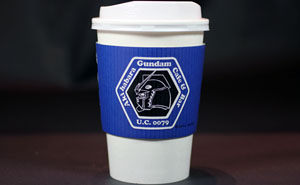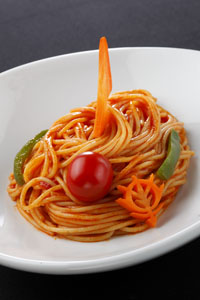 Takeaway and 'Gunpla-yaki'
Thirty years after the launch of Gunpla, Gundam café have launched, as part of the café's takeaway menu, a special variety of baked sweet named 'Gunpla-yaki'. These unique sweets, which are only available at the café, show an image of the original Gunpla kit that was first sold back in 1980, and come filled with either Hokkaido produced azuki red bean jam or bacon & mayonnaise. Unlike the traditional Japanese tai-yaki (a sweet, fish-shaped griddle cake filled with red bean jam) which is baked in much the same way but shows an identical image on both sides, 'Gunpla-yaki' are baked to have both a front and back, making the sweet something of an edible Gundam figure; this might seem trivial to some, but such details reputedly took the designers of these peculiar sweets more than six months of trial and error to perfect. Looking at the right hand of the image imprinted into these tasty morsels you'll see a small cylindrical object that, in fact, represents the Gundam's Beam Saber weapon; and if you take an even closer look, you'll also notice that, correspondingly, only one of the two Beam Sabers is sticking out from the shoulders – which should give you some idea of just how far the designers of these sweets have gone in their efforts to enthral the Gundam fans out there.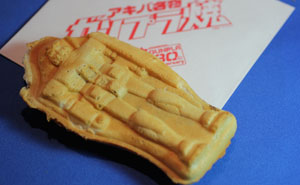 Gundam themed toilets
The cafés toilets also have their own special themes. The men's toilet has a Gundam theme and the ladies toilet is modelled after Char Aznable's Custom Zaku suit. With features such as a button that both flushes the toilet and at the same time generates the sound of a mobile suit powering up, and a giant blinking replica eye (created in the image of Char's red Zaku) located above the toilet, it's perhaps not too much of an exaggeration to say that going to the loo here is more exciting than it should be.

Gundam Cafe (Full details & map)
Translated by Brin Wilson