Chicken karaage (Japanese-style deep fried chicken) is one of the most widely loved deep-fried foods in Japan. Commonly made at home, served on school menus and offered throughout the country, it's a deliciously comforting food that anybody who's been in Japan for any length of time will almost certainly already be familiar with.

The home of this incredibly popular food is said to be Oita, in Kyushu. Various theories exist as to why chicken karaage has become as popular as it has in Oita; however, apart from being home to a number of long-standing specialist karaage restaurants, one thing that can't be disputed is that the locals here hold karaage in high regard. Of the numerous cities in Oita, Nakatsu is the one in which karaage spots compete most fiercely, and in recent years, karaage restaurants from this particular city have been popping up in Tokyo, one after another. Offering simple menus consisting of karaage made using chicken legs, thighs, breast meat, wing tips and cartilage, they make ideal places to casually drop in for a bite to eat.

Time Out Tokyo went on a hunt for these spots, and have come up with our top five picks for joints focussing on the real article: 'Oita Karaage'. The best part is that they're all in Tokyo, and make everything fried-to-order within about five minutes, so get ready to dig in.

Moriyama Gakugei Daigaku (Gakugei University)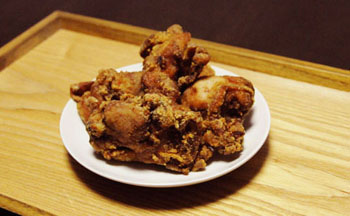 Moriyama Gakugei Daigaku is the only restaurant in Tokyo to be operated by Nakatsu Karaage Moriyama, a karaage specialist founded in 1970 in the city of Nakatsu, Oita. Karaage here is made using succulent meat from domestically reared chickens flavoured with a secret marinade made with ingredients such as home-cultivated garlic and ginger. In addition to offering favourites such as chicken leg, thigh, breast meat, wing tips and cartilage karaage, they also offer classic karaage bento lunchbox. Orders can be made in advance; however, even if there's a queue, you'll rarely have to wait more than about 15 minutes in total. Just one word of warning: karaage sold here have a particularly strong aroma, so stay on your guard if you buy takeout here immediately before boarding a train full of hungry commuters.
(Full details & map)

Karaage Senmonten Torian Tokyo (Togoshi-Ginza)
Karaage Senmonten Torian Tokyo is the only restaurant in Tokyo to be operated by Torian, a karaage specialist from the city of Usa in Oita: a city that's almost as famous for karaage as the city of Nakatsu. They offer flavourful karaage made using domestically reared chicken meat coated in a light batter, and a menu that includes karaage made from pieces of chicken chopped on the bone, breast meat, thighs, wing tips, gizzards, cartilage and also a selection of neatly arranged karaage sets containing different varieties of karaage, and karaage boxed bento lunches. In addition to offering takeaway, they have a standing area where you enjoy a bite to eat on the premises, and offer a selection of alcoholic drinks to wash down your crispy golden treats.
(Full details & map)

Omori Torikyu (Omori)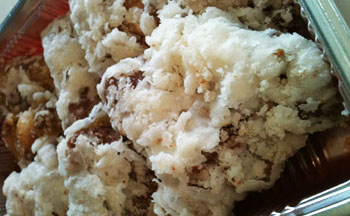 Omori Torikyu offer a range of different chicken bento (lunchbox), including regular bento (the prices of which depend on the number and variety of accompanying side portions and range from ¥400 to ¥800, bento containing only side portions, and chicken soboro (minced chicken flavoured with soy sauce and sugar) bento. In addition to bento, they also offer chicken karaage coated in a snow-white batter that perfectly balances the underlying flavour of the soy sauce marinade. Chicken karaage here come in two different size portions (3 pieces for ¥300 or 6 pieces for ¥600); however, it's worth remembering that because this isn't a karaage-only spot, they only produce karaage in limited quantities, and with so many offices and residences only a stone's throw away, they often sell out soon after lunchtime on weekdays and Saturdays.
(Full details & map)

Karaage no Jo (Nishi-Ojima)
Karaage no Jo specialises in takeout karaage, and they use domestically reared chicken meat, a sauce produced using a traditional recipe from Kyushu and fry everything to order in a crispy batter. Karaage here comes in three different varieties, made from either regular pieces of boneless chicken, wings or wing tips, and comes in two different flavours of regular or spicy sauce. That being said, the one to try here is the spicy sauce option. Additionally, they also offer packs of karaage and particularly popular karaage bento. Depending on when you choose to visit, you may have to queue to order.
(Full details & map)

Karaage Daikichi Shimokitazawa (Shimokitazawa)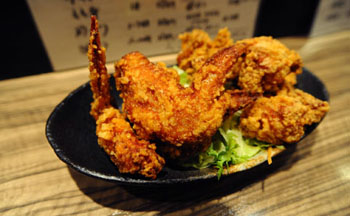 A branch of a karaage specialist from the city of Nakatsu in Oita named Daikichi.Varieties of karaage offered here are made from chicken that's been flavoured with garlic and soy sauce using regular pieces of boneless chicken, wing tips, gizzards and cartilage. In addition to offering takeout, there is also eat-in space, including both counter and table seats (although slightly on the cramped side), at which they offer both set meals and alcohol.
(Full details & map)
Translated by Brin Wilson