Stepping out of Oji Station, the first thing you need to do is to decide whether to head east or west. This choice is a significant one, as the massive, three-level station construct crowned by the Shinkansen tracks separates this bustling Kita-ku neighbourhood into two rather distinct areas. The hilly western side is refined and discreet, hosting parks, shrines and stylish cafés, while the rough-and-ready eastern part gives off a working-class vibe with its lively streets, old-school izakayas and clunky shopping complexes. Regardless of which way you choose to go first, you should have little trouble finding things to see and do: one of the best things about Oji is that it's very simple to navigate and explore.
Long under the influence of the Toshima clan, whose seat of power was at nearby Hiratsuka Castle, the village of Oji was a relatively insignificant settlement until the Edo era rolled around, the Tokugawa shogunate needed an alternative passageway to Nikko's Toshogu shrine and had the Nikko Onari-Kaido route constructed through the area. A few decades later, Oji became renowned as a site for cherry-blossom viewing, as the sakura tree-filled Asukayama was opened to commoners, essentially becoming the first public park in Japan. Edoites also made the trip north to visit Oji's Inari shrine, the most significant place of worship of its kind in eastern Japan, leading to the emergence of a vibrant hospitality industry in the area.
During Japan's push toward modernity, Oji became a centre of the paper and publishing industries, further raising its profile and boosting its population. This manufacturing base (and practically everything else in the area) was wiped out during the air raids of World War II, after which Oji hosted one of the largest black markets in the destroyed city. Today, it's one of those rare Tokyo neighbourhoods that have managed to evolve and stay with the times while holding on to and respecting their historical character and traditions.
To get in, take either the Keihin-Tohoku or the Namboku line north from central Tokyo. Alternatively, you can go nostalgic and ride the Toden Arakawa tram to Oji-Ekimae Station.


Warm up your insides at Hirasawa Kamaboko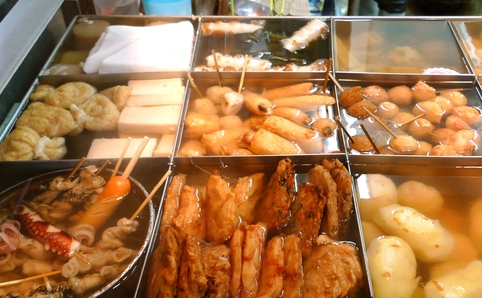 This hole-in-the-wall, standing-only eatery teems with locals from as early as noon, attracting followers with oden from Hirasawa Kamaboko, an Akabane-based fish-cake specialist with half a century of history. The offerings, of which there can be up to 40 different kinds on some days, are on display right by the entrance, making them really hard to resist during the cold season. The taste might not be spectacular, but Hirasawa's grub works just fine when combined with some locally-made nihonshu or a highball.
Follow the foxes at Oji Inari Shrine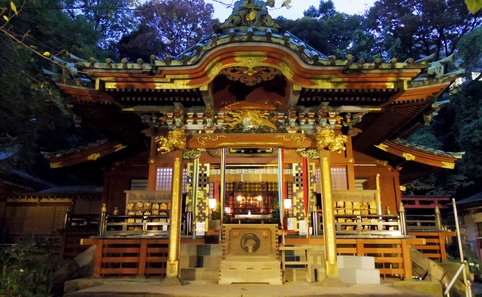 Said to have been founded way back in the Heian era, Oji Inari is best known for its relation to fox mythology, a curious side note in Japanese traditional religion. The shrine is guarded by a number of fox statues, some of them holding the hoshi no tama ball that's supposed to house the animal's soul, and holds an annual fox parade on New Year's Eve. Sitting on a lush hillside, the place still exudes an impressive, mystical vibe – especially if you go in the evening, when the noise from the nearby kindergarten isn't as distracting.
Munch on mighty pie at Rocco's Pizza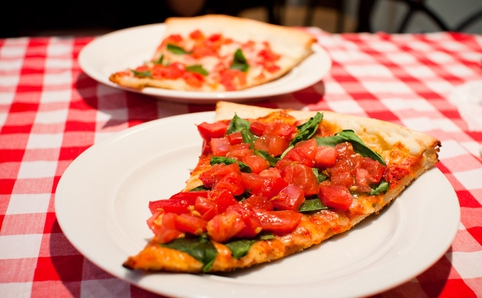 More or less authentic Neapolitan pizza is everywhere in Tokyo, but finding true New York-style pie requires a little dedication – that is, a visit to Rocco's, where authenticity starts with the red-check tablecloths and ends with a lengthy menu of topping varieties for the sizeable slices. Start with the standard pepperoni before moving up to specialities like the Mixed Pizza, a mouth-watering combo of meat, green pepper and onion. They also serve goodies like Buffalo wings and NYC cheesecake, so do go hungry. Thanks to @ninja_padrino and @GD_Tokyo for the suggestions!
Ride a tiny 'monorail' at Asukayama Park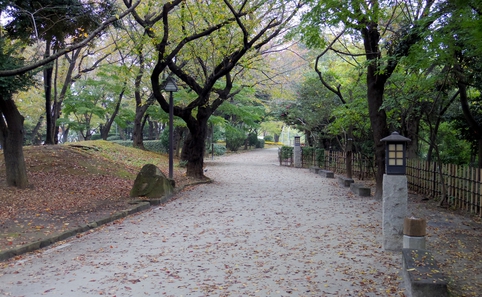 Talk about an enduringly popular spot: archeological findings suggest that what's now the wooded Asukayama Park has been inhabited for millennia, and people from all over the city have been coming here to see the sakura in spring ever since shogun Tokugawa Yoshimune had the trees planted in the first part of the 18th century. Asukayama is beloved by families with small children, and for good reason: there aren't too many places where you can both climb into a real steam locomotive and ride a miniature ropeway, all for free.
Dine in style at The White Fox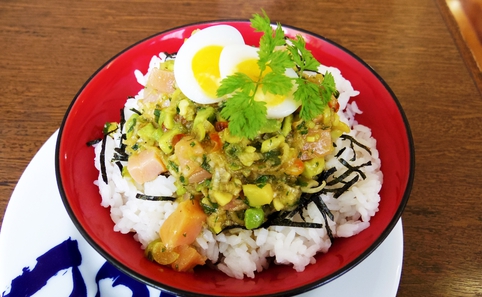 A small but smart hideout right by the train tracks, this British-run joint serves up an interesting selection of European-Japanese fusion cuisine and invites diners to try a wide variety of small dishes. Although they open around noon, your best bet is to head over at night, when the lively surroundings contrast nicely with the calm, stylish atmosphere inside and the noteworthy sake and shochu lists can be fully explored. Named after Oji's foxy traditions, The White Fox also does traditional Christmas dinners. Thanks to @shitamachi66 for the suggestion!
Take a closer look at your yen at the Banknote and Postage Stamp Museum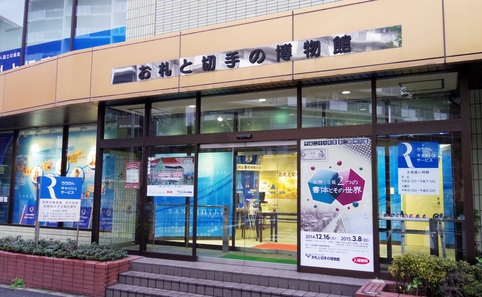 A must-visit for philatelists and anyone interested in the finer details of paper money, this free-entry museum explains the printing process for both stamps and notes, enlightens visitors on the history of Japanese money, reveals the Bank of Japan's anti-counterfeiting measures and displays historical notes from as far back as the Edo era. The exhibits also include a cool 'stamps of the world' section and a few eye-popping foreign bills, including ones from Weimar Germany and Zimbabwe with more zeroes than you'll care to count.
Pick up a pack of the local speciality at Ougiya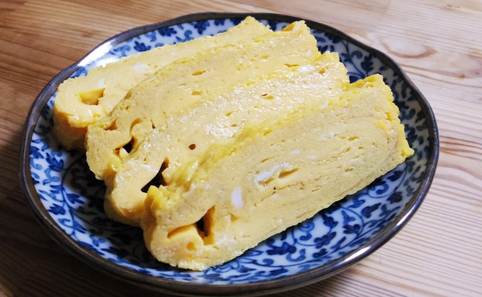 Its unfortunate location right next to a pachinko parlour makes this tiny shack a little hard to find, which really is a shame. Ougiya is the authority behind Oji's local speciality, thick and sweet tamagoyaki (omelette) that's been made by the company since the mid-17th-century. Their only physical retail outpost carries the the thick yellow slabs in large and small packs, both occasionally selling out before closing time. Although purists may shiver at the thought, this one actually works nicely as a dessert.
Jump from stone to stone at Otonashi Shinsui Park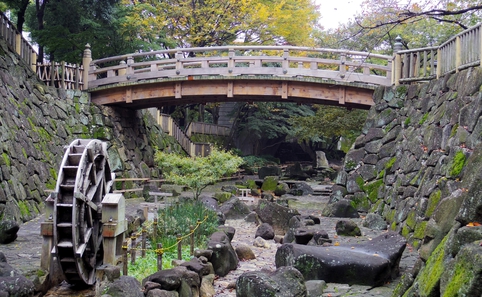 Edo-era ukiyo-e master Utagawa Hiroshige captured the splendour of this oasis by the Shakujii River in one of his prints, confirming its popularity as one of the old city's 'One Hundred Famous Views'. Tastefully rebuilt in 1988, the rocky park is a great relaxation spot right next to the station and is especially charming at night, when the lanterns come on and the arched bridge in the middle of the park provides a romantic setting. When visiting, make sure to also check out nearby Oji Shrine. Thanks to Nina for the suggestion!
Take in the downtown vibe at Hosen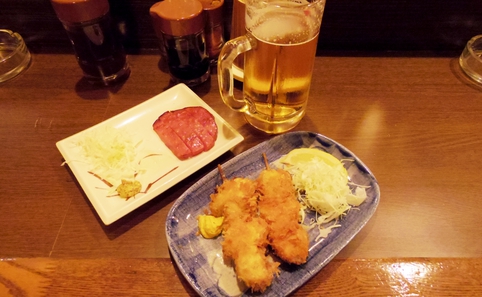 No tour of Oji would be complete without a few drinks at a neighbourhood izakaya, and the comfy Hosen is one of the best ones out there. With plenty of seating, decent food from around ¥300, Hoppy on tap and a straightforward shitamachi attitude, it's not intimidating in the way that some of these watering holes can be for first-time visitors, as the regulars are always happy to welcome new faces. The place tends to get crowded later in the evening, when locals gather to share gossip and comment on whatever's on the bar TV.
Smell fresh bread at Loin Montagne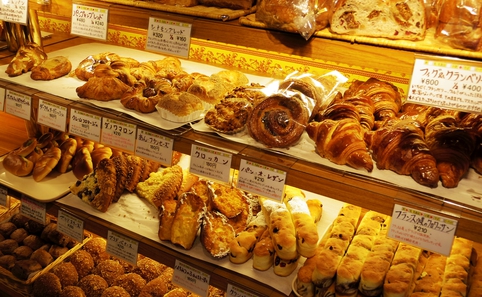 If it's baked goods you're after, this should be your destination in Oji: a superb bakery bustling with locals from early morning, Loin Montagne attracts gourmands with everything from orthodox baguettes to curiosities like black sugar-flavoured soy milk doughnuts. Very modest and allergic to snobbery, they continue to turn out fresh bread throughout the day and regularly update the selection with new creations. One of the best independent bakeries in Tokyo? Surely that's not far off. Thanks to Thomas for the suggestion!