Tokyo is well-known as an important stage for international brands looking to expand into Asia, and the city is home to a number of particularly impressive flagship stores – many of which are the newest, glitziest and largest in the world. Flagship stores, particularly in areas such as Ginza, Aoyama and Omotesando, often endeavour to create new excitement by offering various additional attractions and services. One such store currently doing just that is the Swarovski-owned flagship store in Ginza, which has recently opened a brand-new café, Swarovski Café – open for a limited period of time only (until Sun July 11).

In collaboration with expert nutritionist and renowned health consultant Erica Angyal, official nutritionist to Miss Universe Japan and author of the best- selling book 'Sekai 1 no Bijo ni Naru Diet' (Become the #1 Beauty in the World Diet), Swarovski Café offers a range of sweets and drinks designed by Angyal that provide women with essential nutrients to help them look their best. Additionally, the café also displays various Swarovski-made items from the movie 'Sex and the City 2', such as handbags and glasses.

Time Out Tokyo delves deeper into the particulars of Swarvoski Café, and also introduces a selection of other café's run by world famous brands. Whichever you choose, one thing you can be sure of is level of service and a feeling of luxuriousness that's akin to the brand name itself.

Ladies aiming for world-class beauty: Swarovski Café
Open for a limited time only, Swarovski Café can be found on the second floor of Swarovski Ginza – the world's only Swarovski flagship store. In keeping with the idea behind the design of creating a 'crystal forest', the café is decorated from corner to corner with crystal. Partly responsible for this incredible interior – which incorporates over 3 tonnes of Swarovski crystal – is renowned Japanese designer Tokujin Yoshioka. The use of crystal isn't just limited to the cafes interior design, however; it's even used within the transparent stairs that lead up to it from the first floor, designed to give visitors the impression that they aren't just walking into just any café, but rather a place of exquisite luxury and grandeur.

After ascending the stairs visitors are presented with a sparklingly clean space styled in bright white, a glass showcase displaying yet more crystal and a dazzling sofa that's been decorated with an incredible 85,000 crystals – so impressive in fact, that you might well feel that the time you spend sitting on it waiting for a member of staff to show you into the café passes all too quickly.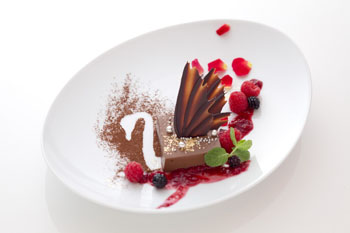 The menu consists of two categories: drinks and 'Super Beauty Sweets' – all of which reflect the philosophy of Erica Angyal. For example, one of the sweets on the menu, 'Dark Choco Swan Tofu Mousse', uses ingredients such as dark chocolate made from 70% cocoa, tofu, maple syrup and nuts, to provide specific essential nutrients for maintaining beautiful, healthy looking skin. Normally, when someone mentions eating healthily, it's easy to conjure up images of bland, simple foods – however, sweets here are anything but. Instead, Swarovski serve beautifully made sweets that incorporate decorations such as edible flowers and silver leaf. Because these sweets, such as the tofu mousse (so rich and creamy it's hard to believe it's actually made from tofu) are all made from healthy ingredients, they can all be enjoyed guilt-free.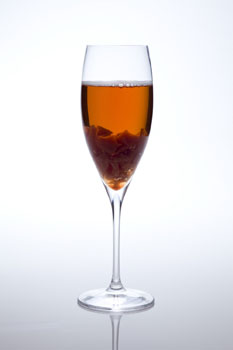 Amongst the various drinks offered here is a 'Sparkling Beauty Zakuro Juice' – made from pomegranate and agar. The pomegranate provides both vitamin C and the antioxidant polyphenol, while the agar provides dietary fibre – all of which are, of course, important nutrients for health and beauty. In fact, this sublime drink, with its delicate translucent pink colour being set off by the white of the café, will bestow beauty on you before you even drink it. Sitting in this café, surrounded by sparkle, it's easy to start thinking that it's a shame this place isn't a permanent fixture. Before it closes, head over to Ginza and experience some Swarovski style luxury for yourself.

Period: Until Sun July 11
Address: Swarovski Ginza 2F , 8-9-15 Ginza, Chuo, Tokyo
Telephone: (03)3289 3700
Open: 2-8pm (Shop hours 11am-8pm)
Prices: ¥700-¥1,000
Website: www.swarovski.com/

For an authentic Italian flavour: Gucci Ginza
Gucci Cafe, the only café in Japan to be operated by fashion apparel brand Gucci, occupies the fourth floor of Gucci Ginza and was established as a place for Gucci's well-heeled customers to relax in whilst taking a break from their shopping. Because Gucci don't make a point of publicizing their café many customers only discover its existence when they stop by the shop. Even on Gucci's official website, the café hardly gets a mention. However, as regulars to the café will already be aware, from April 2010 Gucci have added a set lunch for ¥3,200 to the menu. Served from 11am to 3pm, the set lunch allows customers to choose one dish from their light meal menu, one item from their dessert menu and either coffee, tea or juice – which works out to approximately 20% off the price of ordering everything separately. The ingredients are reputed for being almost all made in Italy, and the cooking is headed by a chef with former experience gained in a hotel kitchen. Their light meal menu, which was renewed as recently as May this year, includes a crispy, cheesy Italian favourite from Friuli called frico – glitzed up and presented Gucci style. Additionally, they also offer chocolates that display the Gucci motif that can't be bought anywhere else in the world, and a selection of alcoholic beverages, including the all-important luxe staple champagne.

Address: Gucci Ginza 4F , 4-4-10 Ginza, Chuo, Tokyo
Telephone: (03)3562 8112
Open: daily 11am-8pm
Prices: from ¥800 (Gucci chocolates ¥300 each)
Website: www.gucci.com/jp/index2.asp

Enjoy the night lights of Ginza: Le Jardin de Tweed
Situated on the rooftop of the Chanel Ginza building, Le Jardin de Tweed is a terrace café which has incorporated a motif of Chanel's most famous material, tweed, into its use of garden and café design. Take your pick of table or sofa seating and enjoy café-style food, aperitifs and a range of other goodies under large beach umbrellas. In the summertime, sip on a glass of champagne or wine and watch as the sun sinks into the west and hands over the sky to the city lights. A selection of food and drinks is on offer. The food comes courtesy of the chef at Beige Alain Ducasse Tokyo (attached to the Chanel Ginza building) bringing patrons an offering of French delights including macaroons, chocolate fondant and pound cake.

Address: Top floor, Chanel Ginza Bldg, 3-5-3 Ginza, Chuo, Tokyo
Telephone: (03)5159 5500
Open: Tue-Sun 12noon-11pm (may vary according to season); closed Mon, terrace closed during inclement weather
Prices: from ¥700 (macaroons ¥300 each)
Website: www.beige-tokyo.com/

Enjoy peace and quiet at Ginza: Maison Hermès Le Café
This café is hidden away at the back of the second floor of Ginza Maison Hermès. Sit back and relax in the leather sofa seating or alternatively choose to sit at the counter. Whichever you fancy, you are sure to feel relaxed in this space with its dark brown colour scheme. There are eleven kinds of things to choose from on the café menu. The most affordable are espresso for ¥1,470 (tax included) and coffee is ¥1,680 (tax included). These high prices may seem shocking to first time visitors but once you see the chocolate in the shape of a Hermès Kelly bag that comes with the drink, you won't be giving it a second thought. Accompanying these drinks at no cost are milk and two kinds of dark chocolate, which help to bring out the flavour of the coffee. A popular item is their coffee jelly, for ¥1,680 (tax included), which consists of three layers: coffee jelly, coffee flavoured ice cream and fresh cream. Don't be fooled into thinking that the hefty price for a cup of coffee means that the servings here are small. The coffee jelly is delivered to you in a generously filled medium-sized glass. This café has relatively few customers making it perfect for those who want to enjoy some quiet time.

Address: Maison Hermès 2F, 5-4-1 Ginza, Chuo, Tokyo
Telephone: (03)3569 3300 (Customer Support Desk)
Open: Mon-Sat 11am-8pm, Sun 11am-7pm
Prices: from ¥1,470
Website: www.hermes.com/

A world first: Bulgari il Café
This café is located on the second floor of the fashion building Gyre in Omotesando. While Bulgari already have a lounge bearing its name inside a hotel in Milan, Italy, Omotesando is the home of the first Bulgari café. The café, which has a dark brown interior, has all glass windows on the side facing Omotesando and Cat Street and looks out onto the beautiful green of the zelkova trees. Big name Italian designer Antonio Citterio was responsible for the interior design. Bulgari's presents a modern view of the world in this calming space. The café has terrace seating and a chocolate boutique is attached which you can drop into at your leisure. Bulgari Ginza Tower have also opened Bulgari il Ristorante, Bulgari il Bar and Bulgari la Terazza Lounge. Choose your Bulgari setting to suit your occasion.

Address: Gyre 2F , 5-10-1 Jingumae, Shibuya, Tokyo
Telephone: (03)6362 0500
Open: daily 11am-11pm (LO 10pm)
Website: www.bulgarihotels.com/

Enjoy the tastes of the Orient: Mikimoto Lounge
Mikimoto, Japan's most famous name in luxury pearls, have a café on the third floor of the Ginza 2 store. The menu is small: sweets and drinks only. Worthy of special mention is their range of organic teas including green, oolong, and some more unusual green teas. They also serve Orchid Tea, which is one of the top three teas in the world and is a blend of orchid leaves with Keemun tea leaves. If you are unsure as to what to get, ask to smell the tea leaves so you can find what you like. The sweets have been touched with tastes of the orient – whether it's the asparagus panacotta with subtle hints of wasabi or the sauternes wine jelly, your taste buds will be in for a surprise.
Address: Mikimoto Ginza 2 3F , 2-4-12 Ginza, Chuo, Tokyo
Telephone: (03)3562 3134
Open: daily 11am-7.30pm (until 7pm on Sun and nat. holidays in Jan, Feb, July, Aug)
Prices: from ¥600
Website: www.mikimoto.com/jp/
Translated by E. Kavanagh