Summer in Japan means many things to many people. For some, it's the season of sand and surf; to the more superstitious, it's a time to be on guard. For foodies, however, it's eel time.
Unagi is commonly described as an acquired taste, but for many first-timers it's simply a matter of getting over the initial hurdle (odd, when you think about it, as plenty of countries – the UK especially – have a culinary history that once made good use of the slimy critters...jellied eels, anyone?). In our experience, that first bowl of unagi is the beginning of a lifelong love affair, one that repays your affections with exquisite delicacy and a surprisingly high level of variety.
Time Out Tokyo has already introduced five places to try Kansai-style unagi in Tokyo, so many of you will have sampled unaju (unagi on rice, served in a lacquered box) or kabayaki (unagi dipped in a sweet sauce). This time we've taken it upon ourselves to find five places that serve the Nagoya-style unagi dish known as hitsumabushi, which isn't so easy to come by here in Tokyo.
Hitsumabushi involves eating your unagi in stages: first as it is, then mixed with a selection of seasonings, and lastly in an ochazuke style, with a dashi broth poured over the top. It's a meal that bears the hallmarks of Japanese tradition – as much a ritual as as a refreshment – and, as far as we're concerned, it's all the better for it.
Hitsumabushi Bincho (Ginza)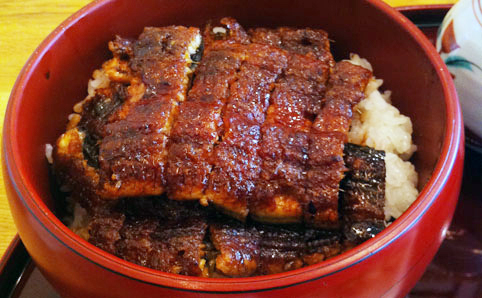 The original branch of Bincho can be found at a remote location to the north of Nagoya, and this sister shop is currently one of the few places in Tokyo serving what you might call authentic hitsumabushi. Because the eel is grilled without being steamed, the skin is crispy and appealingly aromatic, while the generous servings earn this place an additional thumbs up. If you're looking to try hitsumabushi in Tokyo then Bincho ought to be your first port of call. Restaurant details
Inagiya (Sendagi)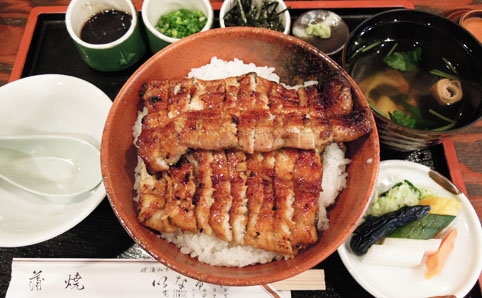 This excellent restaurant grills its eels without steaming them, in the Kansai style. Although it's a little on the pricey side, if you're looking to really savour the flavour of the dish, the plump yet crispy unagi here can't be beaten. The sauce used isn't too heavy either, and because it's only used to flavour the eel and not the rice, the final lashing of dashi rounds things off perfectly. Restaurant details
Akasaka Fukinuki (Akasaka)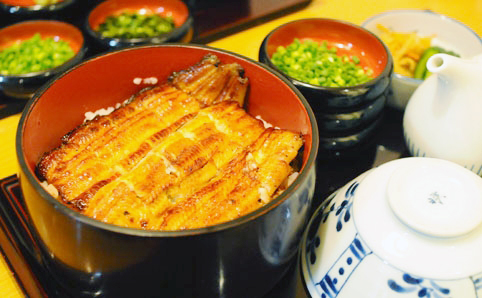 The unagi here is steamed before it is grilled, in the Kanto style, meaning that it's soft and fluffy, though retaining a subtle firmness. Try the unagi with a little sansho pepper first, then with nori and the other seasonings on offer, and lastly as an ochazuke with the dashi poured over it. If the prices look a little steep, we'd recommend popping in at lunchtime, when you can try the hitsumabushi – or even their unaju – at a more affordable cost. Restaurant details
Otsuka Miuraya (Otsuka)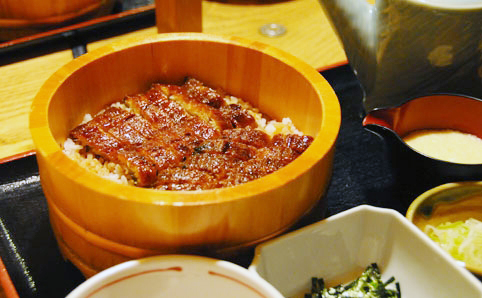 Miuraya prepares its hitsumabushi in a decidedly Kansai-esque style, grilling it without steaming and then finishing it off with a sweet sauce. The eel itself isn't particularly thick, however, and the serving of rice is on the small side, so if you've ever tried the real thing you may be left a little disappointed. Restaurant details
Manmaru (Ikebukuro)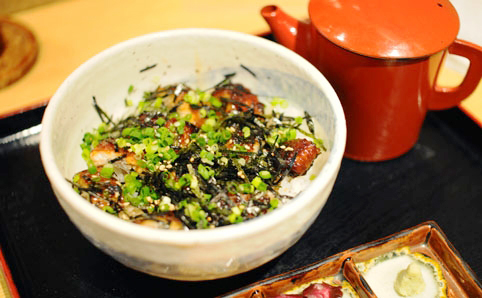 More than anything else, what's great about this place is the price. Manmaru serves its hitsumabushi in a donburi rice bowl, and at lunchtime it costs just ¥1,300. We wouldn't say it's the finest quality eel we've ever tasted, but for that price, Manmaru can easily satisfy most unagi cravings. Restaurant details
Translated by Virginia Okno