Often referred to as Tokyo's red-light district, Shinjuku's infamous suburb of Kabuki-cho has something of a seedy reputation. Although it's not 'red light' in the way, say, Amsterdam's notorious brothel scene is, it is peppered with host and hostess bars, love hotels and yakuza members, who allegedly control hundreds of businesses in the area.

To walk the streets at night gives one a very stereotypical view of Tokyo – bright billboards shout from every corner; endless rows of stores, bars and restaurants line the streets; eccentric fashion abounds; and very pretty Japanese boys hurry by, most likely making their way to their nightly business of showering single women with champagne and compliments. So it's interesting to know that the area was once a swamp that was developed into a quiet residential area after the Meiji era. The bombing of Tokyo in World War II saw the area being completely destroyed, and after the war there were plans to build a kabuki theatre here, hence the name. Although the theatre never materialised, rows of eateries were developed during the '60s and slowly it turned into the capital's largest entertainment district – and Asia's largest red-light district.

But there is more to 'The Sleepless Town' than sex and yakuza. There's also rock 'n' roll. And satisfying the rock subculture's nostalgia for a bygone era is a host of authentic prog-rock bars that look and sound the part. You can rest assured there's no Bieber here.

Gravity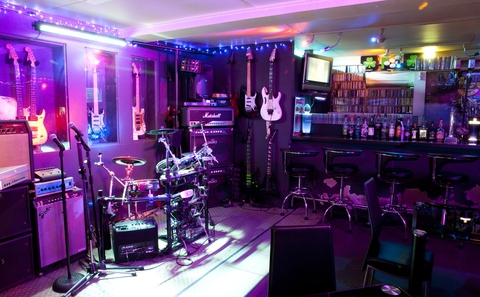 With moody indigo lighting, a stage set with drums and keyboard, the owner's 50-odd personal guitar collection displayed on the walls, and even a Picasso print or two, this out-of-sight bar attracts '80s music lovers and mingling singles. Opened seven years ago by 33-year-old Nobuyoshi Doi, Gravity favours hard rock – although the occasional Michael Jackson track has been known to creep in – and hosts bimonthly live band events. It's a little off the beaten path – the only bar on our list that's in Nishi-Shinjuku as opposed to Kabukicho, and a bit of a walk from Shinjuku Station – but that's the way Doi wants it, saying he likes the fact that his bar has become known in rock circles primarily through word of mouth.
Seiwa Building 2F, 7-4-9 Shinjuku, Nishi-Shinjuku. 03 3366 6669. for.fem.jp/gravity. 6pm-2am Mon-Sat, 6pm-12am Sun & pub hol. Cover charge ¥700. Click here for map
Crawdaddy Club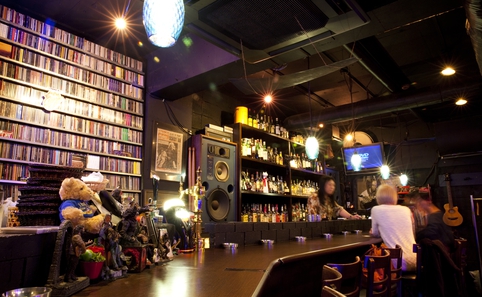 Long-haired, guitar-playing Mikiya Miyamoto fits the part as owner of this live music bar. He opened it in 2003, choosing Shinjuku because it's a 'core area' for the rock genre and focuses on British rock from the '70s and '80s. His personal favourite is Led Zeppelin – notice the Zeppelin incense and red wine on show at the bar – but the bands that play here do a mix of covers as well as original Japanese rock. Find a seat at the bar or at one of the tables that line the wallspace in front of the stage and enjoy a snack dinner while the band plays from 7pm to 9.30pm (on weekends), after which you are free to request your favourite song from the rows of CDs lining the walls. At the end of every month the club holds 'Furu-ten Night', when the music is turned up full volume for a night of total rock immersion.
K Building B1F, 2-28-15 Kabukicho, Shinjuku. 03 5155 5253. sound.jp/crawdaddy. 7pm-2am Tue-Fri, 7pm-12pm Sat, Sun & pub hol. Cover charge ¥1,000. Click here for map

Hammond Orgasm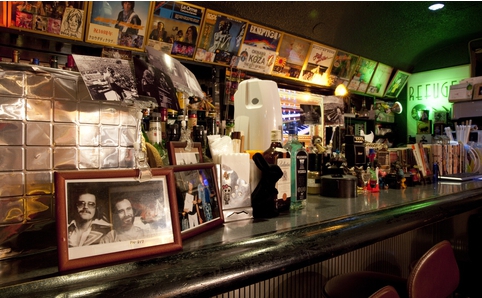 This is one of those bars you'd never find unless someone told you it existed, although funnily enough the owners were in the process of making a sign to go outside when we visited. It's a small space upstairs in a nondescript building, and its tiny size and haphazard interior – which includes an organ, piano and drum set squeezed into one corner – give it an intimate atmosphere. Owners George and Atsuko Oya are big fans of Okinawan rock music, which they say has a special quality to it, and if the album covers displayed on every surface are anything to go by (Keith Emerson, Lenny Dee, Attila, Miklagard), you won't hear the standard rock set during a night spent at Hammond Orgasm. You might even be treated to George playing some classical piano.
Yashio Assembly Hall 4F unit B2, 2-38-8 Kabukicho, Shinjuku. 03 6273 9877. progbar.jp. 6pm-5am daily. Cover charge ¥1,000. Click here for map

Rock'n Kitchen Janis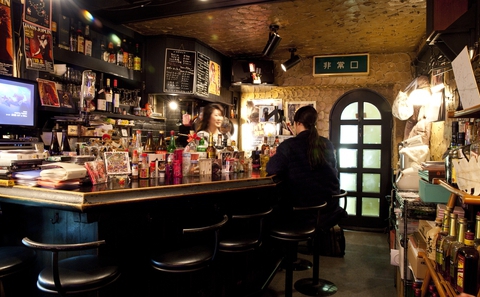 Janis Joplin fans will feel right at home at this cosy spot opened in 2011 by former professional singer Ruby who puts Joplin at the top of her favourite-artist list and so dedicates much of the wall space and set list to the raspy-voiced performer. You'll find Ruby behind the bar serving delicious omurice and ¥500 shots of Southern Comfort (Joplin's favourite tipple), and even a bit of relationship advice should you be in need. Besides Joplin, the music ranges from hard to pop rock, and there are guitars in the corner that you're welcome to pick up for an impromptu 'performance'.
Nakayoshi Bldg. 2F, 1-4-12 Kabuki-cho, Shinjuku. 03 6233 8215. 6pm-1am (closed Sun & pub hol). Cover charge ¥1,500. Click here for map
Himawari Bar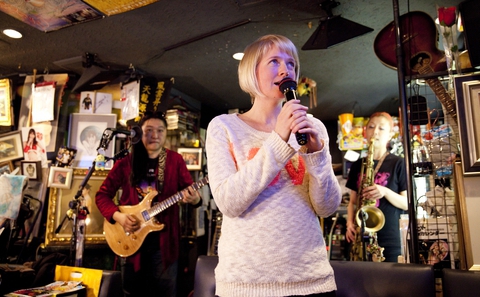 Here's where things get really interesting. If you haven't tried karaoke in Japan, this should be your first port of call. Not only do you get to choose tracks like Journey's 'Don't Stop Believin', but the owners, Takuya and Mimi Tachibana, play live guitar and saxophone with you while you sing. With four big TV screens dotted around the room, guitars stacked randomly, black-curtained walls and artworks by customers hung up in any available space, Himawari feels more like a recording studio than a bar. Fridays and Saturdays are busiest, with the bar staying open until 7am (or later if the mood dictates), and you'll be mixing with pro wrestlers, manga artists and motor sports fans.
5F-B, 1-4-12 Kabukicho, Shinjuku. 03 3207 5292. tinyurl/TOThimawari. 7.30pm-7am (closed Tues). Cover charge ¥3,000. Click here for map
This article appears in issue 2 of Time Out Tokyo magazine, out now.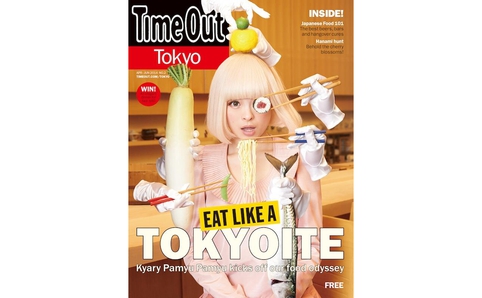 Photos by Keisuke Tanigawa