There's just no getting away from it: eggs are a classic sandwich filling. Yes, we know you're already finding it hard to take this seriously, but if your mouth doesn't water at the thought of a nice egg-mayo bap, lightly seasoned and topped off with a fresh cut of cress, then you're probably already dead inside. In Tokyo, of course, these things are taken very seriously indeed. And so, allow us to present our findings — five top omelette sandwiches, stuffed and sliced to gourmet standards.
Yurakucho: Hamanoya Parlour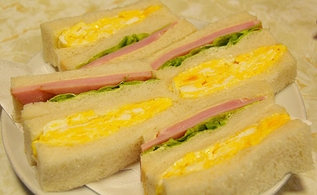 Hamanoya is on the basement floor of the Shin-Yurakucho Building, just by the D2 exit of Yurakucho Station. As well as serving an array of soft drinks, this old-school café serves light meals, including a great selection of sandwiches, and does a nice sideline in desserts (their parfaits are especially good). But it's the egg choice on the menu that has our attention today. The ample omelette filling gives this delicious sandwich a satisfyingly firm texture, which matches the thinly sliced bread perfectly. Hamanoya is generous with all of its portions, and the prices are very reasonable.
Hamanoya map and opening hours
5 to try: Omelette sandwiches
Now showing 1 of 5 | Next ►
Translated by Virginia Okno