Perhaps we spoke a bit prematurely with our first feature on kakigoori, the frosty shaved-ice treat that is a summer staple; the summer heat just won't quit, and we're still looking for more kakigoori to cool us off.

Kakigoori parlours are showing up left, right and centre and although some of them might be a little expensive, it's just a result of the fact that these stores have come to take kakigoori more seriously as one of summer's best sweets. Unsurprisingly, there are also more and more koori-zuki – 'ice lovers' – who search out new spots serving up ever more delicious kakigoori.

We spoke to Ayano, who runs Tokyo Ujikintoki, a blog started in 2004 that looks at the best-established and most popular stores for kakigoori. She told us, 'I get the feeling that each year there are more koori-zuki. Perhaps it's that a new "gourmet kakigoori" genre has been created with people willing to pay more to eat it. I think it's because more shops are serving really delicious kakigoori, and that more people will happily pay for good kakigoori. I have the impression that there has been a big change over the past five years.'

This time around Time Out Tokyo brings you five more shops where you can enjoy exceptional ices. Apart from our recommendations, there are plenty more shops which are only just starting to offer kakigoori from August onwards. Brave the heat and head out to find your own favourite flavour of cool.

Darumaya Mochigashiten: Natural ice nama ichigo and milk (Jujo)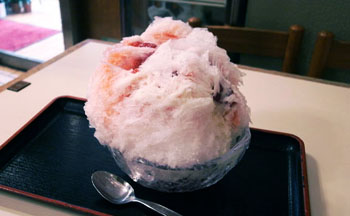 This season-limited kakigoori is served with a jam-like fresh strawberry (nama ichigo) syrup, and we'd recommend milk as an extra topping. Because the syrup and milk aren't poured evenly over the ice, you can enjoy a different taste-ratio with each spoonful. There is decreasing production of natural ice every year, but Darumaya stocks this rare commodity from Shogetsu Himuro in Nikko. The natural ice has a very soft feel on the tongue and – surprisingly – you won't get that feeling of getting colder and colder as you eat it. So much the better because the flavour is one which makes you want to keep on eating. Kakigoori here is on offer all year round, a bonus for koori-zuki. The shop has an old shitamachi (downtown) charm which is very relaxing. The staff are really approachable, so it's worth asking them what the season's specialty is and giving it a try. The fresh strawberry syrup is currently sold out. The regular strawberry syrup is available. (¥880 + ¥100 for extra topping)
(Full details & map)

Ori Higashiya: Matcha-Kintoki (Roppongi)
This store's eat-in space has the refined feeling of a traditional teahouse. The ice is carefully shaved using an old kakigoori machine. The matcha green tea syrup has a rich colour and lacks sweetness, so a powerful matcha flavour gets mainlined to the taste buds. Adzuki beans are hidden within the ice, and they balance the matcha flavour creating a just-right level of sweetness. You can also adjust the sweetness with the condensed milk that's served separately. Enhancing the look of the ice are beautiful serving bowls, making this an all-round kakigoori experience. This kakigoori is great for those tired of the more conventional, sugary Uji-kintoki tea flavour. (¥950)
(Full details & map)

Amaikko: Ichigo-milk shiratama (Nishi-Ogikubo)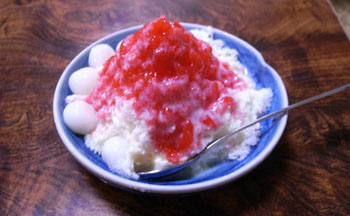 In this take on kakigoori, shaved ice covers a shallow, wide dish with strawberry syrup and condensed milk trickled over ice, and punctuated with eight shiratama (rice-flour dumplings). At first glance it appears very sweet, but the strawberry syrup actually has a sweet-sour flavour that is quite light and refreshing. The condensed milk and shiratama compliment the strawberry well, and you'll have finished the dish before you know it. This shop is so popular that even on weekdays it's often full, so in summer be prepared to wait in line. (¥950)
(Full details & map)

Hatsune Chaya: Kori shiratama (Asakusa)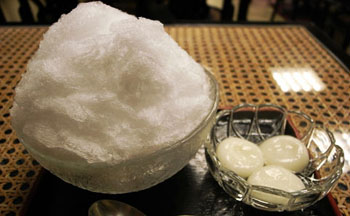 The kakigoori made by Hatsune Chaya's friendly owner has finely shaved, fluffy ice – just like snow. She says she serves the shiratama dumplings separately because they will go hard if they were placed in the ice itself, so they are deliciously soft and springy. The reasonable price – ¥550 – is another plus. As well as different varieties of kakigoori, they also offer sweets like shiratama zenzai (¥650) and cream zenzai (¥650), as well as light meals like yakisoba (¥550).
(Full details & map)

Uogashi-Meicha Ginza: Otona no kakigoori (Ginza)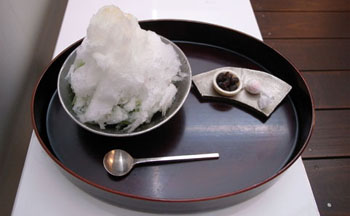 Uogashi-Meicha is a specialist tea store, and during July it will serve kakigoori in the matcha tearoom on the third floor. The space has a partially open ceiling, so it's a little warm, making the cold ice even more delicious. Otona no means 'for adults', and true to its name this kakigoori is made for mature taste buds. Just the right amount of slightly sweet matcha syrup is poured over the light, beautifully arranged shaved ice. The dish is complimented with a selection of Japanese sweets like sweetened adzuki beans, and is neither too large nor too small a serving – perfect for a short break. Kakigoori will also be served from July 15 to August 20 at their sister store in Tsukiji, Uogashi-Meicha Tsukiji Shinten - Cha no Mi Kurabu. The matcha green tea used in the Ginza shop is different from Tsukiji and has a different flavour, so it's worth experiencing both. (¥500)
(Full details & map)
Translated by Virginia Okno