'Never put your dreams on hold,' is what Yvonne Goldson inscribed in an autographed copy of her patois handbook – a Jamaican-Japanese dictionary and best-seller in its tenth edition since first being published in 1998. Goldson should know. She left her post at an international law firm for the kitchen of her new JamRock Cafe – Tokyo's newest outpost for authentic Jamaican cuisine located in the heart of Harajuku.

JamRock is the euphemistic hybrid of the "Jam" in Jamaica and the "rock" in the rock-steady rhythms of reggae music, and is how Jamaicans refer to their island nation. 'It's what we Jamaicans call the island…when things are going good,' she says with a wink of the eye and an infectious laugh that fills up the café's bright space. Goldson, a pioneer member of the Association of Jamaicans in Japan, envisions JamRock Cafe as the home-away-from-home where Tokyoites and Jamaicans can get together to eat proper Jamaican food without having to catch a flight out of Narita Airport.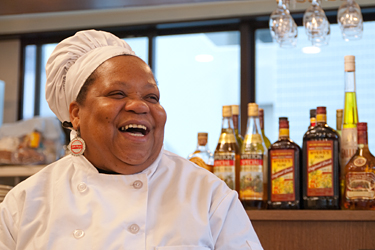 Yvonne hails from Trelawny, Jamaica (hometown of the world's fastest sprinter, Usain Bolt), and has lived in Japan for 12 years. She smiles when she speaks in her lilting Caribbean cadence, and possesses the fearless aura of her American stomping ground of California. This combination makes her not only an unflagging representative of her home island, but also the warm heart of her business.

'I first came to Japan to find a publisher for my book,' recounts Goldson, of her initial reason to make the voyage to Japan. On a year's hiatus from work due to a car accident in Los Angeles, Goldson went back to school where a friend encouraged her to study Japanese. Listening to reggae music on the way to classes, her interest was piqued when she discovered a similarity in Japanese phonetics and Jamaican Patois. 'I was working days, and writing after work at night,' she recounts of the one-year process that went into producing the book. For her, Goldson says writing Japanese is easier than speaking and after a few months of writing her dictionary she visited Japan, found a publisher and published her book, staying to oversee the editing.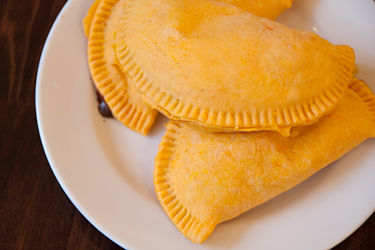 'Jamaican Patties'

English is Jamaica's mother tongue but everyone speaks patois – a colourful and expressive language that is a blend of misappropriated English, Spanish, French, and west African dialects. Patois is the substrate for the stories that are the basis of reggae and the ever- evolving zeitgeist of popular Jamaican culture. Japanese who flock to Jamaica, whether for the Reggae Sunsplash music festival or international development work with The Japan International Cooperation Agency (JICA), find speaking in patois endearing to Jamaicans. Goldson's book is one of the bridges that's making patois more accessible to Japanese interested in Jamaican culture, especially the ubiquitous topic: food. The dictionary covers Jamaican food, fruits, beverages, desserts which are on the menu at JamRock Cafe.

'People have this idea that all we eat in Jamaica is jerk chicken, but we don't really make that at home. That's more of a street food,' muses Goldson on the reasons why she is focusing more on home-style dishes. A look at the menu shows that a cross section of Jamaican home-style favourites, even ackee and saltfish (the national dish of Jamaica), are ready to be enjoyed.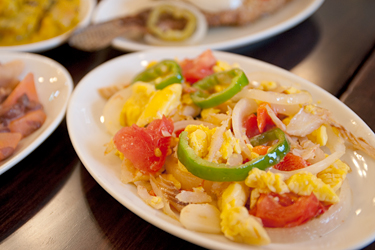 'Ackee and saltfish'

Ordering a meal in patois at JamRock Cafe is one of the charms of going there, especially speaking with Kanto, the Japanese server who has a very convincing Jamaican accent. Try saying 'Mi waan fi nyam nuff' (I want to eat a lot) and when Goldson's mouth-watering food arrives to your table it is safe to say 'Mek we nyam' (Let's eat!).

Goldson said her former boss inspired her to start her business after eating her food. She met her head chef, a Rasta man called Twitch, at the popular Jamaican One Love Reggae Festival in Yoyogi Park; the two collaborate on JamRock's menu and catering.

'It is good to be naïve,' Goldson replies when asked about her advice to Tokyo entrepreneurs. 'If you think too much about what obstacles you might face, you might talk yourself out of doing it. Just go and do it. Follow your dream.' Her dream was a vision of cooking good Jamaican food and providing a familiar atmosphere for people to unwind.

'The Patois Handbook: Let's Speak Jamaican!' by Yvonne Goldson, published by UPLINK in July 1998 is now available on Amazon.jp.
www.amazon.co.jp/gp/product/4309901980?tag=booklog.jp-22&linkCode=as1

JamRock Cafe (read more)

Related artciles:
・A taste of Canada in Tokyo #1
 All you need to know about Montreal bagels
・Meguro's café spots
 Take a walk and discover the 10 most stylish cafés in Naka-Meguro
・Tokyo's top vegetarian eats
 Find delicious dishes without the meat