Warmer weather, lighter clothes and sunshine: everything that says summer. The final ingredient to the mix: the promise of summer holidays. Before your big summer plans swing into action – whether the mountains or the beach – don't forget to make your own prelude by sampling the summer treats available right here in the city. One of the best summer attractions in Tokyo, believe it or not, is the beer garden. Though it may not be the first thing that comes to mind when one thinks 'Tokyo' and 'summer', there are in fact a slew of beer gardens just waiting for your visit. Many of them open as early as late May, meaning that the fun is just getting started – and so should you. Here are our picks for beer gardens you can enjoy right now.

Forest Beer Garden (Meiji Shrine)
An expansive beer garden located within the children's play area inside Meiji Shrine's Outer Gardens, the Forest Beer Garden stands apart from other Tokyo beer gardens by being surrounded by trees and a place in which one can almost completely forget the noise of the city. What's more, adding to the verdant setting, the area even boasts a waterfall that can be found just to the left of the entrance.

When it comes to eating and drinking, the garden offers both an a la carte menu and an all-you-can-eat-and-drink menu. Reservations for two people or more can be made in advance, however they are available only for those opting for the all-you-can-eat-and-drink plan (¥4,000 per person for men and ¥3,800 per person for women, limited to 2 hours.) Those opting for a la carte can choose between grill-ready fare such as a plate of three different varieties of raw lamb (¥3,300), yakiniku-style meat for grilling (¥2,600) and a plate of German sausages for ¥1,280. To wash down the food, drinks such as a regular-sized draught Kirin Ichiban Shibori on tap for ¥550, Kirin Ichiban Shibori Stout (¥550 for the regular size) and a regular-sized draught Budweiser for ¥600. Despite the fact that it's one of the largest beer gardens in Tokyo, with a capacity of approximately 1,000, make no mistake that at weekends and during the holidays the garden gets extremely busy; it's not only wise, but also often necessary to book in advance. The entrance to the garden is on the Jingu Gaien (Outer Gardens) side of the park, so be careful not to head in the wrong direction if approaching from either Shinanomachi Station or Aoyama-itchome Station.
(Full details & map)
Tokyo Sanuki Club Beer Garden (Azabu-juban)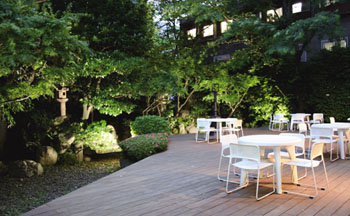 Located in an enclosure surrounded by greenery and trees, an approximate three-minute walk from Exit 2 of Azabu-juban Station, the Tokyo Sanuki Club Beer Garden may not have a thousand-strong-capacity, however what it lacks in size it makes up with in atmosphere: think tables and chairs resting on a neatly laid out wooden decking floor, providing an extraordinarily quiet haven away from the hustle and bustle of the city.

The menu here includes food such as an assortment of sashimi for ¥575; basashi (raw horse meat) for ¥1,100; unagi-tempura (eel fried in batter) priced at ¥525; and various Sanuki specials including bukkake-udon, ¥420 for a small sized portion and shoyu-mame (soy-sauce flavoured beans) for ¥315. Additionally, if you reserve for two people or more, the garden also offers a dish called 'Jingisukan' (the Japanese pronunciation of the name Genghis Khan) featuring vegetables and grilled mutton for ¥1,890 per person.
(Full details & map)
Starlight Beer Garden (Nihonbashi)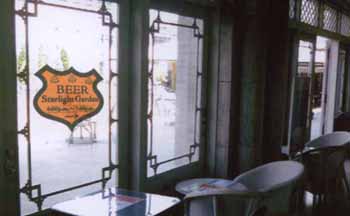 The first beer garden to open on the roof of Nihonbashi's Takashimaya – a designated cultural property of national importance – the Starlight Beer Garden, which is modelled on an Irish pub, serves as one of the newer evening hangouts in Nihonbashi. Dishes on offer here include roast beef for ¥900; prawns dressed with mayonnaise (¥700), and a selection of 'Service Plate Ladies Set' items such as a half-portion of fish & chips and a selection of half-sized sandwiches that each come with one free drink, for ¥1,000 (limited to thirty servings.)

In addition to beers such as draught Asahi Super Dry (¥450 for the regular size) and draught Asahi stout (¥450 for the regular size), the garden also offers wine, highball, various cocktails and a good selection of non-alcoholic drinks including six varieties of fruit coolers – priced at ¥500. A Starlight-only drink made with rose scented dessert vinegar, dubbed the 'Nihonbashi Rose Cooler' runs for ¥500, and a special 'Nihonbashi Rose Soda' goes for ¥350.
(Full details & map)
Green Garden (Shibuya)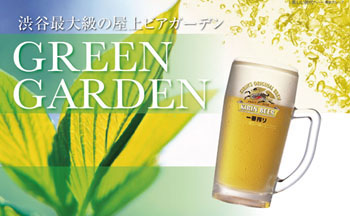 A beer garden with a seating capacity of 260 and located on the roof of Tokyo Department Store Shibuya Honten, Green Garden is a short walk from Shibuya Station, past the 109 building at the end of Bunkamura Dori. The largest of its kind in the area, this beer garden offers items such as vegetable sticks dressed in anchovy oil (¥850), spare ribs (¥1,200), renkon (lotus root) chips with salsa (¥600) and cheese donuts (¥600). On the beverage side of things, a range of different beers including Kirin Ichiban Shibori (¥550 for a regular size glass and ¥950 for a large glass), draught Heineken Extra Cold (¥600) and Heartland by the bottle for ¥550. In addition to beers, the garden also offers a variety of other beverages including wine and chilled sake. Check out the website to get a special coupon that can be exchanged for a free beer (valid until June 30) and to learn more about the live performances that are scheduled for July and August.
(Full details & map)
Beer Friends (Kudan Kaikan)
Located on the roof of Kudan Kaikan, a building that houses a number of facilities including event halls, a restaurant and overnight accommodation, Beer Friends is a unique beer garden that offers different services depending on the day. On Mondays check out the two-hour all-you-can-drink service priced at ¥2,200 for men and ¥1,700 for women. Tuesdays brings either two-hours of all-you-can-eat BBQ or two-hours of all-you-can-eat zuwaigani (snow crab) for four people or more, priced at ¥4,500 per head (limited to 100 customers). Wednesdays they offer a special discounted all-you-can-drink price for women of only ¥1,300 and on Fridays sees live entertainment to go along with your beer. In addition to food such as yakiniku and both a range of Japanese and western snacks, they also offer a range of beers that includes both regular draught Ichiban Shibori, draught Ichiban Shibori Stout and an option consisting of half of each, all of which are priced at ¥580 for a regular sized glass.
(Full details & map)

Translated by Brin Wilson