Hear the word kakigori (shaved ice) and those ice-filled cups – staple items at summer festivals or days at the beach – will likely spring to mind. 'Ice tastes the same everywhere' is an all too common mantra, but this couldn't be further from the truth. This summer, Japanese-style cafés and coffee shops all over Tokyo are serving up a host of shaved ices with flavours that are as unique as they come. Different shops focus on different aspects of the summer treat; for some, it's all about the ice itself, for others it is the way it's shaved. Then there's the syrup, toppings and the arrangement of the mound of ice. With all the possibilities, this isn't child's play; kakigori is a summer work of art that is taken very seriously.

In the middle of summer most of the more popular shops will have people lining up out front. And while there is nothing like tucking into a kakigori after a long wait in a queue on a hot summer day, we recommend you try one before summer really hits. This is with good reason: once summer is in full swing, most shops have their air conditioner blasting, and your body can get cold even before you lay eyes on your kakigori. Once you start eating, your body gets even colder, and it is likely that by the time you take your last bite your teeth will be chattering. With most places still setting their air conditioners to 'low', this is the best time to really enjoy the taste of kakigori.

Time Out Tokyo found five shops serving their own distinctive kakigori flavours. Take a break while you're out shopping or taking a stroll, and get a taste of this treat that's only around for summer.

Imojin: Koori gyunyuu ice milk (Nezu)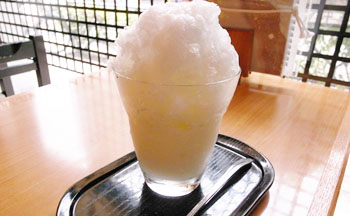 In this kakigori that runs for ¥450, the bottom of the glass is filled with lemon flavoured sweetened milk that's then topped with fluffy ice shavings. When you start out you will be eating a mixture of ice and milk, but by the end you will be sucking up the remaining cold milk with the accompanying straw. It has a not-too-sweet, light taste and the serving size is just about right for making it the perfect stop on a summer day's walk. Imojin has been around a long time, having opened in 1912. It also has a takeaway corner, which serves aisu monaka (ice cream encapsulated in wafer) for ¥110 yen. Eat in and you'll have a choice of four tables each seating four people. In addition to shaved ice, the menu also has the usual array of sweets including curimu anmitsu (anmitsu with ice cream) for ¥450, twin scoops of ice cream (abekku aisu) for ¥260 and mamekan (sweetened beans with agar jelly) for ¥370.
(Full details & map)
Koori Kobo Ishibashi: Koucha Koori Miruku-gake (Sangenjaya)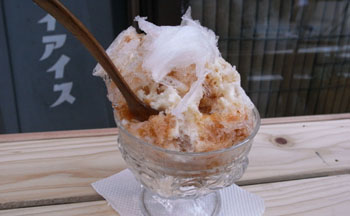 The ¥650 kakigori here has a milky tea flavour achieved by drizzling sweetened condensed milk over black tea syrup. It has a scrumptious taste that you will be hard-pressed to find elsewhere. The ice shavings are fine, giving a light yet crunchy sensation. Before you know it you'll be at the bottom of the glass –this explains why some customers have been said to try two different kinds of kakigori in just one sitting. The interior of the shop has a nostalgic atmosphere and is overflowing with items such as an old ice shaving machine and a vintage refrigerator. The small tables and chairs give customers the feel of sitting at a festival stall. Alternatively, drop by and eat out by the front of the shop.
(Full details & map)
Shimura: Koori nama ichigo (Mejiro)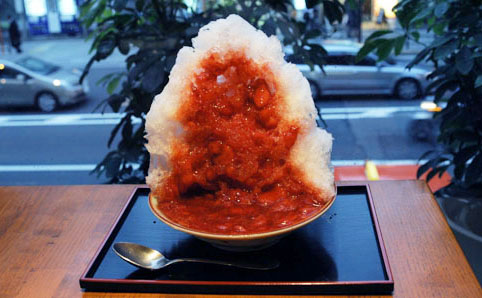 This hefty kakigori, Koori nama ichigo (¥800) features a generous serving of sweet-sour syrup made from fresh strawberries, drizzled over an enormous pile of ice. That said, it isn't too sweet so finishing it off shouldn't be a chore. This is the kind of place that often has a line so it's better if you avoid the mid-afternoon break time, otherwise you find yourself waiting. Popular items sold in the Japanese sweet section on the first floor are Shimura's famous tsukumo mochi for ¥105 and fuku mochi for ¥116. On the second and third floors is a sweet parlour. There are various light refreshments to be had including onigiri (rice balls) for ¥650 yen, anmitsu for ¥700 yen, and sencha green tea for ¥450 yen.
(Full details & map)

Shimokita Chaen Oyama: Green tea adzuki (Shimokitazawa)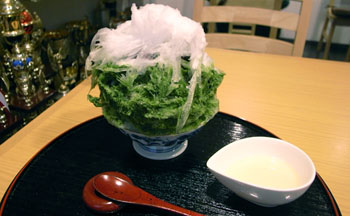 Shimokita Chaen Oyama continues in the tradition of Shimokitazawa's famous Suzu no Cha-ya of days long gone. This green tea adzuki kakigori (¥700) has a strong macha green tea flavour giving it a real kick. Apparently, the serving size is not as big as last year, but that said, it's still pretty big so you might want to consider sharing with a friend. Having to line up is a given, so we advise you be prepared. The teahouse is on the second floor while on the teashop occupies the first floor – take note as the staircase is difficult to find. The tea shop is family run (by winners of the Tokyo Tea Judging Competition) and sells specially selected teas. If you take your own flask, they will fill it with 500ml of top quality tea for ¥150, which you would normally pay at a convenience store; And for an extra ¥50, you can request sweetened condensed milk syrup to the macha adzuki pictured above.
(Full details & map)

Mitsubachi Honten: Aisu miru furu (Yushima)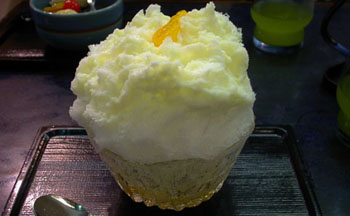 Hidden under the shaved ice topped with sweetened condensed milk syrup is a bounty of fruits including mandarin orange, peach and pineapple accentuated by the syrup. The ice is quite cold, giving you a cold blast that is sure to cool you down – a must for a hot day (¥500). Mitsubachi also sells Ogura ice cream (and was apparently the first place do so in Japan) for ¥200 yen, and hani-yaki (large honey flavoured filled pancakes) ¥110 yen.
(Full details & map)
Translated by E. Kavanagh