There are a couple of cons to summer in Tokyo. First, one must get through the rainy season (to help with this, see our food delivery article). Next, one must endure a hot and humid August. You could easily end up staying indoors every weekend as a result. But that's bound to induce severe FOMO, especially when you've got all the summer music festivals going on. We've found 10 items that will hopefully inspire you to brave the extremes and go play outside.
His and hers rain ponchos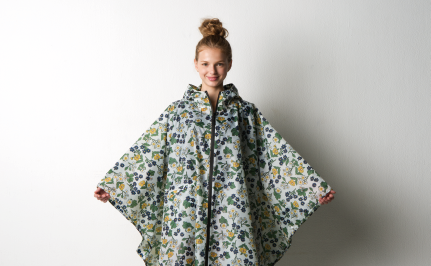 FOR HER: RAIN GEAR BY KIU
There are three essential requirements when it comes to summer rain gear in Tokyo: lightweight, folds up small, stylish. Affordable helps too. Kiu's rain poncho series fits the bill, offering a variety of patterns and a handy little zip bag that hardly takes up any space in your handbag. Styles for men are also available.
¥4,536, available at Rakuten or at Loft Shibuya



FOR HIM: TEN-CHO BY MONT-BELL
Make like a snail and carry your roof on your back. This raincoat turns into a tent that fits three people (sitting) and is especially useful if you're heading to an outdoor music festival where rain is guaranteed. We're looking at you, Fuji Rock.
¥11,800, available from Mont-bell
Camper's futon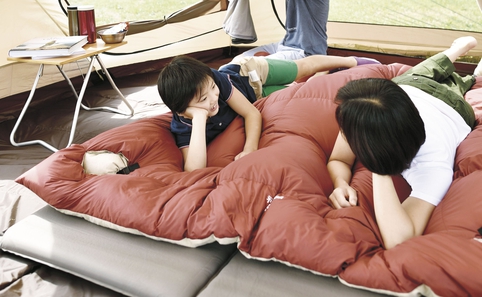 GRAND OFUTON BY SNOW PEAK
Just because you're out in the wild doesn't mean you can't sleep like a king. This futon sleeping bag comes with an air mattress for extra comfort and to block any chill from the ground. Granted, you may not need all this warmth during summer, but just sleep on top of it for now. Come winter, you'll be laughing.
¥49,800 (single), ¥72,800 (double), available from Snow Peak's webshop or in store at Tamagawa Takashimaya Garden Island complex.
Musical chairs
SPEAKER SOFA BY DOPPELGÄNGER OUTDOOR
Upgrade that fold-up camping chair with this ultra-comfy blow-up rocking chair that comes equipped with speakers – simply plug in your smartphone and press play.
From ¥4,205, available from Amazon or Rakuten.

Eco-friendly paper plates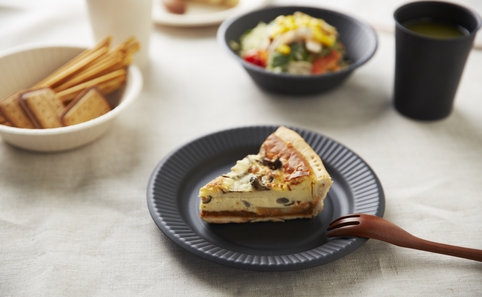 BAMBOO TABLEWARE BY TM-SERIES
The tm-series of plates, cups and bowls were designed to mimic the size, texture and weight of disposable paper plates, while being as eco-friendly as possible. They're made from organic bamboo powder and are as durable as plastic so you can re-use them.
¥700 for one cup, ¥900 for one plate or bowl (before tax), available from ideaco's webshop. For English assistance, call 0120 188 511 or email info_en@ideaco-web.com. Also available from Spoon & Tamago's webshop.
Drip coffee anywhere, anytime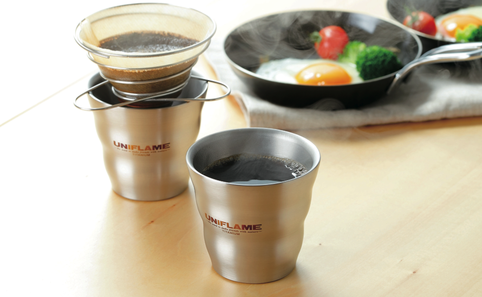 COLLAPSIBLE COFFEE DRIPPER BY UNIFLAME
If you can't start the day without a cup of organic drip coffee, then don't leave home without this handy gadget. It's stainless steel, collapses for easy storage, and comes in two sizes: 'cute' for two people and 'grande' for four.
¥1,900 (cute) or ¥2,100 (grande), cup not included, available at L-Breath.
Summer scarf
COOLING TOWEL BY SHF
There are plenty of run-of-the-mill cooling products on sale at your local convenience store, but this one might just pass as an actual accessory. It's made with a special material that activates when you run it under water for a minute, creating a cooling effect that lasts for hours.
¥1,300 (before tax), available from SHF's webshop or from Loft Shibuya.
The perennial bonsai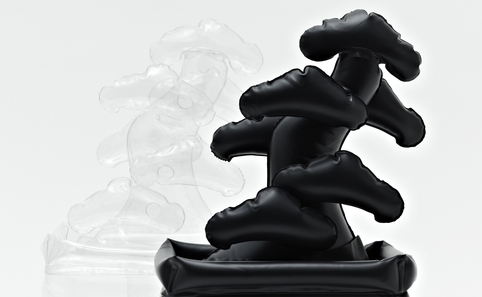 AIR BONSAI BY WABISABI
If you've ever tried to nurture a plant through Tokyo's summer, you'll understand why we recommend throwing out your (by now dead) sunflowers and only bothering with cacti and inflatable bonsai trees. The Air Bonsai won a JAGDA (Japan Graphic Designers Association) award – in case you need to convince anyone of its cred – and comes in black and transparent.
¥2,160, available from Museum Store.
By the light of the veg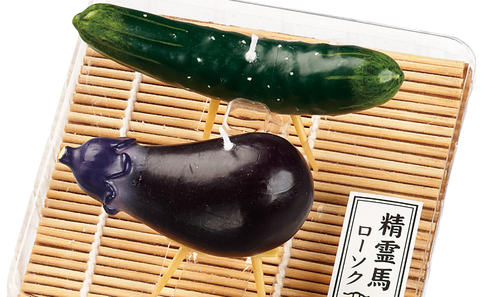 OBON CANDLE BY KAMEYAMA CANDLE
What's up with this unlikely pair of veggie candles? Besides the fact we think they'll fit right in with your healthy alfresco dinners this summer, they are significant for being part of obon, the Japanese custom of honouring one's ancestors. Some people place a cucumber and eggplant side by side (giving them both 'legs' made from toothpicks) in their home to welcome and then see off their ancestors respectively. Nothing like a quirky centrepiece to act as conversation starter.
¥680 for the set (before tax), available from Kameyama Co. Ltd, call to order: 0595 82 9837.

Smart tee for smartphones
T-SHIRT BY ININK
Tired of losing your phone at festivals? This T-shirt gives you a hand. Its transparent pocket has a Velcro strip at the top left corner and an opening at the bottom right corner for your earphone cord.
¥5,184, available from inink or at Loft Shibuya (until Aug).
This article appears in the summer 2015 issue of Time Out Tokyo magazine