Anyone who's ever imagined themselves as a heroine in a fairy tale probably harbours a secret desire to dress up as a Lolita girl. But while it's easier to get away with wearing mountains of frills and pink petticoats in Japan, where the subculture originates, you might not know where to begin looking for that perfect 'cupcake' dress. You also might be a little shy to strut around the streets in a corset. To help you live out your Lolita fantasy, we went through the whole experience ourselves – shopping, dressing up and going out in public looking like a doll – so you know you can trust us when we say, don't worry, everyone else will be in fancy dress too.
Step one: know your stuff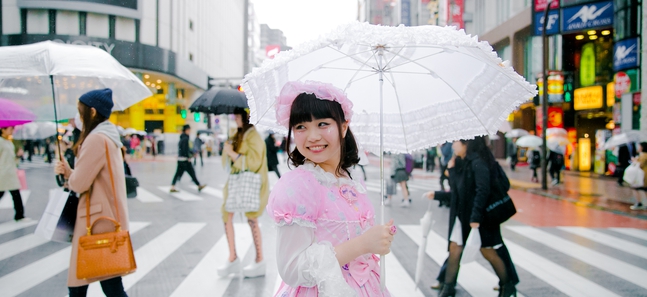 Inspired by Rococo- and Victorian-era clothing, Lolita style started out with a focus on modesty but these days is all about playful prettiness, with girly colours, frills and petticoats taking centrestage. The original silhouette was a flared knee-length skirt or dress, but this has expanded to include other items such as corsets, frilled blouses, knee-high socks, and headdresses. The term 'Lolita fashion' was coined by fashion magazines in the '90s and it's now one of the defining subcultures of Harajuku's street fashion. In 2004, the fashion trend spread around the world thanks to the film 'Kamikaze Girls' as well as Gwen Stefani's troupe of backup dancers called Harajuku Girls.
Within the subculture there are a variety of different styles, so if the Sweet Lolita look is a little too twee for you, you can replace frills, bonnets and bows with the dark make-up and black clothing of the Gothic Lolitas. Or you can join the Punk Lolitas and don tattered fabrics, ties, safety pins and chains. Before you begin shopping, find inspiration by walking down Harajuku's Takeshita Dori or popping into Laforet Harajuku, both of which are popular gathering spots for Tokyo's real Lolitas.
Step two: shop for clothes (and dolls)
Angelic Pretty
Angelic Pretty has been around since the very beginning of the movement. Specialising in cute, it's a wannabe princess's dream come true with lace, frills and ribbons galore. They have plenty of styles to choose from, including elaborate dresses or more casual clothing, but if you want to go for their most popular design, ask for the 'Marine Kingdom'. Map and details

Putumayo
One of the main purveyors of Gothic and Punk Lolita fashion, Putumayo has a branch in Laforet Harajuku and has expanded into Shanghai too. Its elaborate, frilly dresses and punk-grrrl jackets are complemented by shoes, bags and accessories, so you can give yourself a head-to-toe 'Loli' makeover if the mood takes you. You'll still find plenty of frills and lace here, but you'll also find studs and skull motifs. Map and details

Maison de Julietta
If you want the full Lolita transformation, head straight to Maison de Julietta. They'll dress you in rental outfits from brands such as Baby, The Stars Shine Bright, Alice and the Pirates, and Angelic Pretty. They also offer hair, make-up and a professional photo shoot in an Alice in Wonderland-themed studio. Afterwards, you get to walk the streets of Harajuku in your Lolita getup for a limited time period. If you want to try a different beauty salon in Harajuku, pop in at Dea and ask for stylist Misako Aoki who is in charge of Lolita-style hair and make-up.
Map and details for Maison de Julietta
Map and details for Dea

Angel's Window
Ever heard of Super Dollfie? It's a customisable doll made by Japanese company Volks that's become strongly associated with the Lolita subculture, most likely because the dolls look like miniature versions of Lolita girls. If you buy a Super Dollfie at Angel's Window, which specialises in the toys, you'll have a 'pick-up ceremony' which is intended to 'deepen the ties between buyer and doll'. The ground floor of the store is dedicated to this ceremony, while the dolls and their clothing can be found on the 1st and 2nd floors. Prices can range from ¥40,000 for a standard version to ¥100,000 for something more unique. Even if you don't go to buy a Super Dollfie, you can't call yourself a true Lolita until you've at least browsed these mini fake humans. Map and details

Meno
The romantic atmosphere of this vintage shop is reminiscent of a period-drama movie set, which is apt since their clothes are mostly 19th-century pieces from America and Europe. You'll find lacy, embroidered dresses along with shoes, accessories and lingerie – all in keeping with the old-world feel of the store. The displays are wonderfully creative, with every corner carefully decorated like a work of art. Prices are reasonable, with dresses starting from ¥7,000. Map and details

Step three: show off your style
Alice on Wednesday
Wednesday is the most boring day of the week, hence the owners of Alice on Wednesday named their store with the aim of injecting some fun into our mid-week tedium. The newly opened store faithfully reproduces the world of Alice in Wonderland, featuring three floors of delicious sweets and accessories, along with a few fun tricks to keep you entertained – multiple doors on the outside keep you guessing as to which one leads inside, and indoors you'll spot hidden keyholes and characters peeping out from under tables. Many Lolita brands are also themed around Alice in Wonderland, so this is the perfect place to pick up accessories and just generally get into the girly swing of things. If you're visiting here in full getup, be sure to take a selfie on the red throne. Map and details. For more photos, read our blog

Buto no Kuni no Alice
In keeping with the above theme, this restaurant is a fantasyland filled with nods to Alice and her friends. In fact, it's so OTT that you might feel odd if you went and you weren't dressed up. Notice the merry-go-round in the centre of the restaurant, the card soldiers on guard, and the Cheshire Cat-themed dance floor. The decor has an opulent feel to it and semi-private dining rooms are all uniquely decorated. The food is, of course, also appropriately themed: appetisers shaped like card soldiers, pasta adorned with the Cheshire Cat's face. Lunch time prices are affordable including spaghetti or risotto for around ¥1,000. Map and details

Jardin de Luseine
This elegant French restaurant is a popular tea-party spot for Lolitas, so your frills and pigtails will fit right in. It's in a quiet sidestreet, just a short walk from the busy Takeshita Dori, and features live piano music. The perfect atmosphere to enjoy a pleasant cake set (¥1,080). Map and details

Q-pot Cafe
After gaining an international following with his sweet-themed jewellery range, Tadaaki Wakamatsu's Q-Pot brand comes full circle at this Kita-Aoyama café, which sells edible versions of his accessories. Decked out with teapot lampshades, Q-Pot wallpaper and giant biscuit-shaped wall art, Q-Pot Café creates a fairy-tale atmosphere that extends to the offerings on the menu. Macarons, cupcakes and chocolates are served on appropriately decorated 'necklace' and 'ring' plates, or as a 'plate of delight' assortment. Hardened sweet fiends can reserve the 'Se"Q"ret Room' and get a full-course menu where even the caviar and carbonara are made from sweets (¥20,000 for up to four people, 90 minutes). The colourful array of treats is also available for takeaway, along with an exclusive selection of cups, pots, coasters, tea and snacks. Map and details

The Foreign Butler Cafe
If you're dressed up like a princess, you might as well go to a place where you'll be treated like one too. The best we could come up with was Shibuya's Foreign Butler Cafe, which is essentially meant to give women that fantastical experience of having a group of good-looking men pandering to their every whim – and calling them 'princess'. This does happen at the Butler Cafe, but it can feel a little forced and be warned that there are plenty of hidden costs involved, for example, if you want to take a photo of the butlers you'll need to pay an extra fee. Nevertheless, your Lolita outfit won't attract any odd stares and might even help to make the experience more enjoyable. Map and details