There are many delicious ways to enjoy the humble egg, each more enticing than the last – whether it's boiled, scrambled, fried, cosied up to a slice of bacon, mounted on a slab of buttery toast, coated in a blend of clay, ash, salt and quicklime and buried for a few months until it's brown… You get the gist. But none are more enticing than eggs benedict. It covers all the most important breakfast food groups (carbs, pig, protein, some sort of sauce), is usually less artery-clogging than the full English, more sophisticated than a stack of syrup-drenched pancakes, and delicious to boot. Here's where you can find the best eggs benedict in Tokyo…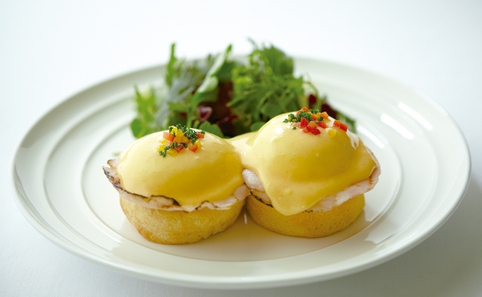 Popular New York import Sarabeth's has been giving hungry expats a taste of home since it arrived on Tokyo's dining scene in 2012. In keeping with the restaurant's dainty decor, the eggs benedict is a real work of art, comprising a round of English muffin stacked with smoked ham and a perfectly poached egg, smothered in a glossy hollandaise sauce. Served with a salad garnish rather than the usual greasy hash browns, it even looks sort of... healthy.
Sarabeth's Lumine Shinjuku store 3-38-2 Shinjuku, Shinjuku-ku, Tokyo
Price: classic eggs benedict ¥1,400
Open daily 9am-10pm
Full review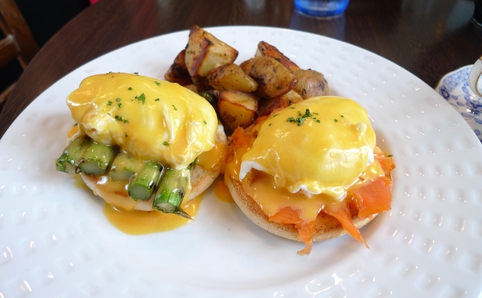 You'll have to swing by on a weekend if you fancy a bite of Good Honest Grub's eggy offering, as it's only served at brunch. Choose between two or three eggs accompanied with hash browns, then spend the next ten minutes dithering over which toppings to pick: alongside the usual bacon and ham, you'll find grilled aubergine, crab, caramelised onion, avocado, feta and more.

Good Honest Grub 2-20-8 Higashi, Shibuya-ku, Tokyo
Price: eggs benedict ¥1,600 yen for two, ¥2,000 for three
Available at brunch only on Saturdays, Sundays and holidays 10am-4pm
Full review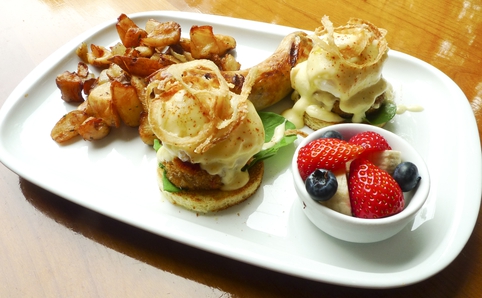 Beacon's take on eggs benedict is about as decadent as you can get. The classic English muffin base is swapped for toasted brioche, the hollandaise for lemon cream sauce, and instead of the usual side of hash browns you get a lobster cake. The quality is reflected in the price tag, of course, but at least you'll leave satisifed – this is brunch done the American way, so expect the plates to be piled high.
Beacon 1-2-5 Shibuya, Shibuya-ku, Tokyo
Price: eggs benedict with brioche toast and lobster cakes ¥3,200
Available at brunch only on Saturdays, Sundays and holidays 11am-3pm
Full review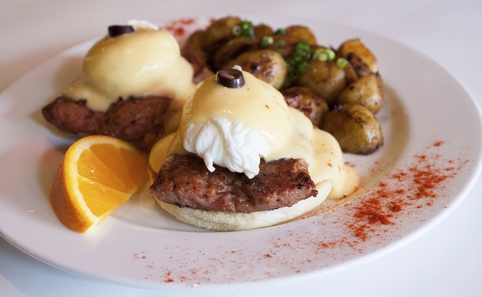 Another one for Sunday brunch, Kimono has three types of eggs benedict on offer. Purists will want to go for the classic or florentine options, but if you're a little more adventurous it's worth sampling the Cajun-style version with andouille sausage. The salty, spicy meat offsets the eggs and hollandaise nicely, delivering a fiery wake-up to sleepy tase buds.

Kimono Wine Bar and Grill 1-15-28 Minami-Aoyama, Minato-ku, Tokyo
Price: eggs benedict Cajun style with spicy andouille sausage ¥1,365
Available at brunch only, Sundays 10am-4pm
Full review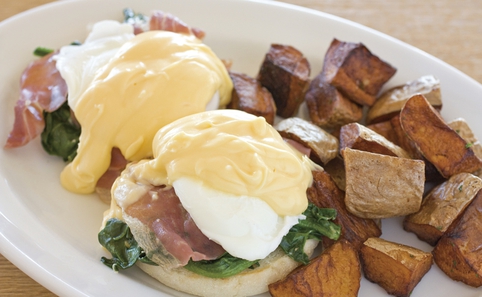 There's usually a queue at this popular Portland import, currently one of Tokyo's most prized pancake destinations. However, anyone looking for a slightly less stodgy breakfast can feast on their 'Slappy Benedict' instead. Available all day, the English muffin base is house-made, while the topping includes a purée of dried tomatoes, sautéed spinach, ham and roasted garlic, covered in the obligatory hollandaise sauce and topped with poached eggs. Tasty enough to give the pancakes a run for their money.
Slappy Cakes 7F Lumine Est, 3-38-1 Shinjuku, Shinjuku-ku, Tokyo
Price: Slappy Benedict ¥1,100
Open daily 11am-10pm
Full review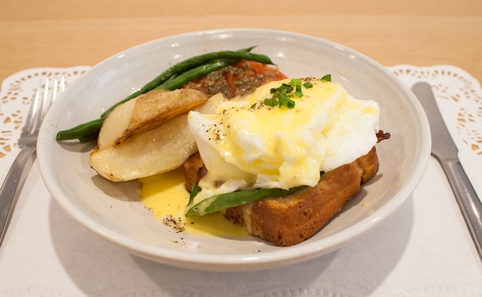 Given that co-founder Rose Carrarini authored a book called How to Boil an Egg, you'd expect Rose Bakery to know a thing or two about brunch. Their eggs benedict doesn't disappoint: the base of toasted, buttery brioche is topped with poached egg, spinach, bacon and a generous coating of buttery hollandaise sauce, with a generous side order of baked tomatoes, green beans and potatoes to make it feel slightly less sinful.
Rose Bakery 7F Ginza Komatsu West, 6-9-5 Ginza, Chuo-ku, Tokyo
Price: eggs benedict ¥1,300
Available only on Saturdays, Sundays and holidays 11am-9pm
Full review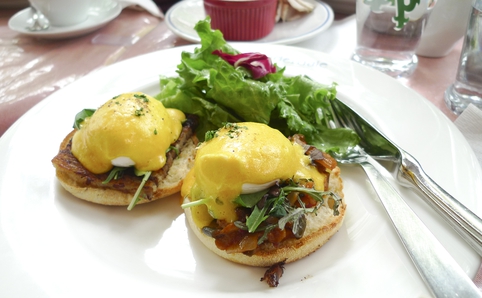 Mixing up the classic eggs benedict recipe has proved a smart move for Lauderdale, Roppongi's eternally bustling spot for brunching expats. There are three adventurous combos to choose from – corned beef and veg; shrimp, avocado and cheese; and salmon and bacon – though you'll have to go at brunch to sample them. The place gets pretty packed, too, so be sure to book yourself a seat on the terrace if you want to chow down in style.
Lauderdale 6-15-1 Roppongi, Minato-ku, Tokyo
Price: corned beef and veg eggs benedict ¥1,900
Available at brunch only on Saturdays, Sundays and holidays 8am-4pm
Full review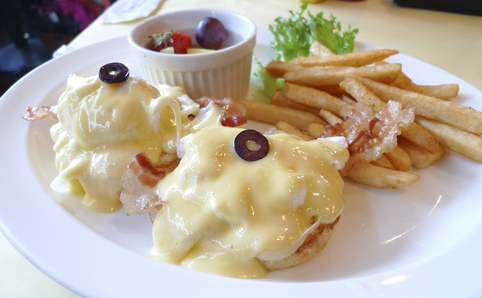 Expat families still flock to this long-running Yoyogi restaurant at weekends for some good old American-style brunch. Service can be a little sloppy, but it's worth enduring it for the eggs benedict – a classic toasted English muffin topped with bacon, a perfectly cooked egg and generous serving of hollandaise. The eggs florentine is also worth trying, featuring all the usual components but with healthier, vegetarian-friendly spinach replacing the meat.
West Park Cafe 23-11 Motoyoyogicho, Shibuya-ku, Tokyo
Price: eggs benedict ¥1,480
Available at brunch only on Saturdays, Sundays and holidays 10am-5pm
Full review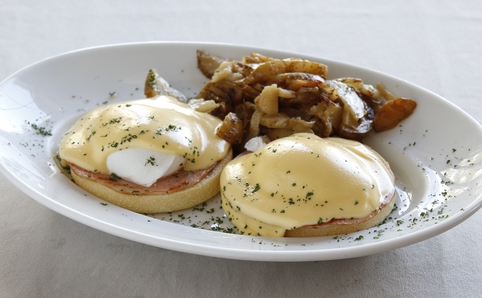 New York arrival Bubby's achieved a hat-trick of stores when its Yaesu branch opened in 2012. The menu includes an ample selection of burgers, sandwiches, and chicken and waffles, as well as a vast array of pie. While other restaurants save their eggs benedict for weekend brunch, here you can have it on weekdays too. This orthodox rendition comprises the usual ham, poached egg, hollandaise and English muffin, and comes with a garnish of sautéed onions and potato.
Bubby's Yaechika 2-1 Yaesu, Chuo-ku, Tokyo
Price: eggs benedict ¥1,200
Available at weekday lunch 11am-4pm and on Saturdays, Sundays and holidays 9.30am-11.30pm
Full review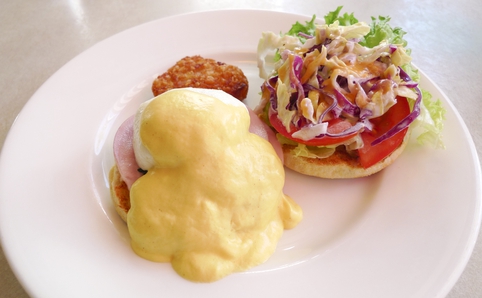 When you're chowing down on Western-style dishes in Tokyo, you expect to pay import prices – but if you don't mind forsaking authenticity, there are other options. Dig ¥546 out of your pocket and wave it in the direction of Royal Host, and you can buy yourself a Japanese-style eggs benedict. All the usual components are in place (if not necessarily up to the same standards as the other dishes featured in this list), with the added bonus of, er, coleslaw sitting atop one half of the muffin. At least it's one of your five-a-day. UPDATE: Royal Host Omotesando has closed, but other Royal Host locations continue to serve budget-grade eggs benedict.
Royal Host Omotesando 4-3-2 Jingumae, Shibuya-ku, Tokyo
Price: eggs benedict ¥546
Available at breakfast only 9am-11am
Full review

Translated by Time Out Tokyo Editors