It's no longer impossible to find a dish with brown rice instead of white. As Tokyo picks up on the organic and healthy restaurant trend, we went on the hunt for a list of spots to satisfy all desires – whether you're vegetarian, vegan, a meat eater, a wine lover or a sweet fanatic.
Tamana Shokudo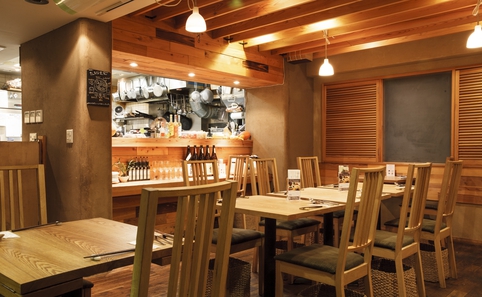 Best for: traditional Japanese set lunch
You would never guess from the unassuming exterior, but this is a beautiful, inviting space that gets packed at lunchtime yet still retains an intimate atmosphere. Their signature set lunch, Tamana Teishoku (¥1,890), includes about 40 different ingredients to maximise nutritional balance and incorporates traditional recipes. It's one of those meals that forces you to slow down on chewing, so tantalising is every morsel. There are a few secrets to the flavours at play here, one being shoyu koji (soy sauce rice malt). This sweet and salty fermented (read: good for your gut) dressing takes two to three weeks to prepare and you can buy a tub to take home for ¥570. As part of this lunch set, it's used as a topping for the fried tofu squares, but you can marinate chicken, meat or fish with it too. The lunch side dishes include brown rice served with black sesame and salt for sprinkling, five kinds of natto beans (served with soy sauce rice malt and four other kinds of beans), tempeh salad, pickled veg and miso soup. Tamana Shokudo, which is 100 percent organic and vegetarian, also sells a great range of organic goods like olive oil and beans, hosts a vegetarian cooking school and informal one-day cooking courses (in Japanese). Note that their lunch menu is only in Japanese (there are pictures, though), while their dinner menu comes in English. Map and contact details

Ain Soph. Journey
Best for: vegans who like dessert for dinner
Sweet tooth but still like to feel healthy? Allow us to introduce you to your new best friend. Vegan restaurant Ain Soph. Journey serves the fattest, fluffiest pancakes as a main meal set (¥1,400), served with vegan cheese, jam, cream, ice cream, nuts and fruit. It comes with a chunky fresh salad, presented in a tall glass with walnut and olive oil dressing, and a thick tomato soup, as well as your choice of tea served in a delicate silver Moroccan teapot. If you prefer something more on the savoury side, the Green Curry Set (¥1,100) is a spicy winner. This is the second branch of Ain Soph. (there's another one in Ginza) and it's the kind of place we can imagine ourselves spending rainy winter afternoons, especially if we manage to nab the upstairs window booth seat. Hanging plants, subtle lighting, white-washed walls and floors, a Jack Johnson-esque playlist, and healthy treats just make the world a much better place. Map and contact details
Margo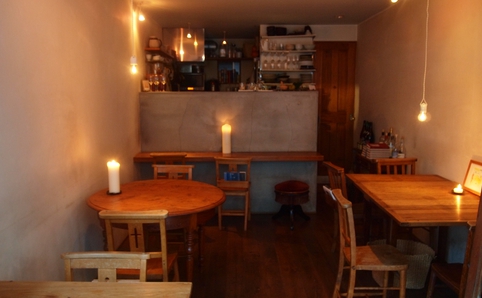 Best for: red wine and romance
Picking up where Yutenji's organic claim to fame (Keats) left off, Margo offers delicious '99 percent organic' fare in a tranquil, rustic atmosphere. The cosy restaurant is kitted out in vintage-style wooden tables and chairs, and in the evenings, candles and dimmed hanging lights create a warm glow, perfect for those looking for some quiet romance. Margo is run by a friendly couple who will explain the Japanese menu to you in English if you need help. If you're there for dinner, they'll also bring out a selection of their 300-plus bottles of natural wine for you to choose from. Besides local wines, they offer bottles from around the world including France, Spain, the US, Austria and Slovenia. 'Most of our wines are biodynamic,' says co-owner Mariko Kojima. 'We especially recommend trying our Jura & Savoie wine.' For those who prefer beer, they serve organic brews from Germany, France and the UK. The other great thing about Margo is that their menu works for both vegetarians and meat eaters. For lunch, we tucked into one of the best lentil and chickpea curries we've ever had, served with grain-filled rice and a few sneaky chillies, and complemented by a side salad to rival all side salads. And when we went back for dinner, we opted for a juicy pork steak served with veggies bursting with colour and flavour, rounded off with a decadent chocolate brownie with a hint of fruity jam embedded in the dense fudgy middle. Map and contact details
Brown Rice by Neal's Yard Remedies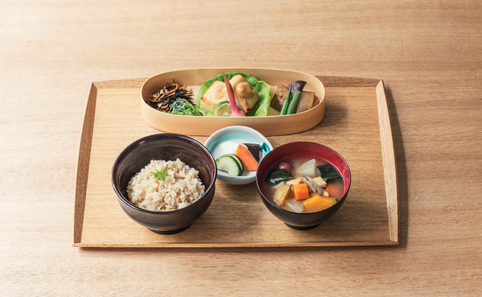 Best for: brown rice (obvs), whole foods and natural remedies
If you live or work in the Omotesando/Harajuku area, this is an ideal spot for a quick lunch or afternoon tea. There are small tables against the floor-to-ceiling windows and along the back wall, while the centre of the restaurant has space for single diners who can take up a spot at two large wooden tables. After your meal, you can nip next door to Neal's Yard Remedies – the restaurant works as a kind of extension to the store – and stock up on organic skin care, essential oils and healing leaf teas. At Brown Rice, the focus is on whole foods, something that is evident in both the flavour and texture of the foods. It's earthy and unfussy, and you really do get the feeling that the veggies packed into the miso soup have just been picked in a garden outside (in reality, they are delivered daily from farms around the country). One page in the menu is dedicated to telling you where their ingredients are sourced from, for example, the home-made raw miso is made with malted white rice from Yamagata Prefecture, while the award winning sticky brown rice hails from Toyama Prefecture. We opted for the Monthly Brown Rice Bowl (¥1,300) which is the kind of meal you could eat every day – just a simple layer of pumpkin, carrots, daikon (radish), sweet potato and lettuce, covered with a sweet sauce and served on unpolished brown rice, along with miso soup and pickled veg. The set includes coffee, grain coffee or hot blended hojicha (roasted green tea). If you're there for afternoon tea, you'll be pleased to know that their desserts are all dairy free and made with sugar alternatives such as beet sugar and brown rice amazake. Map and contact details
Daylesford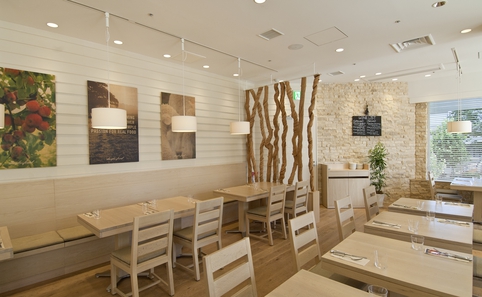 Best for: a taste of Britain
Sometimes you just need a good dollop of proper English mustard, and no alternative will do. Daylesford, which began life as an organic farm in the Cotswolds region in England over 30 years ago, comes to the rescue with its selection of condiments (think lemon curd tomato ketchup, honey & mustard dressing, marmalade etc), available for purchase in the shop which fronts the café. You'll also find teas, ground coffee, wooden cutlery, pure juices and freshly baked breads and cakes. As a brand, Daylesford has won over 90 awards for its food over the last four years, and opened its first branch in Japan in November 2010, giving Tokyoites a taste of things like shepherd's pie and slow-cooked beef stew. On sunny days, tuck into a Daylesford Burger or Freshly Baked Quiche at one of the outdoor tables that overlook a busy courtyard area, otherwise head upstairs to escape the city and dunk chunks of warm bread into olive oil to your heart's content. Map and contact details
This article originally appeared in issue 5 of Time Out Tokyo magazine.