Although some of us might be a little too embarrassed to share our experiences, most Tokyoites have either direct or indirect knowledge of love hotels. After all, these short-stay establishments are ubiquitous, with entire sections of the capital's neighbourhoods devoted to them. And while slightly risqué, the use of such places has much in common with sex in general in Japan – not talked about openly, but widely indulged. Love hotels offer such a quintessentially local experience that any couple living in or travelling to Tokyo should try one out, if only for the afternoon.
Still, the variety of love hotels on offer can feel a little overwhelming even for locals. First, the flamboyant, castle-like establishments that started to appear as a result of the rapid economic growth seen in the '60s and '70s, are probably the best-known kind. These kitsch-packed houses of pleasure feature eccentric touches like revolving beds, mirrored walls and bathtubs fit for a Roman goddess, but are now a dying breed – thanks to strict construction regulations and dwindling revenues. For a representative example, check out Kyoichi Tsuzuki's report on Kawasaki's Geihinkan. Second, the standard, modern love hotel is far less flashy, offering little more than spacious rooms, large beds and oversize bathrooms, perhaps with a few fun gadgets mixed in.
Finally, though, there are some love hotels that buck the trend of simplicity and frugality, offering a full-on 'entertainment experience' and welcoming visitors of all stripes, be they a gay couple, a group of adventurous female friends or a carful of tired campers. Occasionally operating under names like 'fashion hotel' or 'boutique hotel', such spots even allow guests to bring their own food and drink, and attract patrons with equipment ranging from karaoke machines to video games and free Wi-Fi. Here are seven love hotels that fit into this fun and free-spirited category.

Hotel Atlas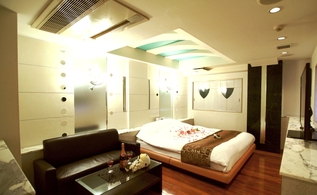 Among Tokyo's major love hotel areas, Kabukicho takes the prize for variety: in addition to dozens of more-or-less standard establishments, it hosts 'luxury' alternatives like the resort-style Bali An, as well as the eminently stylish and comfortable Hotel Atlas, where all rooms are spacious, clean, reasonably priced and equipped with Wi-Fi, karaoke machines and Blu-Ray/DVD players. Unlike most of its competitors, this one doesn't impose limits on guest combinations, meaning that same-sex couples are just as welcome as heterosexual ones, while groups of three or more won't be turned away either. Atlas also offers tailored discounts and plans for girls' parties and other special occasions. Highly recommended for love hotel first-timers.
Full details

Hotel Famy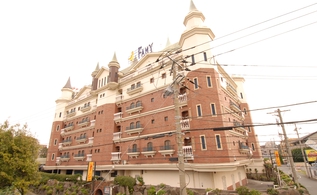 From the outside, this castle-like construction just off the Keiyo Road in Chiba's Makuhari looks like the prototypical OTT love hotel. And you won't be disappointed with the inside either: the atmosphere is wonderfully retro, but rooms are clean, comfy and full of fun details. Conveniently located close to Makuhari-Hongo Station, Famy is all about letting its guests have fun, and has thus eliminated unnecessary rules altogether: you can leave and re-enter freely during your stay, book multiple rooms if you're with a big group, hang out with friends in the 'party room', and enjoy karaoke and video games. Even if your intentions are completely platonic, this spot deserves a closer look.
Full details

Kuchinashijo Togenkyo Atsugi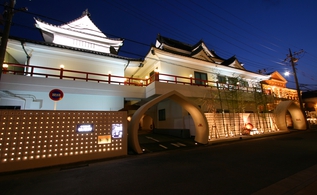 European-style castles are all well and good, but those in search of an essentially Japanese experience will want to check out this shiro, located just off the Tomei Expressway's Atsugi interchange in the heart of Kanagawa. Newly renovated, it's more like a fancy boutique hotel now, with rooms themed on caves and an Edo-era red-light district. While practically unreachable without a car, this one deserves a look – if only for the exterior and the quirky aquariums on the premises.
Full details

Design Hotel Iroha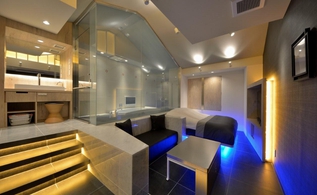 While castle-style establishments and other relics of the Showa era are getting torn down at an alarming rate, the love hotel market is being taken over by flashy boutique joints like Iroha, opened in 2014 only a few minutes' walk from Roppongi Hills. Formerly a fine-dining restaurant, this building has been completely revamped by the Three Star Group, which also operates hotels in Kabukicho and Kinshicho, and now features Japanese elements like sliding doors and lighting arrangements themed on washi paper. Prices aren't unreasonable either – unless you choose to go for one of the suites, which come complete with garden terraces and open-air baths.
Full details

Hotel Two-Way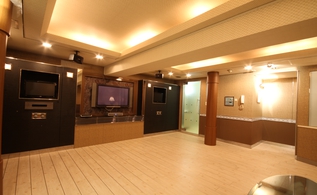 Love hotels aren't exactly in short supply in Shibuya's Maruyamacho, but the modestly named Two-Way stands out with its Southeast Asian-inspired decor and interesting room selection: number 405 is a 'party room' with two beds, karaoke machines and no limits on guest numbers. Perfect for a fun and innocent night out with a group of friends, or, well – let's not go there.
Full details

Water Hotel Cy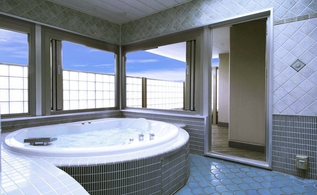 Found right by the Tomei Expressway's Yokohama-Machida interchange, this ocean-themed luxury love hotel's attention to detail ranges from the massive beds all the way down to the room amenities. The fourth floor even features a wedding area, complete with a fully stocked bar, while the room service offers Italian grub worthy of a decently priced Tokyo restaurant. To top things off, Cy's champagne selection is most likely the best one you'll ever find at a love hotel. If this place doesn't impress your date, nothing will.
Full details

Geihinkan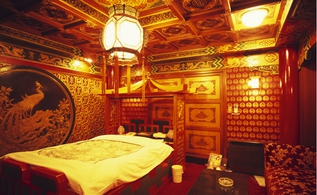 © Kyoichi Tsuzuki

The above-mentioned Geihinkan simply cannot be left off this list: in business since 1962, this Kawasaki classic is one of the most ostentatiously decorated love hotels you'll ever see. The themed suites are designed to resemble everything from a Chinese courtesan's love nest to a Rococo maisonette, with bathrooms that are every bit as showy as the bedrooms themselves. All-female, all-male and mixed groups are welcome, so you'll have no excuse not to visit this gorgeous piece of cultural history.
Full details