Expo 2010 Shanghai China opened on May 1, with 246 participants comprising nations and international organizations from all over the world. This large-scale World's Fair saw a record one million visitors in its first week, and is expected to welcome around 70 million before it closes on September 31.

Of course, some of you are probably planning a visit to Shanghai during the Expo, and getting a taste of the local culture will be a high priority on any to-do list. What immediately springs to mind when thinking of China is the food, and back in Tokyo the dish that's gaining popularity is the pan-fried version of one of Shanghai's signature dishes, soup dumplings, or xiao long bao in Chinese.

Pan-fried soup dumplings are actually called sheng jian, and are usually made by wrapping a skin of dough around a filling of minced meat and other ingredients and then packing them tightly into a hot pan so they are simultaneously fried and steamed. After they are fried, the bottom of the dumplings becomes satisfyingly crunchy, and the centre is filled with a piping-hot soup made from the meat juices. Locals often eat them by first making a hole in the dough and then slurping up the soup inside. It's commonly eaten for breakfast or a daytime snack, and holds a special place in the hearts of the Shanghai locals.

These delicious pan-fried soup dumplings could perhaps be called one of Shanghai's unique cheap eats, and coinciding with the opening of the Shanghai Expo, restaurants specialising in sheng jian continue to open left, right and centre in Tokyo. Some are so popular that they are already inspiring long queues of eager customers. Because so many of the restaurants are new, they have a fresh and clean feeling to them, unlike some other dingy-seeming neighbourhood joints, so it's not uncommon to find a large contingent of ladies in the queues forming outside their doors.

If you're craving the crispy juiciness of these savoury morsels, here are some of the hottest shops in town. All locations serve their sheng jian with warnings about the possibility of scalding because of the soup, so dumpling debutantes should be sure to take care when eating the freshly-fried treat.

Nakano: Soup Dragon
Head out the north exit of Nakano station and walk through Nakano Broadway shopping centre, turning right on Waseda-dori. Soup Dragon, on the right, looks like a café but it lives up to its name as a specialty store. As you would expect from a shop specialising in just one dish, the menu consists of pan-fried soup dumplings only. Wash your dumplings down with an Avocado Shake (¥450), Mango Shake (¥450) or Oolong Tea (¥250). The sheng jian here have a distinctive soy sauce-based soup that contains collagen. For those who want to eat in, there is seating for about ten people, including the counter seats. ¥350/four dumplings

Otsuka: Ouchou Yum Cha Shop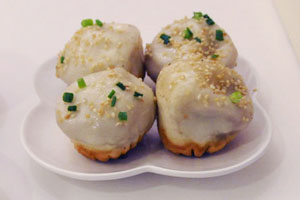 This restaurant is located right by the north exit of Otsuka Station. The bright yellow exterior looks a little gaudy, but once inside, the surprisingly chic red and white interior has a very modern, fresh feel to it. Ouchou offers an extensive range of dim sum dishes, including not only sheng jian, but also xiao long bao containing kani miso (crab butter) made from Shanghai crab, large tang bao soup-filled dumplings, pumpkin mochi (rice dough) cakes and also their soup made from a traditional secret recipe. They also have a large range of sets that can be ordered, including the yum cha set (which includes a selection of dim sum) and the happy hour set. There's plenty of space for those wanting to eat in, so it's a great chance to enjoy fresh pan-fried soup dumplings. ¥350 /three dumplings

Jiyugaoka: Taizan Sheng Jian Ten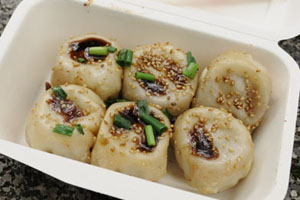 Using a recipe inherited from the long-established Shanghai sheng jian shop Asan Sheng Jian Kan, the soup bubbling within the thin skin of these dumplings has a light, clear flavour. This restaurant serves other dishes, such as soup, and they have also started offering a range of Chinese starters from 5pm. There are tables where you can stand and eat, making it possible to eat in. The shop is opposite the Hara Donuts Jiyugaoka store. ¥300/three dumplings

Shibuya: Shanghai Sheng Jian Kan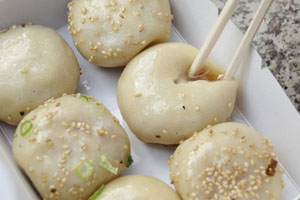 This pan-fried soup dumpling joint opened in February 2010. Leave Shibuya station and walk up the Dogenzaka, you'll see it on your right. The dumplings here are known for being filled with a large amount of soup, and the dough wrapper is smooth like an onsen manju bun, with a spongy texture. The crispy bottom of the dumplings is quite toothsome and satisfying to bite into. The store mostly mainly does take away, but there is some seating too. ¥400/four dumplings

Kichijoji: Shanghai Yaki-Shoronpo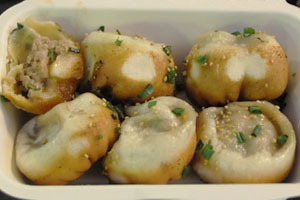 This shop is located in the retro ambience of Harmonica Yokocho area, which stretches out from the North Exit of Kichijoji Station. It opened in Mar 2010 on a corner of the cluster of tiny shops and alleys, squeezed between an eel restaurant and a fruit shop. They only serve pan-fried soup dumplings, which pack a satisfying amount of meat filling into their bready skin. There is no seating, and when the queues outside are particularly long, they can account for the entire batch being cooked, so be prepared for a wait. ¥380/four dumplings

Translated by Virginia Okno