There have been long queues at Hooters Tokyo since it opened its doors in October 2010. However, for those who don't want to wait in line, we have the answer: Beer & Pizza Hanacona. This western-style version of the 'girl' izakaya-pub Hanako, which has 23 bars across locations including Tokyo, Sapporo and Osaka opened its doors on September 13. The belly-button baring, pleated-skirts-over-thongs uniform has created a lot of buzz. While the bar is aiming to attract salarymen in their 20s and 30s on their way home from work, it's also been getting many female clientele. Four darts machines also make this venue popular for mixed groups.

Enjoying your time with the Hanacona Girls
There are 18 female staff members aged 18-22 who work in shifts. When the bar first opens each day there are usually only two or three girls are on the floor. This increases to a maximum of seven or eight during peak times. A lot of work has gone into designing the uniform with the pleats in the skirt and the sun visor aimed at creating a healthy, active image. With a uniform that only comes in one size, there is a lot of focus on how the girls look. That notwithstanding, because much time is spent chatting with the customers, it's important that they have a dream of their own. The girls' choice of bra (which customers can get a glimpse of), thong, belt and other accessories are the girls' own. These expressions of individuality might be just the right starting point for a lively conversation. Want to put a tip under the g-string strap that peeks out from underneath the pleated skirt? A set of five coupons for tipping can be purchased for ¥1,000. Use each separately or use them all in one go– decide based on your feelings and your wallet. For those customers who have a favourite member of staff, the staff roster is available for viewing on the Hanacona Girls blog (ameblo.jp/hanacona-shibuya/).

Menu
Since pizza features as part of the bar's name, pizza is no doubt a focus. The items on the menu have been developed through a collaboration with the Italian food and wine bar Cona, run by M'Grant Food Service, creators of Steak Hamburger & Salad Bar Ken. The pizza has a crisp crust and a chewy centre, and is cooked in an oven that has been made especially for the shop. There are 18 kinds of pizza available, ranging from simple pizzas (such as margherita, or anchovies and black olives) to the jam-packed seafood pizza or the potato and pancetta pizza. All pizzas are a flat ¥1,000. The menu also includes fresh pasta, salad and desserts among many other items.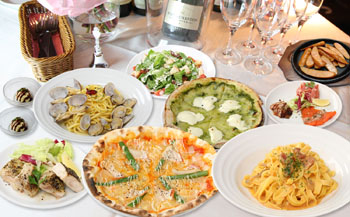 (C)Hanacona
Taking a look at the drinks menu, a pint of Carlsberg will set you back ¥680, while a half pint runs about ¥500. Cocktails made using gin or vodka are ¥600 each. The party plan, which is a 3-hour, all-you-can-drink blowout is very popular. The venue, which is equipped with a DJ booth and a projector with a gigantic screen, can be rented out for a range of different event formats. Hanacona also has plans for wedding after parties and are looking into the possibility of renting out the uniforms if the bride and groom so desire. The venue seats 150 people, though it's possible to squeeze in 200 people if standing room is taken into consideration.

From the Hanacona girls
Saya: I want to have good conversations with our customers, so go ahead and say 'hello'. A lot of customers ask, 'Is that thong real?' Yes, it is real!

Harunyan: Our g-strings are our charming point. Make sure you take a good look. [Laughs]

Annatsun: You've got to try the pizza. You can also have your photo taken with the staff. Let's have a snap together!

Hanacona (Full details & map)
Translated by E. Kavanagh