Festival goers who've only sampled the pleasures of Fuji Rock and Summer Sonic might be a little bemused by the Stepford serenity of Hitachi Seaside Park. 120km north of Tokyo on the Ibaraki coast, the home of Rock in Japan has little in common with the mountainous wilds of Naeba or the concrete jungle of Makuhari Messe. Acres of well-maintained lawns, shrubbery and woodland stretch out towards the ocean, crowned by an amusement park complete with Ferris wheel. The water sprinklers positioned around the main stage – splashing unwitting punters as they walk by – bring a rare note of anarchy to a site that's otherwise eerily pristine, unsullied by many of the problems that plague other such events.

Despite boasting the highest attendance figures of any music festival in Japan – organisers Rockin' On posted a combined attendance of 174,000 people across three days – it never feels overcrowded. There are no bottlenecks, no interminable queues for toilets and food stands. You'd also struggle to spot many people amongst the youthful, well-behaved crowd who are obviously drunk – or, for that matter, obviously foreign.

Consistency trumps novelty here, and over half of the acts performing at Rock in Japan Festival 2012 also played at the event last year. Unsurprisingly for a gig masterminded by the company behind music mag Rockin' On Japan, it's the guitar bands who dominate, from veteran acts Spitz and Kinniku Shojo Tai to relative newcomers like Okamoto's and Negoto, via event regulars like Polysics (appearing for the 12th time), Acidman (9th) and Sambomaster (9th again). There are plenty of exceptions, mind you: rapper Kreva and electro duo Capsule headline the two main stages on Friday night, and Perfume draw the biggest crowd the following day, which is when Time Out ventures to the festival.

Arriving too late to catch Rolling Stones-aping beat combo The Bawdies, we do however make it in time for Chatmonchy, who set the tone for a day dominated by uptempo pop-rock (and, in this case, some alarmingly off-key vocals). Bigmama continue in a similar vein, with violinist Mao Higashide lending a distinctive touch to what might otherwise have passed for fairly rote indie rock. And we're particularly charmed by singer-songwriter Mao Abe, already a veteran of three Rock in Japan fests at the age of 22, and blessed with an onstage demeanour more redolent of a snack mama than a pop starlet.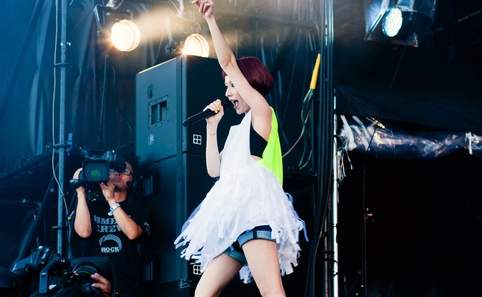 Kaela Kimura on the Grass Stage (click to see a larger version)



Kaela Kimura uses her main stage set to debut a new song – a lilting, country-tinged number that apparently doesn't even have a name yet – but it's the singalongs like 'Beat' and 'Tree Climbers' which seem to go down best. It's always been hard to know where to place the singer on the musical spectrum – is she J-pop? rock? – but it's striking how closely her music resembles that of many of the more conventional guitar bands at the festival.

Speaking of conventional guitar bands, by far the most impressive one we catch during the day is Akai Ko-en, who play to a few hundred spectators on the smallest stage, but will probably be gracing a far larger one by next year. This all-female quartet have been getting a lot of buzz recently, and they're notable for being the only act we hear who don't sound instantly familiar, striking an unlikely balance between pop catchiness and more audacious art rock.

The appeal of 9mm Parabellum Bullet is rather harder to fathom: the quartet sound like a visual kei band gorging on Rush, System of a Down and At the Drive-In albums, then throwing up everywhere. The crowd go wild, though. Veteran guitar slingers Mo'some Tonebender are perhaps even more eclectic, though their chosen blend of influences – shoegaze, alt. rock, Primal Scream swagger – is rather more appealing. And kudos to bassist Yasunori Takei for the ludicrous attire that he sports during the first song: a plastic trench coat festooned with fairy lights that's spectacularly ill-suited to the simmering temperatures outside.
Finally, there's Perfume, whose mere presence at the festival (their 4th appearance, in fact) is rendered even weirder by how minimal their set-up is. Forget the elaborate visuals and lighting effects of their arena gigs: at Rock in Japan, the trio have nothing but their dance moves to help them fill the main stage. If anything, they seem to overcompensate for this, performing with such vigour that they're drenched in sweat by the end of the show, but it still ends up a little underwhelming. At one point, Kashiyuka recounts her surprise at discovering how small performers on the main stage looked when viewed from the PA, and that's kind of the problem here. Next time, they should bring some lasers.

Photo gallery: Rock in Japan Festival 2012
Starts here | Next ►