People pack the Tokyo Metropolitan Gymnasium on a crisp autumn weekend to watch one of the most famous pop stars in Japan. Thousands of fans wait for the show to start, as a dozen workers on stage check the instruments of the band that's backing tonight's show. Several hundred visitors have expressed their love for the headliner by dressing like her, complete with wigs.
The lights dim, and the crowd erupts. A sea of glowsticks – the same colour as the singer's hair, a blue-green that turns the floor into a bed of neon seaweed – lights up. Then she materialises on stage. Hatsune Miku, Japan's premier virtual pop star, is ready to shine in real life.
Hatsune Miku is a singing voice synthesizer developed by Sapporo-based software company Crypton Future Media, utilising the Yamaha-built VOCALOID™ voice engine. The singing synthesizer programme allows users to generate a voice on their computer and manipulate it to make it sound how they'd like. In recent years we've seen many virtual singers being developed, but Miku has retained her place as the most famous avatar on the scene. Originally envisioned as a marketing tool, Miku has gone from a glorified advertisement to one of the most recognisable performers in Japan today. And she's attracted global attention, with the 'Hatsune Miku Expo' being held in Los Angeles and New York, and an appearance on 'Late Show With David Letterman' as the show's first virtual performer ever.
'It's like being on Willie Nelson's tour bus,' the late-night host joked following the surreal performance.
The first VOCALOID™ prototype emerged in 2002, and soon Yamaha licensed the technology off to third-party groups, who could create their own versions. The first retail copy arrived on shelves two years later, but sales were slow.
Well, almost all sales. In 2004, Crypton Future Media saw success in the Desktop Music (DTM) market by sticking a cartoon character – a brown-haired woman named MEIKO, followed by a male counterpart called KAITO in 2006 – on the package. Hardly massive numbers, but far ahead of the competition.
Crypton kept with this idea in 2007, when Yamaha developed VOCALOID™ 2 technology, an improved software. The Hokkaido company created a new character – one featuring vocal samples courtesy of anime voice actress Saki Fujita – to paste on the box, named Hatsune Miku (in Japanese, the name means 'The First Sound of the Future').
Miku became an instant hit. Stores couldn't keep the software featuring her visage in stock, and she gained attention from the Japanese mainstream media. Crypton – and later also other companies – have continued using the animated avatar approach, creating dozens of new characters (see sidebar). Miku, though, still towers over the field, and ushered in a unique digital era.
'The technology was an important issue, but VOCALOID™ created a new culture on the internet, especially on [Japanese video sharing site] Nico Nico Douga,' says Keisuke Ito, a marketing and product planner for VOCALOID™ at Yamaha. Thanks in part to Crypton's 'Piapro Character licence', which allows users to manipulate their character's image and voice (within reason of course – it's not for commercial use and mustn't violate basic morality), musicians and creators went wild with the virtual blank canvas that was Hatsune Miku (Crypton, wisely, included minimal details about who Miku was – they listed her height, weight and age, but the rest was left to the users' imagination). And thanks to the Web, they had a way to share their work with one another.
'Original characters are attractive to creators. It makes you feel like you became a producer for popular idols,' says Ito. 'And this character can connect musicians, graphic artists, 3D movie creators, and so on.'
Artists such as livetune, Hachioji-P and supercell captured attention from the music world thanks to their VOCALOID™-utilising songs. Club nights in Tokyo sprung up, and are still going strong today – one monthly event held at Akihabara's club Mogra, called VOCALOID™ ManiaX, finds DJs spinning VOCALOID™ tracks while a crowd stuffed with cosplayers bounces along to them.
Eventually, Crypton held their own characters' concerts, where Miku and her virtual squad performed live to arenas full of rabid fans. Initially, footage of these events caught bewildered glances from Western media, though it inspired the resurrection of rapper Tupac Shakur at the 2012 Coachella Music Festival in California. Miku made it over to America soon after, and has only seen her stock grow since. She opened for Lady Gaga on a stretch of her 2014 North American tour, and then made her US television debut on Letterman.
While she remains somewhat a curiosity abroad, in Japan she's graduated to national prominence. Besides music, she's also appeared in ads for Toyota, Family Mart and Domino's Pizza. A spot she appeared in for Google gained more views than a similar one starring Canadian pop star Justin Bieber. For a 2013 musical called 'The End', Miku modelled exclusive clothes designed by Marc Jacobs. Pretty good for a virtual performer.
'VOCALOID™ culture has became one of the more unique elements of Japanese culture, like anime,' says Ito. 'We are excited about sharing this culture around the world.'
Our favourite digistars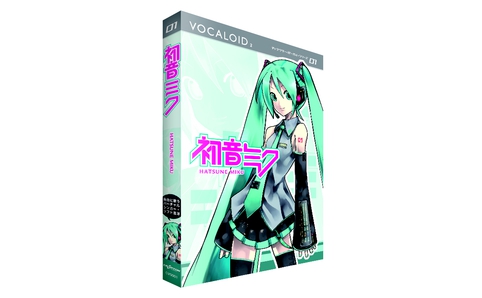 HATSUNE MIKU
The top dog on the scene and the character responsible for turning the singing synthesizer software into a pop culture force. The blue-green-haired singer has starred in car commercials, modelled Marc Jacobs-designed clothes in a futuristic opera, and performed live on 'Late Show With David Letterman'.

KAGAMINE RIN AND LEN
Technically two characters but sold as one software package, the blond twins Kagamine Rin and Len are now among the most beloved VOCALOID™ characters in Japan. They are also two of the most imitated – go to a VOCALOID™ event or convention, and you'll spot almost as many people cosplaying these guys as Miku.

MEGURINE LUKA
Boasting a more 'mysterious' vocal delivery than the perpetually upbeat Miku, Luka earned a large following all her own in the VOCALOID™ world.

KAITO
Female vocalists tend to get the most shine in the VOCALOID™ realm, but there are plenty of digitised men out there too. The blue-haired KAITO, released in 2006 (before Miku), is the most recognisable fellow out there, often performing live with Miku at arena shows.

AKIKOLOID-CHAN
The commercial success of VOCALOID™ – and the avatars representing it – has caught the eye of many Japanese companies. Convenience store chain Lawson created their own character, Akikoloid-chan, featuring her own voice bank and a get-up patterned after the store's design.
Become a pro!
VOCALOID™ music has turned into big business in Japan. In April 2015, Shikoku University Junior College started a new two-year course focused around VOCALOID™. In the first year, students will study the basics of the Yamaha software, and in the second year of study will compose their own VOCALOID™ music. Those enrolled can also take supplementary courses on various topics, including how to promote their creations.
VOCALOID™ is a registered trademark of Yamaha Corporation. Visit the webshop: net.vocaloid.com
This article appears in the summer 2015 issue of Time Out Tokyo magazine