Time Out Tokyo started its 'A taste of Canada in Tokyo' series to give our readers a little extra information about the home country of this year's Winter Olympic Games. In this last instalment, we introduce BeaverTails pastries from the country's capital, Ottawa.

The Canadian beaver is a much-loved animal and appears on the local five-cent piece. So what, you say. This is not uncommon; Australia is also prone to depictions of furry critters on its coinage. However, Canada's devotion to the creature goes much further, with the invention of a beaver-tail shaped pastry snack called the, err, 'Fried Pastry'. Let's investigate.

Know Your BeaverTails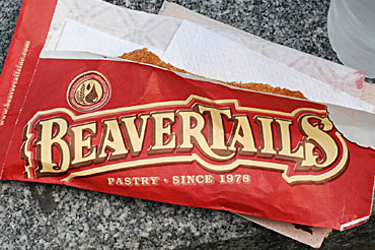 BeaverTails are a thin, flat, 20cm long, deep-fried pastry in the shape of a beaver's tail. They are mostly sold as a take-away snack, served piping hot with toppings like sugar or chocolate. Husband and wife team Grant and Pam Hooker started The BeaverTails Canada Inc. in Ottawa in 1978. Using their own home recipe, they began to sell BeaverTails at local markets, expanding since the 90s throughout Canada and even overseas.
Canadians LOOOOVEEE their BeaverTails. Perfectly sized for a snack, at first glance BeaverTails seem so big that you could tire of the taste before finishing one. But the truth is that BeaverTails are surprisingly light and airy, not hard to digest at all. Another reason for their popularity is the choices of toppings available. Simple toppings [sugar, lemon and sugar and chocolate] are perennially popular, but for those with more of an appetite, extras –like banana slices– can also be added. In BeaverTails world the possibilities are endless and add to the snack's universal appeal.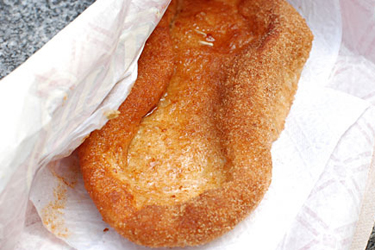 Indeed, so popular is the BeaverTail that it's been subjected to much American media attention. In 2009 this was no more apparent than when US President Barack Obama made his first state visit to Ottawa and took a special liking to the BeaverTails – so much that he made a special trip to BeaverTail home the Byward Market to buy some on his way to the airport. No surprise then that a special 'Obama Tail' has since been created in his honour.
Eat at Cafe Back Country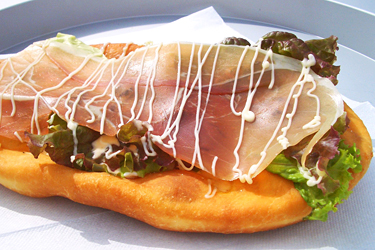 Located in Yamanashi prefecture's Yatsugatake Resort Outlet Mall, 'Cafe Back Country' has been selling as 'Loco-b's' since it opened in 2006. Authentically Canadian are the popular 'Maple Syrup' or classic 'Cinnamon Sugar' toppings. Local variations include 'Kuromitsu Kinako,' 'Apple/Cinnamon' and 'Ham and Cream Cheese.' Most customers haven't heard of before visiting the cafe, yet their impression is often positive as the pastries aren't as oily as first suspected. 'Cafe Back Country' features a warm mountain cabin style interior perfect for a relaxing break or for a quick take-away snack while shopping. The flavoured coffees and café latte made from yatsugatake kogen milk are also popular.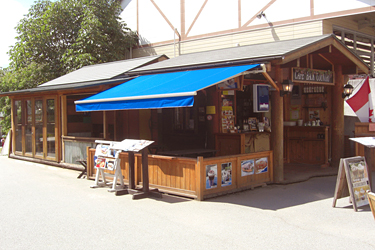 Cafe Back Country
Where: Yatsugatake Resort Outlet
Telephone: (0551)20 5454 (Yatsugatake Resort Outlet information)
Open: same as those for the Yatsugatake Resort Outlet
Website: www.yatsugatake-outlet.com

Vicarious Vancouver at Yatsugatake Resort Outlet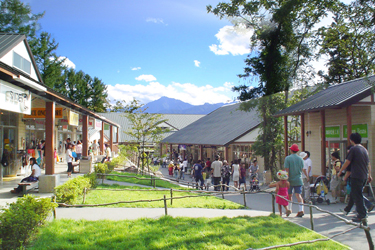 The Yatsugatake Resort Outlet opened in 2001 in Kobuchisawa, Yamanashi. It might not technically be in Tokyo, but the mall is within easy two-hour reach of the city and harmoniously designed with the natural environment. The most remarkable point about the mall is that the Yatsugatake Mountains and Southern Alps can be viewed from anywhere in its spacious grounds (2.3 times the size of Tokyo Dome). Perfect for a leisurely day out, the mall contains 70 shops, offering not only high fashion, but also shops selling everyday items, sports goods and outdoor goods in addition to the usual restaurants. The mall is five minutes from the 'Kobuchisawa IC' exit of the Chuo Expressway, or a ten minute free shuttlebus ride from Kobuchizawa Station on the Chuo Honsen line.

Yatsugatake Resort Outlet
Address: 4000 Kobuchisawacho, Hokuto, Yamanashi
Telephone: (0551)20 5454
Open: (summer) 10am–8pm, (winter) 10am–6pm, 7pm on Saturdays, Sundays and nat. holidays. Open all year round.
Website: www.yatsugatake-outlet.com

Translated by Virginia Okno