Having whetted our appetite for all things Canadian with bagels and poutine, Time Out Tokyo is in need of a drink. After all, the Olympics have started, and it's time for a toast– Canadian of course. Enter icewine– arguably Canada's most famous alcoholic export– a dessert wine varietal produced from grapes still frozen on the vine. Finding icewine in Tokyo isn't difficult; however, stopping after only a few sips is. Don't say we didn't warn you.

A wine borne by chance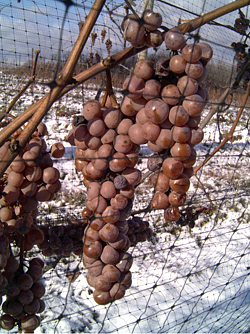 Canada may be the world's leading producer, but Germany can lay claim to the world's first icewines in the eighteenth century, when after an unexpected frost, farmers harvested grapes still frozen on their vines. The resulting must fermented to a sweet wine, popular among the aristocracy of the day. Consequently, winemakers began to seek lands better suited to icewine production with operations eventually taking root in Canada. Or more specifically, Niagara— a region where the rich soil is ideal for growing high quality grapes and winter stability is ideal for icewine production.

Icewine production is a long, drawn out process to say the least, with a slower-than-normal fermentation compared to table wine harvests. Let's take a gander:
Grapes are left on the vine until the temperature falls to a sustained minus eight degrees Celsius. They must be frozen on the vine.

As the water inside each grape turns to ice, the remaining juice and sugars become concentrated, yielding around a spoonful of must. Usually picked by hand, the grapes are kept frozen.


The ice and juice are separated at the winery, where the juice is turned into wine.

Normally served chilled in small, delicate glasses, icewine is notably sweeter than table wine and exhibits richer aromas. Yet the presence of acidity assures a crisp well-balanced flavour to be savoured on the palate. Icewines generally come packaged in slender and stylish bottles, making them perfect wedding souvenirs or gifts for special occasions. In addition to the pale amber coloured white varietals commonly found, the newer red varietals are beautifully tinted and attracting a fair degree of attention from novices and connoisseurs alike.

Canadian Icewine Gallery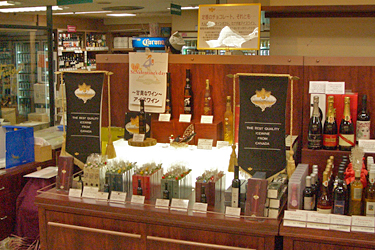 Historically, icewine was a drink reserved for aristocrats, and although still relatively expensive and produced in limited quantities, it's now common enough to be enjoyed by all. Thanks to new agreements between retailers and wineries contributing to more favourable levels of supply and demand, there's no reason for homesick Canadians or curious Tokyoites to not try icewine for themselves.

The Canadian Icewine Gallery counts eight award-winning companies from Niagara on the Lake [a town home to various wineries and spectacular expanses of grape vines] contributing to its brand. Stocking only VQA [Ontario's wine authority] approved icewines, rest assured that any icewine bought here – from the overwhelmingly popular and renowned Pillitteri Estates Winery, for example – is of the highest quality.

Wine from the Canadian Icewine Gallery is available both online and from various Tokyo locations, including department stores such as Isetan. For a regular bottle, expect to pay between ¥8,000 and ¥12,000— which isn't much more than you'd have to pay in Canada.

Canadian Icewine Gallery
Website: www.cig-jp.com/

Eleven International
Telephone: (06)6947 2507

Canadian Icewine Gallery stockists
Isetan

Kichijoji

Address: 1-11-5 Kichijoji-honcho, Musashino, Tokyo
Telephone: (0422)21 1111


Fuchu

Address: 1-41-2 Miyamachi, Fuchu, Tokyo
Telephone: (042)334 1111


Tachikawa

Address: 2-5-1 Akebono, Tachikawa, Tokyo

Telephone: (042)525 1111



Queen's Isetan

Kinshicho

Address: 2-2-1 Kinshi, Sumida, Tokyo
Telephone: (03)5610 7151


Shinagawa

Address: Atoré Shinagawa 3F, 2-18-1 Konan, Minato, Tokyo
Telephone: (03)5717 6262



Takashimaya (Nihonbashi)

Takashimaya (Tamagawa)

Address: 3-17-1 Tamagawa, Setagaya, Tokyo
Telephone: (03)3709 3111

Kinokuniya International

Address: Ao Building B1F, 3-11-13 Minami-Aoyama, Minato, Tokyo
Telephone: (03)3409 1236
Website: www.super-kinokuniya.jp/


Tokyo department store (Shibuya station, Toyoko)

Address: 2-24-1 Shibuya, Shibuya, Tokyo
Telephone: (03)3477 3111
Website: www.tokyu-dept.co.jp/toyoko/

Seibu department store (Ikebukuro Honten)

Address: 1-28-1 Minami-Ikebukuro, Toshima, Tokyo
Telephone: (03)3981 0111
Website: www2.seibu.jp/usrinfo/

Event:Tokyo Wine Complex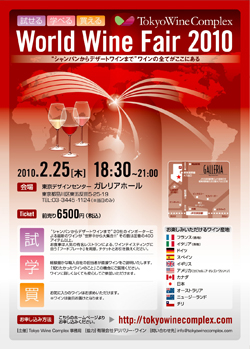 Open to the public on Thursday February 25, 'Tokyo Wine Complex' features over twenty different suppliers who will collectively exhibit over 400 different products from all over the world. Not only is this a prime opportunity to test drive a variety of drops from champagne to dessert wines: attendees can also sample food from popular restaurants aimed to compliment the various wines and beverages on exhibit. The event provides an ideal opportunity to speak with importers directly, and any wine purchased can be home delivered. Plus with Eleven International scheduled to attend, you're guaranteed to find experts to help you better understand the icewine and all its pleasures.

Tokyo Wine Complex

Date: Thur Feb 25; 6.30–9.00pm

Where: Tokyo Design Centre, Galleria Hall
Address: 5-29-19 Higashi-Gotanda, Shinagawa, Tokyo
Admission: ¥6,500 in advance (inc. tax). Note: Reservations can be made through the website

Website: tokyowinecomplex.com

Enquiries: info@tokyowinecomplex.com

Translated by Brin Wilson