Florida-based casual restaurant and sports bar, Hooters, opened its first Japanese location on Monday October 25, on the second floor of Akasaka's Tokyu Plaza. For those not familiar with the American heartland beer-and-wings staple, the charm of Hooters lies in its waitresses: the girls are cheerleader-esque, clean-cut and overflowing with hospitality. In addition to its enduring popularity in the US, the bird has left the proverbial nest for expansion into Singapore, Taiwan, China, Korea and the Philippines, adding over 450 stores to its roster in Asia alone. As for the Japanese 'Hooters girl', the MO is 'giving Japan some cheer where it's needed'.

Japanese Hooters girl charm
With the opening of Japan's first Hooters, of course one of the biggest factors was finding just the right Hooters girls. The process was highly selective, involving a one-by-one 30 minute audition interview with the approximately 600 applicants, 50 of whom would ultimately join the staff.
Of course the candidates were judged on their looks, but Hooters Japan had other criteria too, including those all-important communication skills, as well as a cheerful personality and ability to assert their individuality. Ladies from every sort of background gathered for their chance to become a Hooters girl – from CPA students to models and actresses – all vying for the chance to join the team and a ¥1,500 hourly wage.
On the restaurant floor, a table of four is looked after by one Hooters girl, and depending on her shift she can be responsible for up to 20 customers at a time. Currently the staff are undergoing rigorous training that has them at the table ready to help before customers even need to worry about getting their waitress's attention. Also included in the training will be a Tokyo-only dance performance.

The Hooters menu
The Hooters Tokyo menu so far doesn't stray from what Hooters fans know and love best: American-style pub food. The iconic Hooters dish is their chicken wings (5 pieces ¥780; 10 pieces ¥1,300; 20 pieces ¥2,480). Burgers run about ¥1,480 (cheese, chilli and similar toppings added as you like are an extra ¥100). For those who are feeling a bit greener, Hooters serves up a Cobb salad for ¥1,680. To wash down your eats, there is a selection of drinks including draughts of Suntory Premium Malts for ¥780 and Asahi Super Dry for ¥680. On top of the traditional beer accompaniment, the drink menu also features cocktails such as flavoured margaritas for ¥850, orange juice (¥420), as well as soft drinks, milkshakes, and smoothies for ¥500.

Hooters opening campaign
To celebrate the opening of Japan's first Hooters, Chevrolet and Hooters have collaborated on a car – a very fitting Chevy Camaro – as part of a contest campaign. From Monday October 25 to 5.30pm on Tuesday November 30 new customers can register to enter and win one of these unique cars.

Tokyo Hooters girls talk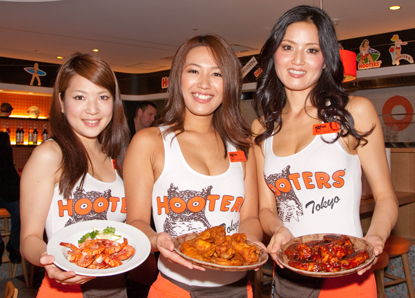 (L to R) Tomoyo, Chika, Yuu
Tomoyo: We hope Japan will come check out us Hooter girls; we think you'll definitely enjoy it!

Chika: We take a lot of pride in our hospitality, so come over and get to know us!

Yuu: When you come to Hooters, you can look forward to having just as much of a good time as when you go to Disneyland!
Hooters Tokyo (Full map & details)