Accompanied by his wife, Jude, French soccer superstar Djibril Cissé came to Japan, and while here Time Out Café & Diner was lucky enough to play host to him at a public viewing. Before the action on the pitch got underway, however, Cissé was recovering from a long-haul flight and in the mood for a bit of retail therapy. The destination: Tokyo's fashion melting pot, Harajuku.

Tireless as ever, Cissé soaked up all the sights (and shops) that Harajuku had to offer, from 10am right through to the evening on a 'shopping cruise'. 'Counting the Korea-Japan World Cup, it was the third time for me to come to Japan, but this is the first time for me to come to Tokyo,' said Cissé of his trip. This time around he had his friend, Keisuke Matsushima, who had set up a restaurant in Nice (which received Michelin stars for 5 consecutive years) navigating him around town. Here's the play by play on what the two Francophiles found as they made the rounds in Harajuku.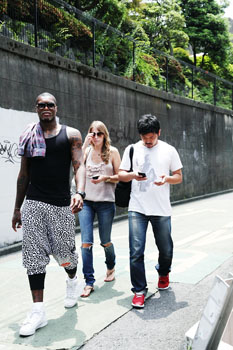 10am and Matsushima was ready and waiting at his Harajuku eatery, Restaurant-I and Cissé arrived in his casual-cool best of a checked shirt, a black ribbed tank top and Jeremy Scott sweatpants, along with the Jeremy Scott x Adidas Originals winged sneakers and topped off with a sleek pair of Cazal sunglasses. Just looking at him it's easy to tell he's a fashion-junkie that was ready to hit BAPE STORE(R) Harajuku.

BAPE STORE(R) Harajuku
The first time Cissé was introduced to A BATHING APE(R) was when he was playing with the league in London. 'There's a BAPE Store in London that I went to really often. There's shops in London and New York but they're small, and in Paris there's Colette, but the shop in Tokyo is really big,' he said. Matsushima pointed out, 'In Europe, lots of black people like hip hop fashion. I guess that's why A BATHING APE(R) is really popular.'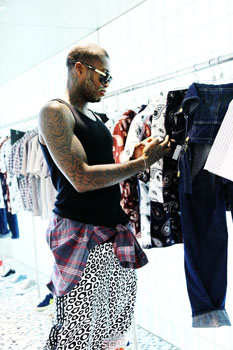 Wonderwall, the world renowned design firm managed by Masamichi Katayama, was brought in to make the space take on the look of an American diner. On the second and third floors of the shop, it has tables emblazoned with the brand's ubiquitous ape logo scattered throughout. Upon seeing this, Cissé exclaimed – hedging his bets, 'Are these tables aren't for sale, are they? I totally want one of these!' The shop staff looked a bit surprised at this, but they continued on to the third floor where hoisted up on the counter was a mannequin sporting oversized Effector by NIGO glasses (which the footballer zoomed right in on), and Cissé started in with trying on the clothes. As it turned out, only with the exception of the clothes here at the BAPE store, did he have to take the largest size in everything.

With the clothes, socks, a hunting cap, other goodies and a Rimowa gold suitcase, the grand total of 11 items came to ¥221,970 of shopping fun.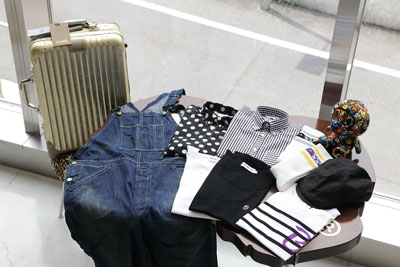 BAPE STORE(R) Harajuku (Full details & map)

Go Slow
Heading north on a sidestreet, away from the big glitz of the showy shop windows, Cissé locked on to a shop called Go Slow. Part if the Tools Infinity group of shops, Go Slow focuses on select and original brands mixed together to create an American casual style.

'When I left to go out today, I had trousers on my mind,' said Cissé, as he picked up a pair of sarrouel trousers by the shop's original brand, Gargoyle. With a pleasing silhouette and 8/10 length inseam it's one of the items that makes a yearly appearance on the racks at Go Slow, with annual variations in the design.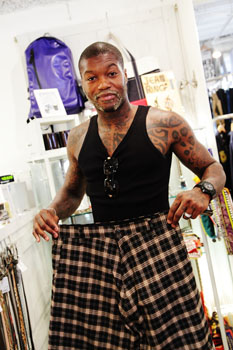 In the end he selected some Slow Wear Lion boots and a Ben Sherman Panama hat but couldn't get them in his size so instead got seven pairs of the sarrouel trousers in different textures. Aside from these items, he gave up the hunt for finding his size. The total damage here: ¥40,320.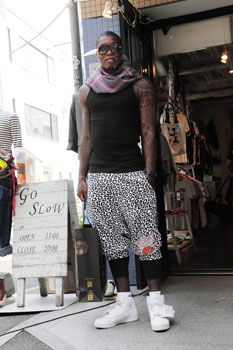 Go Slow (Full details & map)

International Gallery Beams
Moving on, Mastushima recommended International Gallery Beams – one of the key select shops in Japan. Beams carries both domestic and international designer and luxe brands that are edited into a collection of items with a refined taste. Matsushima himself, several days after this shopping expedition, will be doing a cross-talk piece for a magazine with Beams representative director Yo Shitara – who recommended Cissé visit.

Of course, Cissé's wife Jude headed for the ladies department on the first floor. She slipped into a pair of Dolce Vita short boots, but the size wasn't quite the right fit and they were put aside. She let out a cheer when she came upon some Marc Jacobs, and a Givenchy striped top which was picked up off the rack. 'I like going out shopping with my wife. ' said Cissé of this (and most likely other) shopping trips. Matsushima pointed out, 'You shop like 'bam, bam' and you're done, but when she picks something out you're checking the price,' said Matsushima getting a laugh out of the athlete.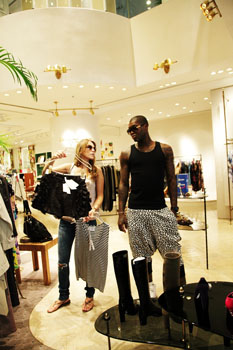 A short while later, our group found themselves on the second floor men's department. It was here that our shopping titan started picking up the pace. After scanning the spacious area and homing in on things that caught his eye it was just a matter of finding the biggest size. Domestic label Psycho Bunny had a polo shirt and gold pants that got some attention, as well as a t-shirt the spirited London brand from designer Gareth Pugh. Cissé's theory was that items he seems to like will usually end up being the final purchase regardless, so he usually gets them in two or three colours or patterns.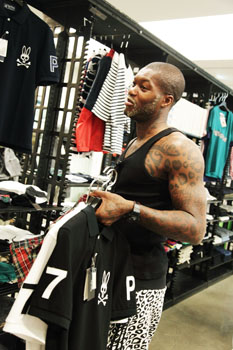 'When I'm picking out clothes, I don't usually pay attention to the brand,' he said. 'It's really simple for me to pick stuff out. This red checked shirt I've got on today is something I really like, but it's also in the colour of our rival team [Greek Super League's Olympiakos] so I can't really wear it so much. If I wore it, my teammates would tell me off!' he laughs.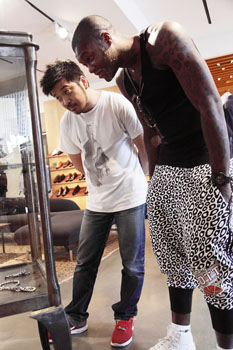 Cissé ties in his own values with the message that his clothing is sending. He chooses vibrant items with animal prints and stars on them, sometimes in with negotiation with his wife, but he stands his ground about what he wants to wear. The final round up to 14 items, though many of them were on sale – bringing the final total to 14 items at ¥359,184.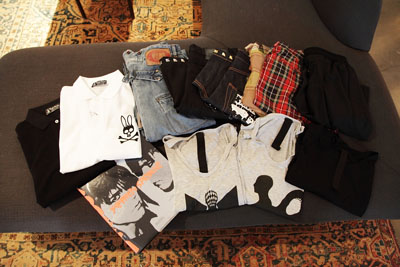 International Gallery Beams (Full details & map)

Lacoste Boutique Harajuku Olympia Annex Branch
After returning to Matsushima's Restaurant-I, they took a relaxing lunch and then headed over to the Jingumae intersection to take a look in Lacoste. The brand is one of the quintessential brands of Cissés mother country, France, but each region also develops its own special products. This time he was out to see the special items that they had especially for Japan.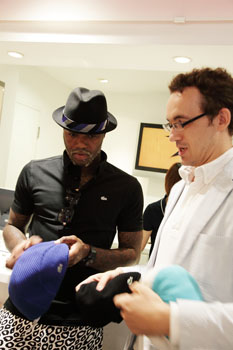 To start off, he tried on a brilliant purple polo, and followed that up with an equally vivid green one – which matches up with his team's (Greek Super League's Panathinaikos) colours. In the end he picked up both. Jude selected a knit cap, but it didn't quite fit so it was back to the shelf for that one. Meanwhile Cissé picked up a beret that caught his eye in three colours, as well as a Japan-only polo shirt based on the French tri-colour flag. Altogether, seven items for ¥74,445.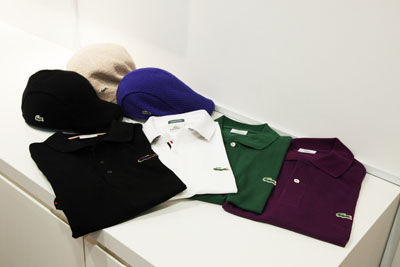 With Matsushima navigating throughout all of this, he ended up getting merely a simple polo shirt. At the register, Cissé signed a Lacoste poster and they were on their way. With the Lacoste brand originating with tennis, the poster of a tennis racket-brandishing model with a football star's signature presented a surreal image. People visiting the shop will be taking a definite double-take.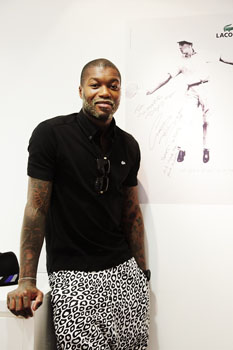 Lacoste Boutique Harajuku Olympia Annex Branch (Full details & map)

Laforet Harajuku
Sticking around the Omotesando-Harajuku area, the group moved on to Laforet in Harajuku. Jude, true to form, started shopping at the first shop she laid eyes on. With domestic and international brands available at a wide range of shops within the complex, Laforet represents a microcosm of Tokyo fashion. It resembles somewhat department stores from abroad that are rather uncommon in Tokyo, with a selection of independent boutiques.

First off, they hit the Meji-dori facing Kitson Studio, a wildly popular outpost of the American brand. Jude went for print items and after that fringed tops from which she chose one. Inside Laforet on the first floor, sunglass boutique C.C. Country was the next stop. Cissé chose an oversized pair from Cazal with a Spiderman-like frame, while Jude tried on pairs from Sabre and Jeremy Scott (from which she selected a pair that caught her eye). Though the final count on her sunglass collection is unknown, it now has two new members after this shopping trip.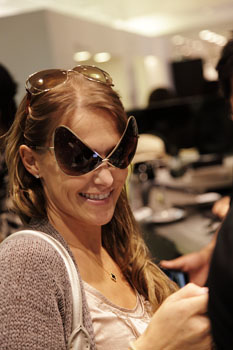 Two floors up at Double Standard Clothing Paradox, which carries both men's and ladies items, Cissé tried on a band jacket, which was a popular item from the 2009 AW collection of the shop's original brand D/him. The design took on a wealth variations in its denim and cotton, such as a Beatles themed decorative design, which is something not for the fashion faint-of-heart. Nevertheless, as an item even on its own its still got a lot of merit. That seems to fit in with Cissé's idea of being a fashionista: that fashion is all about showing something, and that in itself is important to dressing well. A few times throughout the day we heard the refrain trop petit (too small) passing between Cissé and Matsushima with a bit of a let-down tone. Even the world's top football players run into the common problem for westerners shopping in Japan: the comparatively small size range, which makes it tough for some people to find a good fit. Even with items like the jacket, Cissé said, 'If I don't find something else, we'll come back!' then strike up a chat with one of his fans.

With the men's and ladies floors divided in half, Jude was thoroughly enjoying her shopping. Whenever she needed a second opinion, Cissé was right there to have a say. 'I should get this one, shouldn't I?' was the oft repeated phrase. In addition to the fringed tops, the patient superstar also got his wife the print tops, and some distressed sweatpants and cargo pants with the final tally running at ¥34,860. They were definitely happy with the shops up to this point.

Laforet Harajuku (Full details & map)

The football world's fashionista, Djibril Cissé, from start to finish was the consummate shopper. 'I really love shopping in Harajuku. I want to come back tomorrow,' he said with a satisfied laugh as his shopping cruise in Harajuku came to an end.