Japan is well-known for its compact culture – it's evident in the bonsai, netsuke figurines, bento lunch boxes, onigiri rice balls… and tiny apartments. While we agree small can be beautiful, it's not always easy to come up with ways to maximise your tight living space. We visited four creatives to see how they've used their talents to adapt their homes to their lifestyle.

Lolita girl
Saki Kurumi, Lolita fashion boutique sales staff, Saitama
'When you wish upon a star, makes no difference who you are.' The Disney song written for 'Pinocchio' should rightfully belong to Saki Kurumi. Surrounded by lace, ribbons and frills, she lives out her dream-come-true fairy tale in an irresistibly charming, Lolita-themed apartment. For Saki, living the Loli life is simply about embracing the 'kawaii' (cute) fashion trend. By decorating her dainty room in pink and white – bedcover, pillows, mirror, cabinets, stuffed toys, birdcage, hair accessories, cosmetic cases and rows of ruffled, girlish dresses – Saki has fulfilled her childhood fantasy of embodying the fresh, adorable look she's loved since she was little. 'When I was a child, my mother used to dress me up in frills and laces and shower me with Jenny and Licca dolls, which I grew to adore,' she says. 'I learned to look at fashion as something fun. I'd like foreigners to appreciate the cuteness of princess fashion and decoration.'
SHOP THE LOOK Home decor and fashion (including dress, Usakumya character goods, hair accessories, jewellery box, gold hanger) from Baby, the Stars Shine Bright.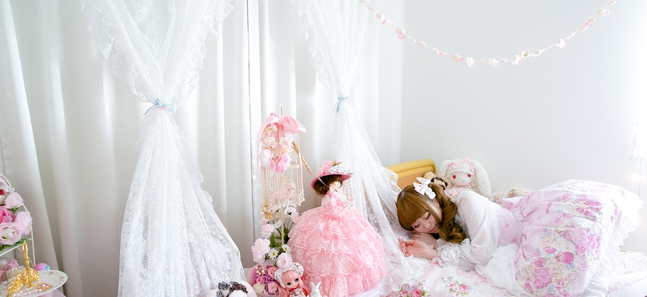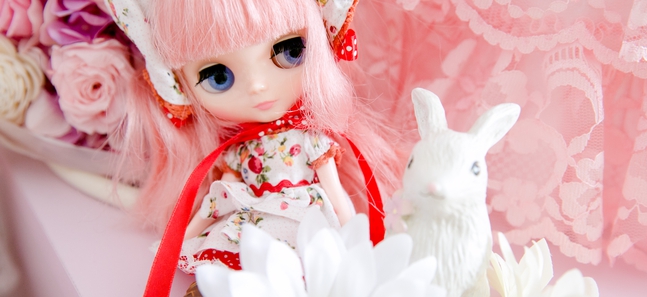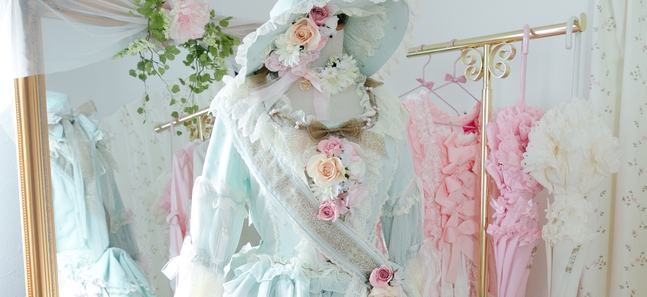 Green dreamer
Hiromi Hoshino, green design planner, Shinagawa
As a design planner of stainless steel and garden interiors, Hiromi Hoshino lives in a completely organic environment. Each morning she's greeted by the playful squawk of her parrot, and each night she's soothed with the cool breath of Schefflera evergreen, leopard plants, Elkhorn ferns, terrarium necklace plants, Rhipsalis cacti and other greens. Hiromi has always loved plants and animals, saying she finds them comforting. 'Living with plants makes me experience small changes in things, just as there's joy in seeing a bud grow into a beautiful flower,' she explains. She chooses plants that are well suited to her apartment's interior, taking into account factors such as sunlight, room temperature, humidity and wind direction. The art of matching greens with stainless steel is Hiromi's speciality, and retro goods add an element of nostalgia to the rustic atmosphere.
SHOP THE LOOK Stainless steel accent pieces and plants from Steor, birdcage and hanging lamps from Shark Attack, animal toys from Keep Left.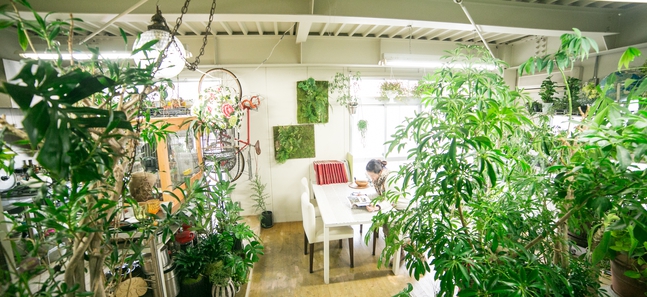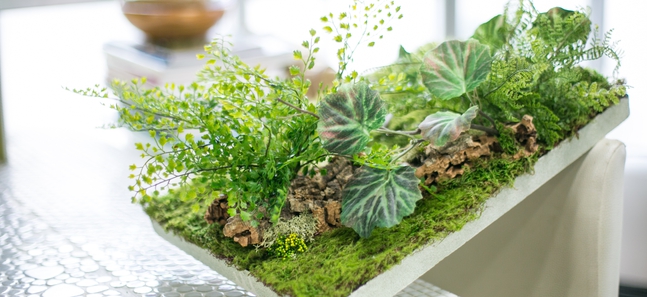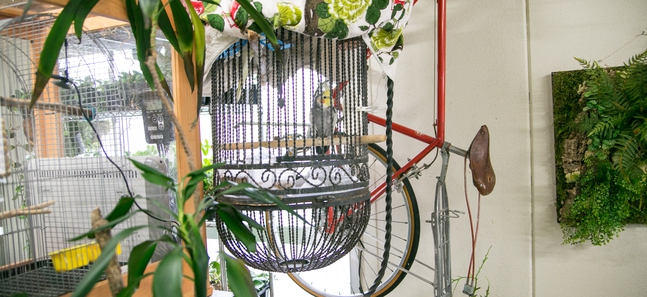 A swingin' success
Sakurako Kuroda, photographer, Ogikubo
Who says swings belong in parks? Sakurako Kuroda, a successful commercial photographer, has cleverly balanced work and leisure in a bright, compact one-room space where one part is devoted to her photo studio and the other to her personal and study corner, divided by a wooden swing hung from the ceiling. The workspace sits beneath a cosy bedroom loft, lined with interesting books, artworks, trinkets and other paraphernalia, such as her antique miniature car collection. On the other side of the apartment, there's enough space for a living and dining room set, accented by striped cushions and a multicoloured coffee table that Sakurako painted herself. 'I wanted my room to be all white and highlighted by single-tone colours such as blue, red, yellow, green, pink and orange,' she says. 'I painted these colours on my kitchen cabinets, bathroom tiles, low table, doors and shelves.' Children who visit Sakurako's unique apartment apparently jump with joy upon seeing the swing in the middle of the room. At the end of the day, it becomes her quiet cradle, where she dreams of more Mediterranean inspirations to liven up her luminous space.
SHOP THE LOOK Home designed by Kitori. We recommend 0fr. Tokyo for books and underground artworks, Alf in Nakano Broadway for collectible toy cars, and Tokyu Hands for wood and tools to build a swing.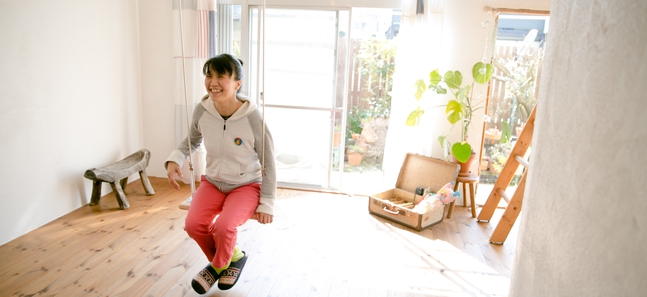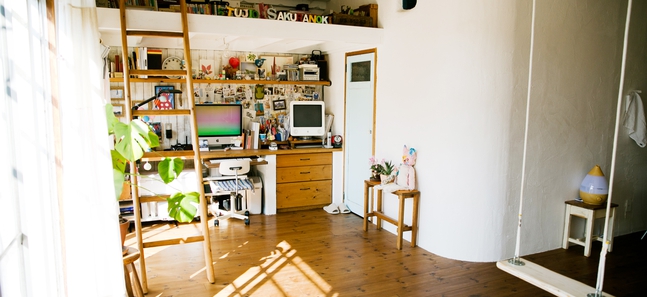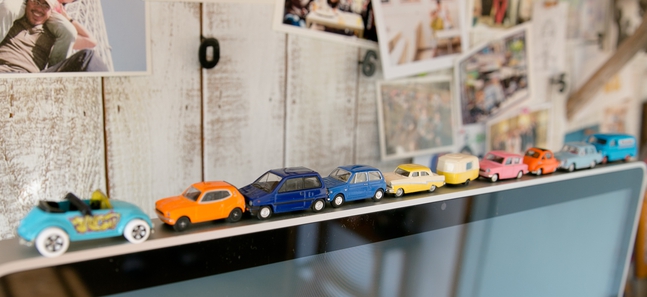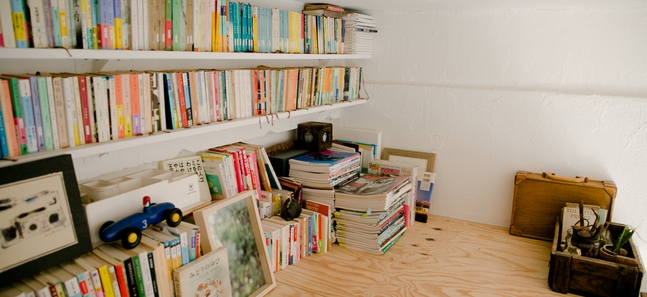 Plush artist
Yuji Machida, artist, Hiroo
At first glance, Yuji Machida's living room looks like a work of art in itself. Bold, contrasting hues spring up from all corners of his playground – a bright yellow table (which Yuji painted himself) with green and red Pop Art humidifiers on top; purple velvet chairs that complement the furry purple centre rug; and a red clock and mirror below a red plastic '60s lamp against stark red drapes. Yuji's canvases fill up the room, all depicting scenes of his time spent living in New York and travels through Europe. The colours in his paintings almost seem to transfer onto other objects in the room, as though they've flown from the canvas to land on the furniture. 'I really wanted to have an all-white wall on which to paint a museum,' he says. 'But instead, my belongings have filled up the space and given it colour.' Yuji also enjoys collecting intriguing figurines, including Star Wars characters, a Johnny Depp statue and classic dolls. He works both as a management consultant and as an artist – a contrasting lifestyle that surely contributes to his studio's vibrancy.
SHOP THE LOOK Yuji buys his art materials from Tools, and we recommend Franc Franc for arty lampshades and other quirky interior decor.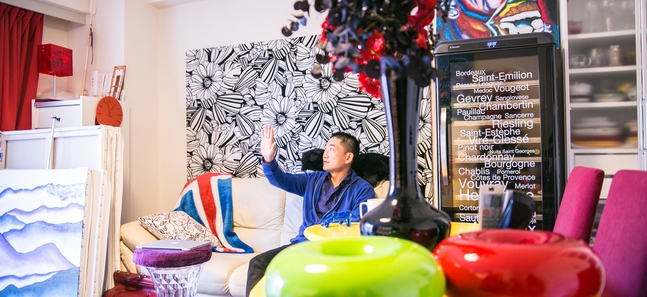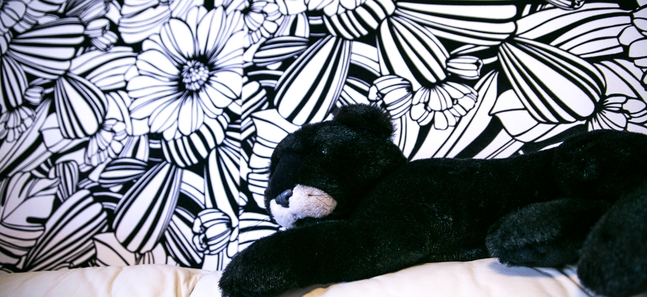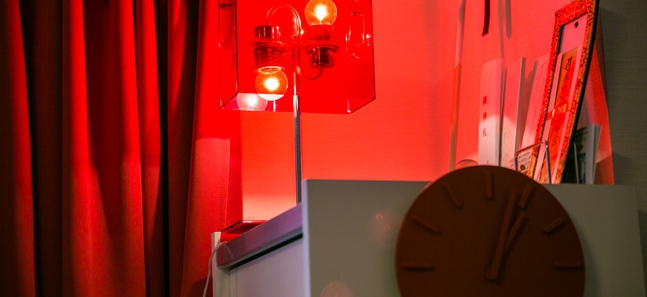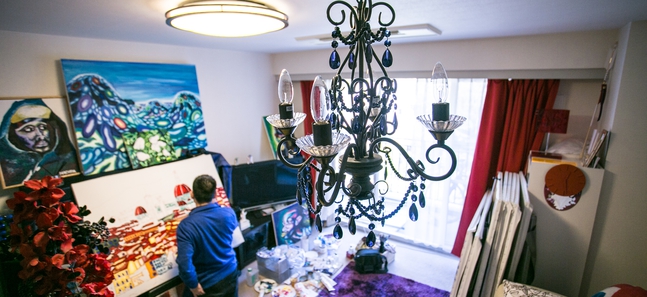 This article originally appeared in the spring 2015 issue of Time Out Tokyo magazine.