It's nearly time for the grande finale of Japan's biggest cooking battle and we've been taking bets in the office on which competing breakfast we think looks the tastiest. Presented by Rakuten Travel, Asagohan (Breakfast) Festival 2014 kicked off earlier this year with a vote on Facebook in which the public chose their favourite morning fare from a record-breaking selection of 1,000 participating hotels. Things heated up after that with five regional cook-off competitions, which narrowed down the contestants to the top five chefs from around Japan. On September 2, the chefs will go head-to-head in the final battle, during which they'll be judged by a panel made up of the country's most influential culinary moguls – most of whom you'll recognise from Japan's popular TV series 'Iron Chef'.
Scroll through the lineup of contestants below, and then cast your vote for who you think deserves to win the title of 'Japan's Best Breakfast'. Check back here on September 3 to see if you guessed right. And if you'd like to try out the breakfast yourself, you can book a stay at any of the hotels through Rakuten Travel's newly revamped English site.
THE CONTESTANTS
Hokkaido Brown Rice Pancakes with Healthy Baked Doughnuts
by Century Royal Hotel (Sapporo)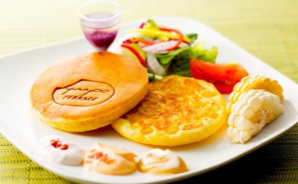 This unique pancake dish is made from dough mixed with Hokkaido Brown Rice powder and asparagus chunks. Adding 'Moro-Miso' and Hokkaido cream cheese to the pancakes brings this breakfast dish to life.
The Fatty Skilfish with Citron Treasure Box
by Bandai Atami Onsen Hotel Shikisai Ichiriki (Fukushima)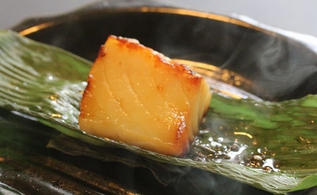 This special breakfast took three years to create! Skilfish are rare and not readily sold in fish markets. They live 300 metres below sea level, which means over 40 percent of their body consists of fat.
The Medicinal Congee
by Gero Onsen Ogawaya (Gero)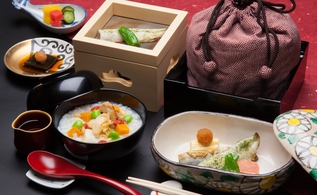 Last year's winner competes again, this time with a breakfast dish that incorporates the traditional Chinese medicine theory. The abalone contains glycogen and taurine, important for fatigue recovery and nutritional fortification. The winter melon and dried scallops as well as pine, wolfberry and lotus roots are good for anti-ageing and detoxing. The Sweetfish of the Hida River is dried overnight to enhance the natural aromatic taste of this special fish.
Le Pan Original Bakery with Cream of Hyogo Prefecture Vegetables and Awajishima Spring Onions
by Hotel La Suite Kobe Harborland (Kobe)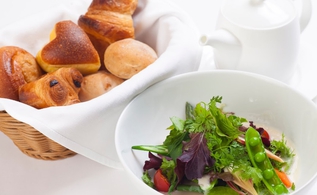 Last year's runner-up combines two complimentary dishes in this year's entry. Hotel La Suite Kobe Harborland's in-house bakery, Le Pan is freshly baked every day and the rich produce from Hyogo Prefecture and Awajishima is what makes this salad a local favourite.
Kyushu Vegetable Salad and Veggie Dressing with Kyushu Fruit Soy Smoothie
by Hotel IL Palazzo (Fukuoka)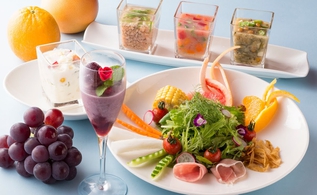 The inspiration of the veggie dressing was derived from the 'Chicken Namban' capital of Miyazaki Prefecture. The desert smoothie is a refreshing treat to finish off your breakfast meal.
ENTRY BY SPECIAL RECOGNITION: Kagoshima Black Pig Lettuce Shabu-shabu with Stewed Cube Bonito
by Hotel & Residence Nanshukan (Kagoshima)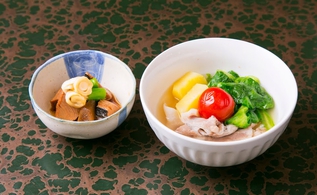 Cooked in the famous 'Kumaso nabe (pot)' inherited from the chef's grandparents, the Shabu-shabu soup is made by blending vegetables, sweet potatoes and the Kagoshima black pig broth.