For those looking to get their day started in the best way possible, breakfast is the essential starting point. The Smart Aging International Research Centre at the Institute of Development, Aging and Cancer at Tohoku University investigated whether eating breakfast helps to activate the brain though a study of 400 university students and 500 office workers to find out just how essential breakfast was and the answer was clear: very.

Results showed that 82% of office workers with an annual income of over ¥10, 000,000 ate breakfast regularly, and of those with annual salary of less than ¥5,000,000 the number of people who skipped breakfast increased.

The research also found that a popular Japanese breakfast at the start of a big day is rice and pork flavoured miso soup packed full of different ingredients. The recipe for a successful day's work or academic stamina appears to revolve around eating a nutritious breakfast.

Instead of reaching for the cereal box or heading to the bakery, break up the routine now and then by treating yourself to a luxurious breakfast at a hotel. Though pricier than a melon pan, starting from ¥2,100, some of them are a gourmet bargain – and you don't have to be a staying guest to try their breakfast menu.

Park Hotel Tokyo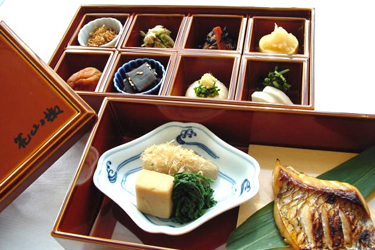 While enjoying the view from the 25th floor, dig into the breakfast set at restaurant/ bar Hanasanshou. The set gives guests the choice of rice or two choices of rice porridge, all for a very reasonable ¥2,310 (including tax, service charge extra). The restaurant uses seasonal vegetables grown using a 400 year-old method from a 14 generation-old farm in Kyoto. You'll be served rice, miso soup and side dishes, all made without pre-prepared ingredients. The simplicity and healthful flavours of Japanese cuisine are the focal points of the rice and miso soup.

Menu:
Breakfast set: ¥ 2,310 (including tax, service charge extra)
A warming breakfast including dashi-maki tamago (rolled egg with dashi broth) made using eggs from chickens raised on chemical- free feed, as well as miso soup made from preservative-free miso.

Park Hotel Tokyo (Full details & map)

Hotel New Otani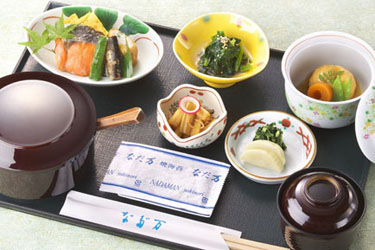 Have your breakfast overlooking a 10-acre Japanese garden with a 400 year history. Of course, you can look down on the garden while enjoying your western style breakfast from the Top of the Tower restaurant, but we really recommend the breakfast at Nadaman New Otani. Rated with one star in the Michelin Guide, this breakfast is, surprisingly, in the ¥2,000 range. During opening hours this restaurant is so popular that it has more customers than it can cope with – plan accordingly.

Menu:
Akane: ¥2,100 (including tax, service charge extra)
This selection includes a small dish, boiled fish, grilled fish, side dish, and dried seaweed.

Miyabi: ¥2,600 (including tax, service charge extra)
The Miyabe set includes the Akane set plus an appetiser and the choice of rice or rice porridge.

Hotel New Otani (Full details & map)
Hyatt Regency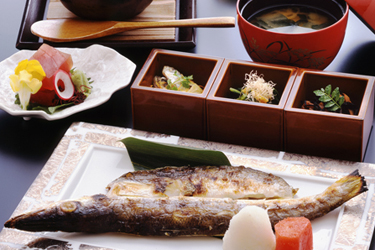 The breakfast at Kakou will definitely whet your appetite. The 'Kama taki gohan' (iron pot cooked rice) is cooked with great care in individually sized iron pots giving the rice a subtle flavour. The seasonal fish, which has been specially selected by the head chef, perfectly complements the rice.

Menu:
Japanese tray set: ¥3,000 (including tax, service charge extra)
A filling spread comprised of 3 small dishes, sashimi, an egg dish, seasonal grilled fish, rice cooked in an iron pot or rice porridge, miso soup and dessert.

Hyatt Regency Tokyo
Address: 2-7-2 Nishi Shinjuku, Shinjuku, Tokyo
Telephone: (03)3348 1234 (main)
Website: tokyo.regency.hyatt.com/hyatt/hotels/

Sheraton City Hotel Tokyo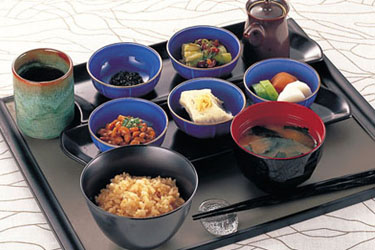 Visit Café California for a macrobiotic start to your day. Macrobiotic menu options are the favourites of health conscious diners, and the macrobiotic breakfast at the Sheraton includes hijiki seaweed simmered with maple syrup, homemade tofu and miso soup made with konbu dashi broth, and to top it off: caffeine free san bancha tea. If you have more western tastes, fear not – other breakfast items include a California breakfast set and Pancake set.

Menu:
Macrobiotic set: ¥2,415 (including tax, service charge extra)
This set includes sprouted 100% brown rice, miso soup, homemade tofu, natto (fermented soybeans), hijiki seaweed, dried shiitake mushrooms, a simmered dish with konbu seaweed, pickles and san bancha tea to finish.

Sheraton City Hotel Tokyo
Address: 1-1-50 Shiroganedai, Minato, Tokyo
Telephone: (03)3447 3111
Website: www.miyakohotels.ne.jp/tokyo/english/

Grand Prince Hotel New Takanawa
Breakfast at the Ean Tea House, situated in the Japanese garden at the Grand Prince Hotel New Takanawa, requires a reservation. At ¥7,000, this is definitely on the pricey end, however dining in a tatami room set among the trees will not disappoint. Relax and enjoy warm homemade tofu, and seasonal vegetable and seafood delights. Customers are welcome to free refills of the rice porridge made from Koshihikari rice from Uonuma prefecture.

Menu:
Morning rice porridge course: ¥7,000 (including tax and service charge)
Appetiser, salad, vegetables with dressing, a boiled dish, assorted small dishes, rice porridge, fruit, Japanese sweets and mattcha green tea to finish.

Grand Prince Hotel New Takanawa (Full details & map)

Related articles:
・Luxe breakfasts on a budget
 Gourmet hotel spreads from ¥2,000
・Tokyo's top 12 Ume spots
 Plum blossom season is short: don't miss out
・Tokyo's top vegetarian eats
 Find delicious dishes without the meat

Translated by E. Kavanagh