Walt Disney Pictures and Pixar Animation Studios have created a long list of heart warming and highly entertaining animated films – films such as 'WALL-E' and 'Up' . Their Toy Story series, with its adorable characters and heart-warming stories, is a Pixar Animation Studios production that needs no further introduction. In Toy Story 3, the adventure continues when Woody and the gang are finally forced to face a reality in which their owner, Andy, is all grown up.

Woody, the pull-string cowboy doll, is Andy's favourite toy; however, that's all in the past now, because Andy is moving out and going to college. Intending to store the toys in the attic Andy packs them into a box; however, thinking Andy no longer wants them, his mum mistakenly puts the box out on the curb and the toys end up being taken to a children's day-care centre. Woody tries to convince the others that there's no way Andy would intentionally throw them out, however his words fall on deaf ears. Excited to be in a place where they'll once again be played with, everyone except Woody thinks they're in a retirement Shangri-la; however, when it turns out that the children are all destructive little terrors, the toys realize they've made a mistake. Having already left the others to return to Andy, Woody inadvertently learns the about the gang's predicament and is forced to choose between returning to Andy alone or attempting to rescue his friends…

Toy Story 3 makes use of the latest 3D technology to bring Woody and the others to life like never before. However, in order to fulfil their goal of creating a movie that would surpass the previous two in the series, Pixar faced a number of unique challenges. For example, when the team initially began work on Toy Story 3 they found that the gap in CG animation technology had grown so big since their previous Toy Story production that they were unable to edit the character files they'd previously created – forcing them to recreate everything from scratch. However, despite such initial setbacks, the final product is a masterpiece that not only blends seamlessly into the style of the series but also manages to push both 3D technology and CG animation techniques to infinity and beyond.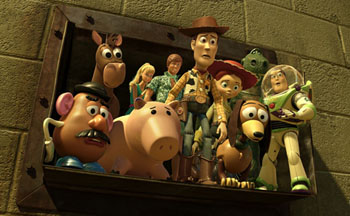 Toy Story 3
USA, 2010
Opened: July 10
Director: Lee Unkrich
Cast: Tom Hanks, Tim Allen, Joan Cusack, Michael Keaton
Distributor: Walt Disney Studio Motion Pictures Japan
Website: www.disney.co.jp/toystory/

The Bounty Hunter
In a strange twist of fate, a heavily in debt husband is offered the chance to make a quick buck by working as a bounty hunter to bring in his ex-wife and send her off to prison – the result of which is a slapstick battle between them.

USA, 2010
Opened: July 10
Director: Andy Tennant
Cast: Jennifer Aniston, Gerard Butler
Distributor: Sony Pictures Entertainment
Website: www.bountyhunter.jp/

Hisshiken Torisashi
A period drama based on the one of the most famous novels in the 'Kakushiken' series by Shuhei Fujisawa. Directed by Hideyuki Hirayama (Shaberedomo Shaberedomo 2007).

Japan, 2010
Opened: July 10
Director: Hideyuki Hirayama
Cast: Etsushi Toyokawa, Chizuru Ikewaki, Koji Kikkawa, Naho Toda, Jun Murakami, Fumiyo Kohinata, Ittoku Kishibe
Distributor: Toei
Website: www.torisashi.com/

Let the Right One In
A prepubescent romantic horror film based on the best-selling book of the same name by on the book by John Ajvide Lindqvist, a writer who is often referred to as Sweden's Stephen King. The story revolves around an isolated young boy falls in love with a peculiar young girl with a dark and dangerous secret.

Sweden, 2008
Japanese title: Boku no Eri, 200 Sai no Shoujo
Opened: July 10
Director: Tomas Alfredson
Cast: Kåre Hedebrant, Lena Leandersson
Distributor: Showgate
Website: www.bokueli.com/

Predators
A sequel to the original 1987 'Predator' movie that starred Arnold Schwarzenegger, 'Predators' is a science fiction movie in which a group of elite warriors who are mysteriously transported to a different planet – that turns out to be a game reserve for a lethal alien race who hunt humans for sport.

USA, 2010
Opened: July 2010
Director: Nimród Antal
Cast: Adrien Brody, Topher Grace, Alice Braga, Laurence Fishburne
Distributor: 20th Century Fox Pictures
Website: movies.foxjapan.com/predators/

Translated by Brin Wilson