Ramen is hardly the lightest type of grub out there, but some Tokyoites still seem to feel like Japan's favourite noodle dish needs more meat around the bones. This line of thinking has been enthusiastically taken up by many of the capital's ramen artisans, who continuously strive to come up with beefier and beefier combinations intended to satisfy our carnivorous cravings. We let our ramen hunters loose on a mission to find the best of these creations, and this is what they came back with: an authoritative top 15 of Tokyo ramen shops where meat's on the menu, all day and every day.


Pork ribs in Kameari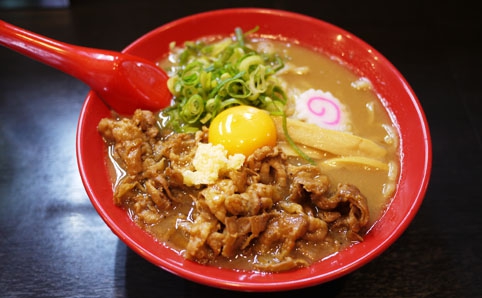 The residents of Kameari are blessed to have this shop, known as the birthplace of 'Japan's best rice-compatible ramen'. Their signature dish, the pork and egg soba, is amply topped with stir-fried ribs and comes with a free serving of rice, which is best enjoyed mixed into the luxuriously thick and greasy soup. Mix up the egg for a milder taste – there simply is no getting enough of this one.
Otodo Kameari: 'Nikutama soba' – Read more

Duck in Akasaka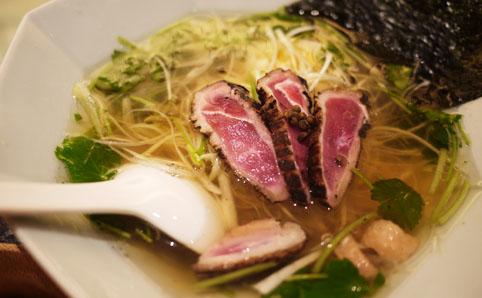 Founded in Aichi in 1981, Taketei specialises in duck shabu-shabu, a true rarity in Tokyo. This Akasaka eatery is their only Tokyo location and remains popular among carnivores in the know looking for some variety. The shop opens from 6pm on weekdays, but it's only during lunchtime on Tuesdays and Thursdays when customers can try the duck ramen, another well-loved dish that's topped with delicious grilled bird slices and crispy veg like cabbage and leek. Slightly overpriced, yes, but still very much worth a shot.
Kamoshabu Taketei: 'Kamo ramen' – Read more

Beef tendon in Ayase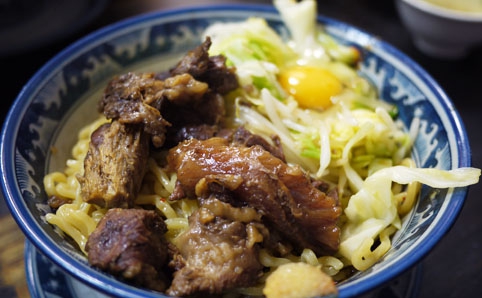 If you ever find yourself hungry in Ayase, this is the place to go: filling up quickly on most days, Nakayoshi attracts patrons with its signature beef tendon ramen, customisable at order (hot/cold noodles, added garlic, extra noodles and so on) and including everything from eye-poppingly thick noodles and veggie toppings to a hearty serving of soft-boiled beef. The sweet and spicy soup goes nicely with the superb meat, while big eaters will do well to order the egg-topped version.
Ramen Shop Nakayoshi: 'Gyu-suji ramen' – Read more

Steak in Jujo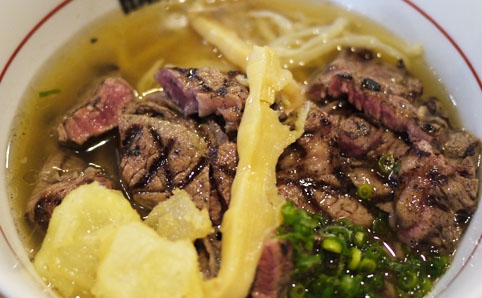 Take a break from the tonkotsu and stop by Jujo for a taste of some quality beef ramen. Coming in shio (salt) and shoyu (soy sauce) soup varieties, the standard bowl can be topped with soft steak slices. The thick soup and soft, chewy noodles come with fried onion and fresh green onion, while the steak simply adds the finishing touch to this masterpiece. Extra garlic and soy sauce are available for those who want to keep their meat away from the noodles and eat the steak standard-style.
Hajime: 'Steak gyu-shio ramen' – Read more

Wings at Daimon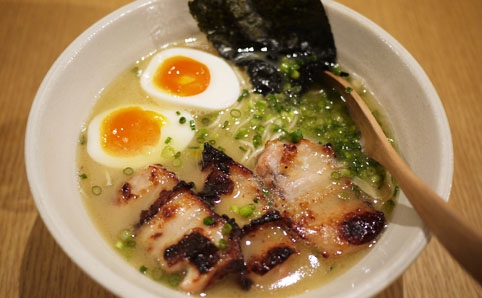 You won't find standard ramen at this curious noodle eatery specialising in additive-free potage-style soup, made with ample veg and chicken. Popular enough for a queue to form outside the shop at lunchtime, Thank's creations combine the flavourful, mild soup with just-right noodles and excellent chashu chicken wings. The soup is available in three forms – thin, medium and thick.
Toripota Ramen Thank: 'Special ramen' – Read more

Shredded pork in Kanda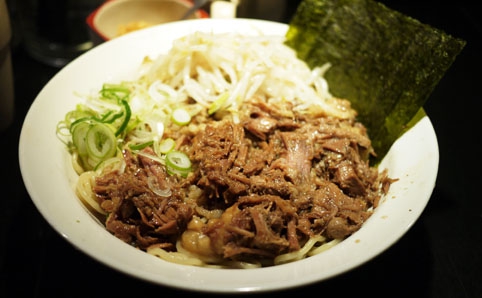 Having moved from Shibuya to Jinbocho and finally to Kanda, Se-Abura Shoyu Noa and its interesting owner are always on the move. The signature dish here is abura-soba, a ramen dish served without soup, liberally topped with shredded pork, and seasoned with a spicy sauce that brings out the best in the thick noodles. Garlic, oil and vinegar can be added at any time, but make sure to mix well after that for best results.
Se-Abura Shoyu Noa: 'Abura-soba' – Read more

Fried chicken in Shinjuku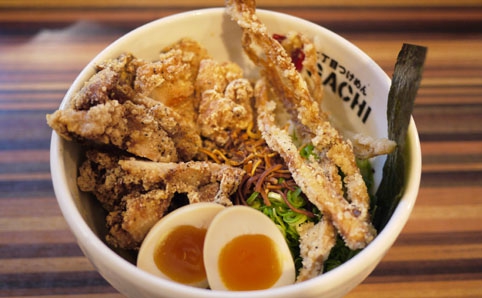 Perched on the northern edge of Shinjuku Ni-chome, Gachi uses nothing but chicken to make its stock, and the thick, rich broth is more akin to potage than what you'd expect at a conventional tsukemen joint. Order the decadent Sio DX version and your noodles come topped with an enormous helping of fried chicken, complemented with ajitama egg, seaweed and a slice of lemon that the staff suggest squeezing over the dish when you're halfway through.
2-Chome Tsukemen Gachi: 'Mazesoba DX' – Read more

'Medicinal' beef at Onarimon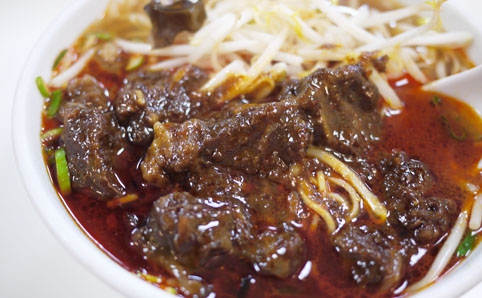 Specialising in Chinese yakuzen (medicinal) cuisine, Mihousai attracts long queues around lunchtime with favourites like spicy mapo dofu, but we were more interested in their mighty beef ramen. This amply seasoned dish just seems to get spicier the longer you work on it – breaking a sweat takes almost no effort. Above all, this is the kind of noodle concoction that gets addictive really quickly.
Mihousai: 'Gyuniku-men' – Read more

Giant karaage at Suidobashi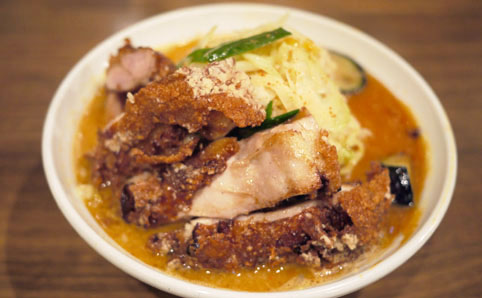 Located under the railway tracks at Suidobashi Station, this long-running shop is anything but stingy with the spice. Their best dish just might be the Ankake DX, a bulky bowl of noodles topped with a sizeable piece of juicy, soy sauce-flavoured karaage chicken that goes nicely with the pork- and soy-based soup. True spice fiends might want to use the chilli powder provided at every table.
Hyouri: 'Ankake DX' – Read more

Thick pork slices in Shinjuku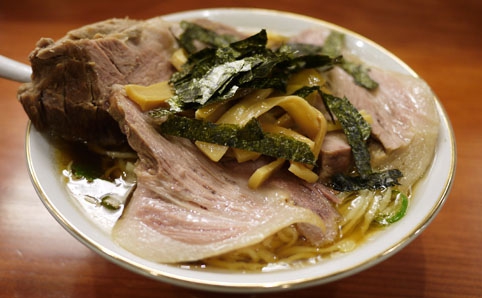 One of Shinjuku's classic ramen joints, Manrai serves up its famous soy sauce-based chashu ramen, topped with thick pork slices, to hungry customers that often queue up in front of the shop well before it opens. The price might be higher than the area standard, but you'll get value for your yen – the three pieces of sweet pork cover a tasty shoyu soup mixed with an ample serving of soft, savoury noodles.
Manrai: 'Chashu ramen' – Read more

Chicken tempura in Ojima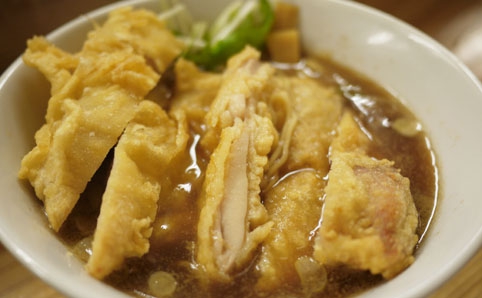 Mixing the traditions of standard Japanese soba with those of chuka soba, the kind of ramen that's also (somewhat confusingly) referred to as soba, Rinsuzu soaks its creations in a soup that's a combination of soy sauce, dashi stock, chicken, seaweed and dried shiitake mushrooms. Try their lemon-topped version, and don't forget to order the chicken tempura on the side – this 'topping' is almost a small meal in itself.
Rinsuzu Shokudo: 'Toriten ramen' – Read more

Miso pork and ribs in Akasaka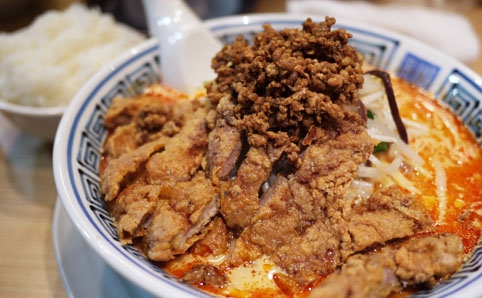 Chinese restaurant chain Kisurin stands out from the crowd by offering different menus at every branch, be it in Aoyama, Asagaya or the resort town of Karuizawa. This Akasaka shop is no different, as it's the only Kisurin location dedicated to tantanmen, the spicy noodle dish so popular in Japan. Their tantan consists of a creamy, sesame-flavoured soup, semi-thick noodles, a hearty helping of moyashi sprouts and sweet miso pork, while the final touch is applied with soft pork ribs. Every noodle bowl here comes with the option of rice on the side – a boon for soup-lovers.
Kisurin Akasaka: 'Po-ko tantanmen' – Read more

Roast beef in Kita-Senju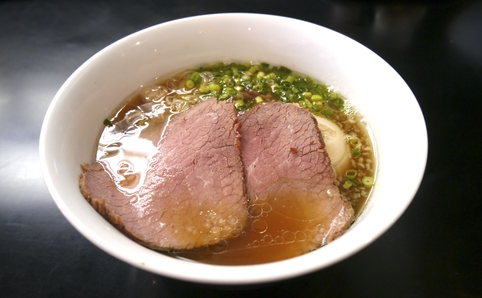 Winning the hearts and minds of Kita-Senju residents with a perfectly oily, beef tendon-based soup, Matador also attracts visiting carnivores with its ramen, topped with thick slices of grilled beef. The thin noodles combine nicely with the slightly creamy soup for an experience that leaves competitors in the dust, while the roast beef-like meat wouldn't be out of its league in a much finer dining establishment than this.
Gyukotsu Ramen Matador: 'Zeitaku yakigyu ramen' – Read more

Pork cutlet in Daikanyama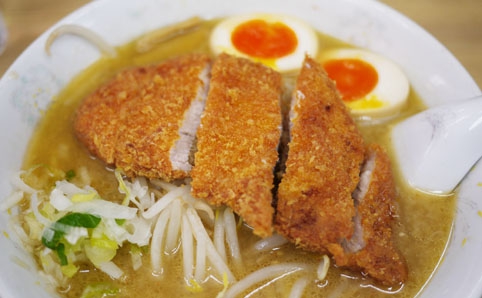 Located right in between Ebisu and Daikanyama, this old-style shop is only open for a couple hours during lunchtime every day, leading to never-ending queues and strayed nerves. Once you get in, however, all that will be forgotten as you get a taste of the mild, miso-flavoured soup and freshly fried tonkatsu cutlet. This is a big eater's dream, and the ample veg ensures that you won't even feel too puffy afterward.
Ramen Yamada: 'Tonkatsu ramen' – Read more

Chicken legs in Akihabara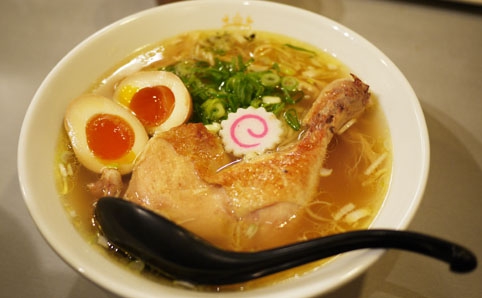 This Tokyo chain has expanded as far as Singapore but remains innovative on its home turf as well. Serving different styles of ramen at each shop, Keisuke has put a lot of effort into its Akihabara location, which is exclusively chicken-focused. Bird-based ramen and soba are the main attractions, both of which come topped with a roasted chicken leg. Add some spice for extra kick and take in the flavours of the umami-heavy soup, medium-thick noodles and aromatic meat.
Torio Keisuke: 'Tori-soba ajitama-iri' – Read more

By Time Out Tokyo Editors