In a remarkable twist, the culinary scene in Tokyo has undergone a significant turn toward healthy, vegetarian options in recent years, with trends like raw food and macrobiotic cuisine making inroads. On the other hand, dessert crazes, most notably the pancake boom, have captured the imaginations of city foodies and crowded out many traditional favourites. Nevertheless, Tokyo remains a heaven for us carnivores as well, and the booming yakiniku (grilled meat) sector is proof of this. Produced in collaboration with an experienced 'meat master' – an expert in both hunting and eating – this list of top ten barbecue restaurants has all the info you'll need for a luxuriously meaty night out with family or friends.
Yakiniku Jambo (Shinozaki)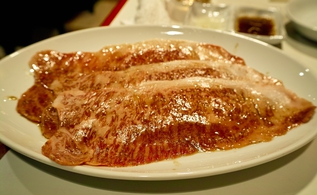 Budget per person: ¥6,000–¥8,000

Serious fans of grilled meat flock to this hidden gem, located in a quiet Edogawa residential area and loved by both local residents and visitors from all over the city. Start your meat marathon with some loin (roosu in Japanese), a soft and slightly sweet variety best enjoyed rare, before setting your sights on the nohara-yaki, a luxurious sirloin slice that comes with a hefty price tag (¥1,500) but lives up to expectations. For best results, let the staff grill this one for you.
Sutamina-en (Shikahama)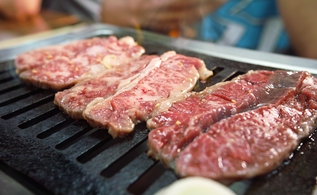 Budget per person: ¥6,000–¥10,000

There are those who insist that this is the best restaurant of its kind in Tokyo. Although located in an area that's relatively inconvenient to get to (a good three or four kilometres walk from JR Akabane Station), queues form outside this incredibly popular eatery, ranked as a number one restaurant in the first Japanese Zagat Survey, on a daily basis – even before they open. Start with the sesame- and vinegar-flavoured salad appetiser before moving on to a set with eight kinds of fresh, quality offal. The harami (tender diaphragm-area meat) and karubi (short ribs) are also excellent.
Shichirin (Minowa)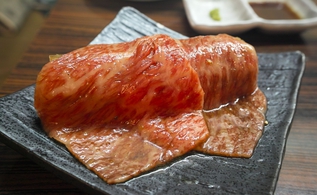 Budget per person: ¥8,000–¥12,000

You've sampled the standard steaks and and offal, and are looking to climb the carnivore ladder. There's no better place to begin your quest than this Minowa eatery, which always stocks finest-quality kuroge-wagyu beef. Book in advance if you want to sample their famed beef tongue (¥1,500), a truly luxurious treat. The seven-course daily special (¥5,500-¥7,000), composed only of A5-grade product, is great value.
Yakiniku Shimizu (Fudomae)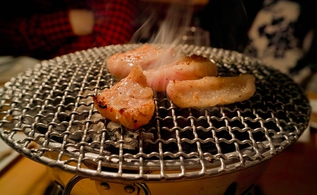 Budget per person: ¥5,000–¥7,000

In the Meguro-Gotanda area and hungry for meat? No worries – this carnivore heaven is just a quick walk away. Their spicy appetisers prepare you for their masterpiece, the kuroge-wagyu beef tongue (¥900/slice), a rare, gently elastic delicacy that everyone should sample at least once. Penny-pinchers might want to choose the five-course set (¥2,200), a combination of rare delights soaked in slightly sweet barbecue-style sauce. We'll even let you in on a secret: it's not on the menu, but staff will serve beef sweetbread if asked.
Nikunchu (Shimokitazawa)
Budget per person: ¥3,000–¥4,000

Hidden away on a quiet Shimokita back street, this small but sturdy eatery provides great value for adventurous carnivores. First-timers should start with the tenderloin, a slightly sweet and appropriately soft delicacy, while the truly courageous can go for the 'Kori Kori Mix', a set special consisting of beef ear, throat cartilage, aorta and uterus (!). Make sure to also check out the chef's daily recommendations for a variety of affordable offal treats, best enjoyed in combination with fresh moyashi sprouts.
Hontosaya (Asakusa)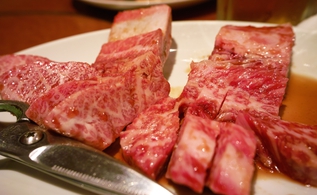 Budget per person: ¥6,000–¥8,000

This Asakusa representative boasts a long history and some out-of-this-world karubi (short ribs). Go with a group of four to six and try every variety – they've got five kinds of these flavourful wagyu treats. Combine with crunchy rumen (mino) and a kimchi appetiser for a fun contrast of textures, and finish your meal with sweet shaved ice. Finally, do remember to not wear your best – the smoke from the grills tends to stick in this less than perfectly ventilated space.
Manten (Yoyogi)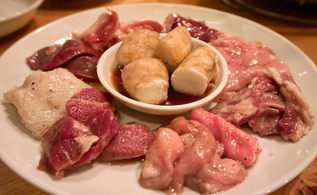 Budget per person: ¥4,000–¥5,000

Spacious and stylish aren't the adjectives you'd usually associate with a yakiniku joint, but Manten proves that exceptions do exist. They serve around 40 different kinds of fresh offal, so first-timers might want to go straight for the signature course (¥3,500), which includes an appetiser, salad, offal, 11 meat samples, an anchovy nigiri, and dessert. The friendly staff will fill you in on all the finer details of grilling, flavours and textures.
Oyaji no Ototo (Akasaka)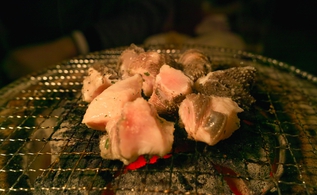 Budget per person: ¥7,000–¥9,000

The name of this place means 'Dad's Brother', which makes sense when considering that the shop is an offshoot of the original Oyaji ('Dad') in Aoyama-itchome. The speciality here is offal – try the beef omasum (a stomach component) or pork aorta (korikori) for a unique experience, or go for the flavoured small intestine as a safe choice. We're also happy to report that the ventilation here is top-grade.
Yakiniku Shuka Denden (Tsukishima)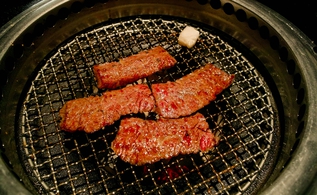 Budget per person: ¥7,000–¥10,000

Tsukishima is known as 'monja town', but carnivores are more likely to hide out at this hip yakiniku joint than try their luck with Tokyo's slimy soul food. You'll understand why after biting into Denden's abushin, which is the fatty part around a cow's heart. The combination of pure, red muscle and flavourful fat is interesting to say the least, and goes nicely with other offal like large intestine or perfectly cut harami (tender diaphragm-area meat). Do remember to end your meal with a healthy serving of savoury vegetable soup.
Tora no Ana (Ebisu)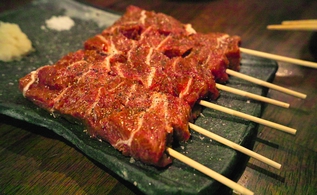 Budget per person: ¥10,000–¥12,000

Unless you're planning to poison your colleagues with the strongest garlic breath in Tokyo, do make sure you have a day off after visiting this restaurant, located right in between Ebisu and Hiroo. Start things off with an appetiser of fiery and pungent kimchi, continue with komekami, an elastic and heavily seasoned dish that contains beef temple (head, not religious building), and finish up with a bowl of rice topped with harami and sprayed with 'special sauce'. Simply irresistible.
Text and photos by Kouichi Kuroki