Be it ramen, gyoza (Chinese dumplings) or desserts, lots of shops in Tokyo choose to zone in with laser-like intensity on just one particular category of food. Upping the game, anywhere that goes one step further by offering a range of well-known flavours from different parts of the country is practically guaranteed to attract a fair amount of attention upon opening.

One shop that's done just that is the freshly opened Curry Udon Kakushin Lab (kakushin meaning 'innovation'), which opened in Ginza on June 2 this year – a year that marks a one-hundred-year milestone since the spread of curry udon throughout Japan. Established by the Curry Udon 100 Year Kakushin Project, an organization aiming to promote and further the development of curry udon, the Curry Udon Kakushin Lab, which is open for a limited time only, specializes in bringing together contributions from both Japan's udon and curry industries to create a menu boasting a range of innovative new curry udon stylings.

In addition to the Curry Udon Kakushin Lab, and right in step with the idea of promoting this unique cuisine, listed below is our selection of restaurants in Tokyo that specialise in curry udon – a dish that began life as merely a secondary dish offered by restaurants specializing in soba, udon or curry.

At the forefront of curry udon: Curry Udon Kakushin Lab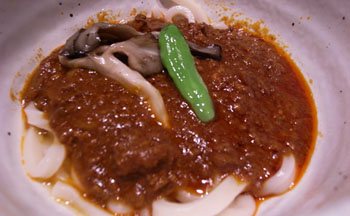 Yukian 'Keema Curry Udon' ¥900
Curry Udon Kakushin Lab takes the world of curry udon into new realms by gathering together a wealth of new and innovative curry udon flavours. Located in the basement of Ginza Velvia Kan, the shop consists of two 'halves', the 'Yukian' and 'Kakushinan', which each offer a different take on curry udon. Additionally, they also sell pre-packaged udon and curry, and plan to hold both cookery classes and meetings for the presentation of research papers.

'Yukian' offer curry udon created via a collaboration between the renowned Mizusawa udon restaurant Osawaya and Tokyo's Delhi Indian restaurant. Their 'Keema Curry Udon' is put together from a keema curry served on top of Mizusawa udon. Due to the thickness of the keema, the noodles remain separate from the curry (in much the same way as the curry remains separate from the noodles in a plate of Chinese za jiang mein), offering a chance to appreciate both the keema curry and the elasticity of the smooth Mizusawa udon (reputed to be one of Japan's top three varieties of udon) that go together to create this unique dish.

'Kakushinan' offer curry udon developed by a variety of different sources, including well-known chefs who specialize in creative cuisine and popular restaurants that specialize in udon and ramen from different regions within Japan. For example, one variety of curry udon on offer here is a special 'Italian Curry Udon', made with a curry-like bolognese sauce devised by popular creative-chef Koji Aida (nicknamed Kou-chan in Japan). Also on offer here is a variety named 'Reisei Curry Udon'. Devised by the popular sanuki udon restaurant Udonya Goemon in the city of Takamatsu, Kagawa prefecture, this simple but innovative Japanese-style curry udon consists of udon and curry laced with a jellied bonito-based stock that melts in the mouth and, as implied by the reisei in its name, comes served cold – topped with mizuna (potherb mustard) and cucumber.
Curry Udon Kakushin Lab
Date: Until Sun June 27
Address: Ginza Velvia Bldg B1F, 2-4-6 Ginza, Chuo, Tokyo
Time: daily 11.30am-9pm
Website: www.midcity.jp/velviakan/

For zosui (rice soup) style curry udon: Curry Udon Senkichi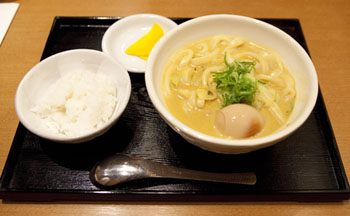 Photo: Kaoru Aoki
Part of a chain with as many as thirteen branches located mainly within Tokyo, approximately forty percent of the clientele who eat here are female. They use a mild tasting curry made by adding milk to a Japanese-style bonito-based stock. Curry udon here comes with a serving of rice so that, towards the end of their meal, customers can mix things up a little by adding rice to the curry left in their bowl, creating a kind of zosui (Japanese rice soup) style concoction. Additionally, Senkichi are also contributors to the Curry Udon Kakushin Lab, offering innovative curry udon concoctions such as 'Reisei Curry Udon Salad' and 'Yasai Tappuri Shio Chanpon Curry Udon'.

Curry Udon Senkichi, Omotesando branch
Address: 5-6-25 Aoyama, Minato, Tokyo
Telephone: (03)3400 4920
Open: daily 11-3am
Website: www.yoshinoya.com/senkichi/

For ebiten (prawn tempura) curry udon: Konaya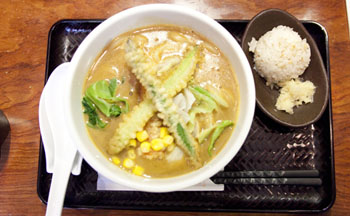 Photo: Kaoru Aoki
A chain of restaurants specialising in curry udon, started by a director working in the entertainment industry who became interested in learning to make udon, Konaya have now developed into a chain with as many as eleven branches, located mainly within the city. One of the most popular items here is their 'Ebiten Curry Udon', which consists of curry udon topped with a particularly large ebi tempura (deep fried prawn in batter). At first glance, this particular curry udon, which comes with a variety of different topping options such as a jellied beef collagen (reputed to be especially popular with female customers), might give the impression of being too heavy to eat in one go, however, in much the same way as a child might look forward to tucking into something from a specially prepared children's menu, fans of this particular type of curry udon usually can't wait to tuck in.

Konaya, Sugamo main branch
Address: 3-37-1 Kouganji, Sugamo, Toshima, Tokyo (next to Togenugi Jizouson)
Telephone: (03)3940 6180
Open: daily 11am-8pm (LO 7.30pm)
Website: www.konaya.ne.jp/

All kinds of spicy: Nakagawaya Curry Udon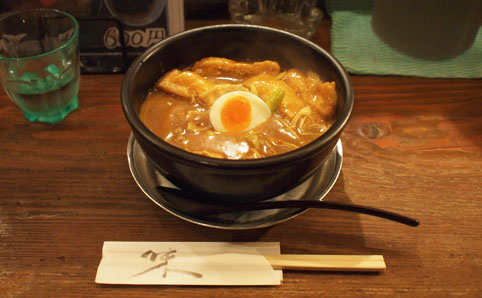 This specialist curry udon restaurant is located just a short walk from Komazawa University and supported in part by the local students. Nakagawaya Curry Udon use as many as six different varieties of curry powder to produce a unique blend to use in their curry udon. Furthermore, by way of adjusting the ratio of curry to stock (made from konbu seaweed, bonito and a secret blend of soy sauce), with which the curry udon is made, the shop can also cater to customers requesting varying degrees of spiciness. A favourite here is curry udon topped with anago conger tempura.

Nakagawaya, Komazawa University branch
Address: Sunny Bldg 1F, 4-4-2 Kamiuma, Setagaya, Tokyo
Telephone: (03)5433 2030
Open: Mon-Fri 11-1am; Sat-Sun, nat. holidays 11.30am-12midnight
Website: www.nakagawa-ya.com/

Topping option overload: Wakashachiya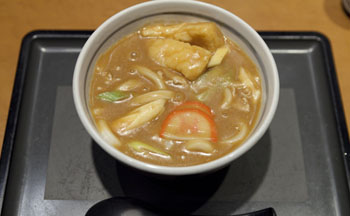 Photo: Kaoru Aoki
Wakashachiya is part of a chain that includes popular udon restaurants such as Kishimen and Miso Nikomi Udon located in Nagoya (a city with a long history of udon-making) and eleven restaurants in Tokyo. Curry udon is one of the most popular items on the menu here. Produced using a bonito-based stock, Wakashachiya's curry udon is both simple and typically Japanese – however, what sets this particular curry udon apart from the crowd is the range of toppings that Wakashachiya offer to accompany it: including rosu-katsu (deep fried pork loin), ika-furai (deep fried squid), age-mochi (deep fried rice cakes), age-nasu (deep fried eggplant), cheese, ebi-furai (deep fried prawn), on-yasai (heated vegetables) and on-tama (soft-boiled egg). Additionally, they also offer a seasonal menu that includes a special 'Spring Curry Udon', which comes with a topping of new potatoes, wieners and butter that gives the curry a milder flavour as it melts in. On top of that, developed in collaboration with the Chunichi Dragons baseball team, Wakashachiya also offer a special 'Doala no Curry Udon' (in honour of Doala, the team's mascot), which comes topped with some of Doala's favourite foods, including baby corn and thinly sliced bread.

Wakashachiya, Shinagawa Seaside Forest branch
Address: Seaside Forest Seaside Park Tower B1F, Shinagawa Seaside Forest, 4-12-4 Higashi-shinagawa, Shinagawa, Tokyo
Telephone: (03)3450 8228
Open: Mon-Fri 11am-4pm, 5-11pm; Sat-Sun, nat. holidays 11am-10pm
Website: www.wakashachiya.co.jp/

The curry udon original: Asamatsuan
Curry udon was invented in Osaka in 1908; however, its initial popularity is said to have been short lived. Two years later, in 1910, the owner of Asamatsuan, a restaurant selling soba in Meguro, reputedly placed curry udon (along with another popular curry dish called curry nanban) on the shop's menu, thereby giving curry udon a fresh start in Tokyo and helping to make it the popular food that we now all know and love.

Asamatsuan
Address: 2-24-12 Kami-meguro, Meguro, Tokyo
Telephone: (03)3712 1807
Open: daily 11.30am-3pm, 5-8.30pm
Translated by Brin Wilson