As the protests in Bangkok subside, The Royal Thai Embassy in Tokyo is set to fête their 11th annual cultural festival in Yoyogi Park Saturday May 15 and Sunday May 16.

This year's 'Eco and Green' theme is relevant to Japan and Thailand; it acknowledges environmental sustainability, and is an alluring reminder of Thailand's resplendent natural resources – resources that in 2009 attracted over 14,150,100 tourists including over one million Japanese to its bucolic mountains and soothing, turquoise shores.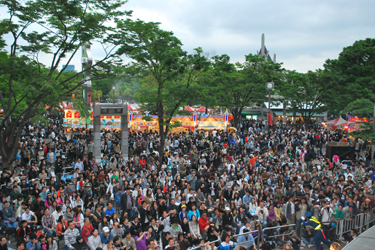 After a week of work, Yoyogi Park in summer is the mecca for Tokyo's mini-cultural escapades. It always seems that most of the city has the same idea to hit up the park, so expect crowds of rush-hour proportions loitering the grounds, and long lines for food, drinks and restrooms. Don't let that deter you, however – at this weekend's Thai Festival 2010, you're likely to run into old friends, recent acquaintances and lots of eye candy. Much like the other Yoyogi Park festivals, this one is a two-day affair; you can either enjoy it in one day, or pace yourself and do it both days without feeling harried.

Shopping Thai style
While you won't have to dodge tuk tuks à la Bangkok's congested Khaosan Road, expect to rub shoulders with a saffron-robed monk or statuesque lady-boy. For a bit of retail therapy, approximately 25 vendors will be selling fashionable Thai T-shirts, traditional fisherman pants (perfect for yoga), boxing shorts and other unique garb that will add ethnic currency to your summer wardrobe. If you like prayer beads, Buddha statues and other unique objets, there will be lots of inspiration for your apartment.

A taste of Thailand
Anyone with a yen for spicy food will find themselves with over 50 food and drink booths ready to fill their bellies with go-to favourites like red and green curry, flavourful pad Thai or mouth-watering tom yung kung soup. If you'd rather not endure a smouldering palate, there are still plenty of options, starting with milder rice-based dishes, vegetable rolls and lighter soups that offer an equally distinct Southeast Asian flavour without being overwhelming. If fresh tropical fruit is your thing, then Thailand is one of the best places for it. At the festival, guests can enjoy succulent mangoes, the prickly and sense-tricking durian, nutrient-packed mangosteen and delectable bananas and coconuts decked out in salads or shakes.

Taking the stage
The Royal Thai festivities won't include a coronation, but you will be part of a unique cultural experience that will include Thai and Japanese performers. From the opening ceremony on Saturday to the final bow on Sunday you can expect to see traditional Thai dances from three groups coming from Thailand: Anongnart, Southern Breeze and dancers from Songkla University. For those who appreciate dance and costume design, make sure to sit in the front rows for a close up of their engaging dance and brilliant costumes, often depicting Thai deities. Japanese performers to appear include groups from Nihon Kogakuin and Ryukyukoko Matsuri Daiko.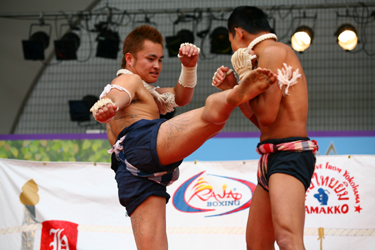 Muay Thai is Thailand's national sport, and will also have special showcases at the festival. The name is derived from Sanskrit and is referred to as 'The Art of Eight Limbs' as it utilizes punches, kicks, elbows and knee strikes, using eight 'limbs' rather than Western boxing's 'two points' (fists). If you've always wanted to learn more about this incredibly popular sport, this is your chance to watch some of the best. Kickboxers from Tokyo-based Hamakko Muay Thai gym and Weerasakreck Muay Thai gym will be kicking it and showing their skills.

Other talents scheduled to strut their stuff include Thai idols like the adorable twins who make up girl-group, Neko Jump, the jazz band Infinity, and solo artists Nan, Lookpad, Palapol and Punch.

Get up close and personal
For information on Thailand's environmental awareness and responsibility initiatives, visit the special exhibition booths. Seven booths representing NPOs and NGOs will be present, alongside a special booth dedicated to a special project for farmers advocated by His Majesty King Bhumibol Adulyadej, and a display model of Chitralada Villa, Dusuit Palace, the royal residence of His Majesty King Bhumibol Adulyadej.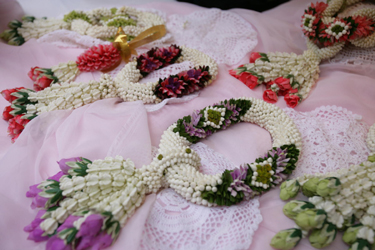 After getting acquainted with some of the cultural offerings at the festival, take the cultural challenge by taking part in a quiz to test your knowledge of Thailand. Other special opportunities include a Thai choreographer who will be on hand teaching various dance moves. You can also learn how to make a special Thai floral garland, and for those looking to get even more romantic you and your special someone can have Thai-style wedding photographs taken for ¥500. Kids can get in on the fun too, with activities like stamp rallies.

Special offers
Thailand is called 'The Land of Smiles', and some very lucky festival-goers will definitely have smiles on their faces: the event organisers plan to give away special souvenirs and even raffle off a trip to Thailand.
In keeping with the environmental theme, eco-awareness and all things green, the first 500 visitors after 1pm on Saturday and Sunday will receive a special souvenir if they show that they use reusable eco-friendly bags or chopsticks. In addition, the first 500 smokers after 3pm on Saturday and Sunday who show that they use their own portable ashtray will also receive a special souvenir. Special souvenir supplies are limited, so make sure to get there in time. Most importantly, on both days of the festival one lucky winner will receive a complimentary round-trip air ticket to visit Thailand. For more information, refer to the festival website or ask at the main information booth.

With thousands of revellers expected to visit the two-day event, it's recommended to bring a blanket or picnic sheet to claim the best spot for checking out the performers – or find a cool spot under a tree away from the crowd works just as well for a bit of relative peace and quiet. Nevertheless, get ready for two pleasure-filled days of cultural satisfaction. This weekend Yoyogi Park's Thai jubilee will undoubtedly impress any king or queen.

Thai Festival 2010
Date: Sat May 15-Sun May 16
Time: 10am-8pm
Location: Yoyogi Park (Full details & map)
Admission: Free
Website: www.thaifestival.jp/

(Photography) Courtesy of the Royal Thai Embassy, Tokyo