If last year's Fuji Rock was one of the best ever – a sun-kissed marvel crowned with a closing headliner by Radiohead – then 2013's was the inevitable comedown. Going into festival season, it had seemed like such a surefire bet: three rock-solid headliners and a support bill that made Summer Sonic's lineup look downright dismal in comparison. But it was the latter that sold out well in advance, while Fuji had to make do with a thinner-than-usual crowd and some of the spirit-sapping weather that the previous year's edition had almost duped us into thinking couldn't happen.
Oh, it pissed down all right: a passing storm even threatened to stop play on Saturday afternoon. The dampness spread to some of the most hotly anticipated performances, too. My Bloody Valentine were a particular downer, their legendary wall of noise sounding utterly feeble as the band laboured through selections from this year's mbv album, some of which they might as well have been playing for the first time. Bjork's Saturday night headliner – one of the few sets of the weekend that everyone actually turned up to watch – was also disappointing. Especially in its Biophilia-centric first half, the performance felt designed for an intimate audience of a few hundred people rather than an arena of thousands, and while some of the newer tracks sounded impressive, it wasn't until the hit-heavy final section that things really ignited. Far from bad, but it felt like an opportunity missed.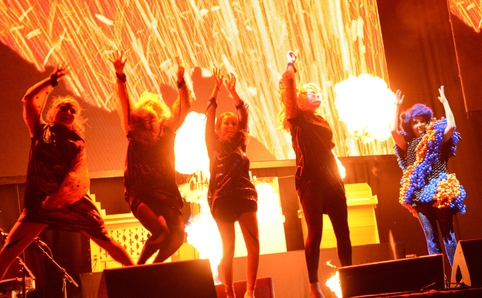 This year's influx of commercial dance acts only occasionally hit the mark: Skrillex's bombastic stage show got the collective thumbs up, but couldn't compensate for the slew of mediocre DJs (Porter Robinson, Baauer, et al.) and numbing spectacles like Feed Me's post-Bjork main stage performance, with high-tech visuals and a soundtrack that might as well have been composed by an EDM-generating computer algorithm. Even critical darling Flying Lotus couldn't resist the race to the bottom, turning in a stunningly lazy set of trap bangers and rap karaoke.
And Fun., those grown-up Glee rejects with their slick, focus-grouped pop, the regurgitated slop of countless Broadway musicals, like Mika without the charm? Fuck those guys.
But enough whinging: there was good stuff too, not least the first public appearance by a reunited, refreshed and very angry Nine Inch Nails. Kicking off in the middle of a thunderous downpour, the group's set was taut and utterly committed, with a constantly shifting backdrop of LED screens that made for the weekend's most imaginatively crafted stage show. The current NIN lineup sounds considerably less rockist than the one that appeared at Summer Sonic in 2009, but when they ditched the synths and samplers to play 'March of the Pigs' and 'Wish', the effect was exhilarating.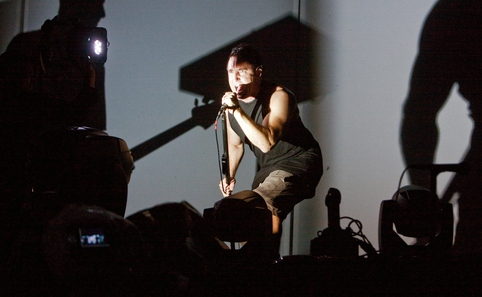 Wilko Johnson was the undisputed hero of the festival, flipping the bird at the Big C in a pair of brisk, boisterous performances. The first, in the intimate Crystal Palace tent, left hundreds of people waiting outside, while his follow-up on the main stage earned a rare mid-afternoon encore. Wilko didn't pause to get maudlin, so I won't: the man's a treasure, and it was a privilege to get to see him one (presumably) last time.
The Cure's lovingly long-winded shows have almost become an in-joke on the festival circuit these days, and their Sunday night slogathon didn't buck the trend. Three hours is a bit too much of a good thing, which might have explained the lacklustre turnout, though as 'Disintegration' rippled out over the diminished throng, it brought with it a sense of grandeur that had been curiously lacking for much of the weekend.
Timetable clashes left punters having to choose between The Cure and The XX, Bjork and Kendrick Lamar, NIN and Skrillex – but longtime Fuji Rock supporter Karl Hyde was given a free pass. The festival's organisers seemed to have cleared the schedule to ensure that there was absolutely nothing else to see when the Underworld frontman took to the Green Stage with his solo project, a glum, Talk Talk-ish art rock composed entirely in different shades of grey. If you'd ever wanted to see what a field full of ennui looked like, here was your chance.

Talking of scheduling, it would've been nice to have caught more than three songs' worth of Haim's set before dashing off to see Savages, if only to determine precisely how much better the latter were in comparison. There was something a little too slick and comfortable about those Fleetwood Mac-lovin' sisters from LA, but the London post-punk quartet were terrific, a spectacular downpour lending added ferocity to an already visceral show.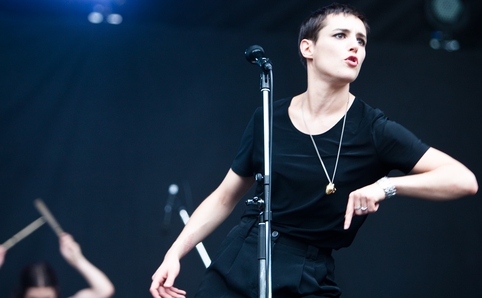 Fuji hasn't expanded its lineup of main stages for years, but the small performance spaces keep multiplying, and supplied some of the weekend's more memorable moments. Tokyo avant hip-hop duo Uhnellys rocked the tiny Naeba Shokudo stage with such conviction that it pretty much wiped away any memory of the nice-enough turn I'd just seen Vampire Weekend do on the Green Stage a few minutes earlier. Ethio-jazz godfather Mulatu Astatke and his troupe of younger musicians oozed class when they took to the Crystal Palace stage on Sunday night. And while it was hard to know what the hell to make of The Autopsy Report of Drowned Shrimp, an art outfit who swarmed across the Rookie A Go-Go stage dressed as enormous prawns from outer space, they couldn't be faulted for chutzpah.
If I had to pick a highlight of the weekend, though (and I haven't had time to mention impressive performances by Gary Clark Jr., Yo La Tengo, Local Natives... I could go on), it would have to be Death Grips. When the assaultive aggro-rap combo played their debut Japan show in January, it was just drummer Zach Hill and MC Ride performing to a backing track. With sound manipulator Andy 'Flatlander' Morin on board this time around, it was clear how much we'd been missing then. Silhouetted against a white LED screen, the trio unleashed a volley of sense-scrambling bass, blast beats and declamatory hollers that was pure sonic adrenaline, and left me feeling about 800% more masculine. Those EDM deadweights couldn't compare.