To get authentic churros – those tasty sticks of sweet, golden goodness – one doesn't automatically think of Tokyo. If you have a hankering for the Latin snack, then Churro Star, specialist in the traditional Spanish fried snack is the destination for you. The newly opened shop, located out the back of Hiroo's main shopping street, was set up by the same team that brought us Bon Sweets & Smile, the café and bar where you can satisfy late night cravings for sweets.

Churro Star makes their churros with 'peace of mind and safety' as their motto. The key to their churros is dough made using their original recipe, blending carefully selected durum semolina, cake and rice flours, and then shaping and frying them using a special churro machine imported directly from Spain.
The result is a crispy and spongy, yet light, churro. Everything – from mixing the flour to the preparation and frying of the dough – is done in-store, so customers can always enjoy the snack freshly cooked. The main items on the menu are the Organic Sugar churro, lightly dusted with organic sugar, and the Cinnamon Sugar churro (¥180 each). There is also a wide variety of churro-based treats on their 'Specialties' menu, including the 'Choco Churro Sundae' (¥380) – where churros are accompanied by rich soft-serve ice cream made with milk (from Iwase Farm in Hokkaido) and covered in chocolate sauce – or the hot chocolate (¥360), made from their own chocolate ganache dissolved in milk.

Store's owner Ryohei Nagata has said, 'In Spain, the birthplace of churros, they have become a part of everyday life. They're eaten at breakfast, for a snack during the day, or even late at night – any time really. The freshly fried plain type is most popular there, and people dunk them in coffee or hot chocolate. However, we also make the ones with fillings like chocolate, milk and caramel [¥250 each]. Filling churros with things like chocolate is the South American style of making them, and they are often eaten in places like soccer stadiums. The Spanish type for dipping in a drink is also delicious, but we decided to make the filled type too, when we thought about how easy they are to take away and eat while you are walking.'

In Japan, churros have the reputation of being 'stadium food', eaten at sports games and events, so the idea of a 'churro breakfast' is a refreshing one – and a great way to add a touch of something new to your everyday routine.

Of course, you're going to want something to wash down that crispy treat; drinks that can be enjoyed with the churros include the Churro Star original blend coffee, Wilkinson ginger ale and Sant Aniol sparkling mineral water, from Spain. The rich, fruity taste of Cruzcampo Spanish beer is also a perfect match for the sweet churros.

Churro Star's shop space – based on stylish red and white – is a snug fit that features a long counter where customers can stand, but a bench in the park directly across from the shop is perhaps the best place to relax and enjoy your churros.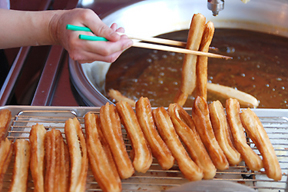 Translated by Virginia Okno