Any superiority that Tokyoites feel over their regional rivals in Osaka was probably amplified at last weekend's Summer Sonic. Though the festival site in Makuhari, Chiba was subjected to short, intense downpours on both days, that was nothing compared to what happened down in Kansai, where a torrential thunderstorm – complete with hail and lightning – succeeded in shutting everything down for a few hours on Saturday afternoon. As if to make matters worse (or better, depending where your musical allegiances lie), acid jazzers Jamiroquai promptly cancelled their performance – albeit due to poor health rather than a concern that the weather gods would attempt to smite them off the stage.

Compared to all of that, Tokyo had it easy. That said, this wasn't one of Summer Sonic's more vintage lineups. Though Saturday night headliners Green Day and Sigur Rós both played at the inaugural festival in 2000, they might not have recognised it as the same event. Pop dominated the lineup this year, from Rihanna and Ke$ha to Korean boy band Infinite and Japanese starlet Kyary Pamyu Pamyu (with an honourable mention to Canadian indie troupe Walk Off The Earth, for their instrument-swappin', ukulele-chuckin', crowd-surfin' set of chart-centric cover versions).

Kyary's well-attended performance on Saturday morning was a quirky spectacle indeed: the diminutive singer was joined by a troupe of slickly rehearsed teenage dancers in skirts (one of whom she later outed as a boy), but her eyes betrayed the nervousness of someone trying to get her own moves right. It was entertaining in a lowest-common-denominator kind of way, though it's hard to see how the singer will pull off her forthcoming Budokan gig in November.

On the evidence of their Sunday night performance, Momoiro Clover Z shouldn't have any problems with their own, gender-segregated Budokan shows in October and November. Drawing a capacity crowd at the indoor Rainbow Stage, the idol unit performed with a wild-eyed enthusiasm that somehow surpassed the energy of the (predominantly male, entirely nerdy) audience. Compared to Perfume's lip-synched routines, there's something disarming about seeing a bunch of popsters attack their stage show with such vigour that they can barely even sing properly (no miming here, thanks); then again, my critical faculties were short-circuited the moment some sweaty dweeb passed me a glow stick.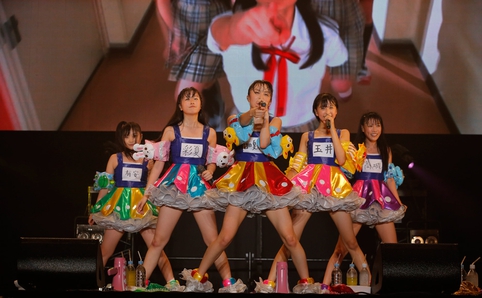 Momoiro Clover. Photo by Hajime Kamiiisaka



The stark contrast between the settings for Summer Sonic and Fuji Rock inspires endless, fruitless debate between proponents of both. Does convenience and air conditioning compensate for sterility? I'm not so sure: even with the best shows I watched over the weekend, the post-gig buzz quickly fizzled on those vast, unyielding fields of concrete. And convenience can breed indifference: I suspect that the ease of getting from one stage to another might have explained why the turnout was so small for some bands, with only a smattering of people turning up to watch overseas visitors like Danish punks Iceage and Korean rockers Jaurim.

You also had to feel sorry for the acts that had flown over to play on the festival's Asian Calling stage, which served both as a showcase for groups from East Asia and an inadvertent commentary on their standing here in Japan. Most were lucky to get a couple of dozen people in the audience, although this didn't stop Jang Kiha & The Faces from being a highlight of the weekend for me. Frontman Jang is one of the coolest dorks I've seen in aeons, and also one of the cheekiest: how often does a band call for their own encore?

At the opposite end of the spectrum, Green Day played their first major show of the year with all the requisite pizazz, airing a clutch of new songs from their forthcoming trilogy of albums, ¡Uno!, ¡Dos! and ¡Tré!. It's striking how much the group have come to resemble the classic rock acts to which they were once seen as an antidote. One of their new numbers resembled early Springsteen, while more familiar staples were stretched out into extended instrumental vamps, during which Billie Joe Armstrong traded calls of 'eh-oh' with the crowd and invited audience members onstage, rather sweetly gifting his bracelet to one of them.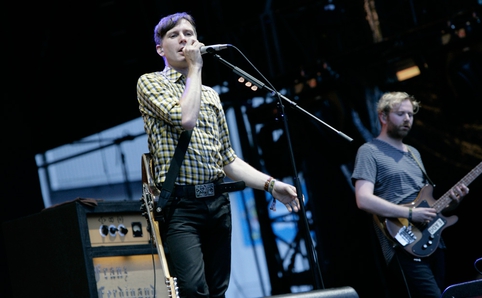 Franz Ferdinand. Photo: © SUMMER SONIC 2012 All Rights Reserved.



It was a punchier spectacle than Franz Ferdinand's show on the same stage just before, though the Scots were also on fine form, slipping only a couple of newbies into a set that was otherwise wall-to-wall hits. Highlights included a discofied version of 'Can't Stop Feeling' that segued into Donna Summer's 'I Feel Love', and a four-man drum onslaught at the end of closing number 'Outsiders' that I could've sworn was influenced by taiko supremos Kodo (correct me if I'm wrong, Mr Kapranos).

Few of the acts this year managed to transcend the banality of their surroundings, but kudos to Sigur Rós for pulling it off. Headlining the indoor Mountain Stage on Saturday night, the Icelandic orchestral rockers made brilliant use of lighting and visuals to create an exquisitely realised dreamworld, marred only by the sound of fireworks and megaphone-wielding attendants outside the building. I'd always found the group a little too dainty on record, but their live show held me rapt throughout – the fierce, climactic rendition of 'Popplagið' being a particular standout.

Ohio indie rockers Other Lives achieved a similar kind of loveliness the following day, but they had to make do with a fraction of the crowd (Makuhari Messe was practically empty when they played, with even the more sober-minded music fans having gone to watch Perfume). They were far from the only act who deserved a bigger audience, either. I'd have loved to see a few thousand people getting down to rapper Azeallia Banks' potty-mouthed party anthems rather than the few hundred who turned up. And it pains me that there weren't more punters to witness the joyous spectacle of Kindness's Sunday morning set, wherein the louche Londoner moonwalked, tossed drumsticks, dropped to his knees at any given opportunity and – most ludicrously – went for a spin on a stage trolley. Even when the band started playing at odds with the backing track coming out of the drummer's laptop, he didn't lose his cool. Ooh, I can feel a man crush coming on.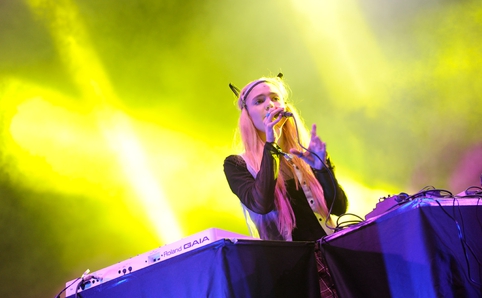 Grimes. Photo: © SUMMER SONIC 2012 All Rights Reserved.



Grimes also managed to triumph over technical glitches, not least when a tech came on stage, fiddled with some cables at her feet and promptly killed the drum track. (Her reaction to this was – how should I phrase this? – adorably cute.) Dedicating her set to Pussy Riot, Claire Boucher performed with just a male accomplice in a panda hat for company, and while she generally sounded fantastic, as a stage show it was slightly lacking. Leave it to SBTRKT to show how it's done: performing in his regular duo with singer/keyboardist Sampha, the beatmaker unleashed an expert blend of live instruments and electronics, made all the more fun by the fact that even familiar tracks like 'Wildfire' seemed to be in a constant state of mutation.

Other highlights: Crystal Castles' Alice Glass getting more intimate with the audience than most people would dare; Ke$ha wrongfooting this cynical critic's expectations by playing a theremin solo (!); Pitbull proving how on-the-ball he is by giving repeated shout-outs to 'Sonicmania' (wrong event, douche); St. Vincent rounding off an intermittently engaging set with a Pop Group cover and some crowd-surfing. Lowlights: New Order, offering conclusive proof that they should've kicked it in when Peter Hook left; Adam Lambert, whose considerable vocal talents didn't stop his stage show from feeling disconcertingly middle-aged; Tribes, dialing it back to 1992 with their frighteningly dull guitar rock; Pitbull, just for being Pitbull.