Tokyo's indie music scene is a lot of things to a lot of people, but ambitious isn't one of them. For the upwardly mobile bands, an indie label is a mere springboard to a major record deal. For the rest, it's a badge of pride that entitles them to play to the same small audiences of friends and fellow musicians every month, without a hope of ever gracing a stage larger than their parents' apartment.
In a world as clique-ridden and inwardly focused as this, Guruguru Mawari is an abomination of the most glorious kind. 'I did some small live house events before, in Shimokitazawa, but I got bored with that,' says Tomoji Takeuchi, the main organiser of the event. 'I'm the kind of person who wants to get attention from people. My friends and I were bored with live houses, so we talked about doing something special. We had to look for a new space, any space that nobody had done before.'
The search would lead them first to a former school in Nishi-Shinjuku, which provided the site for the Haikou Fes gigs in 2008 and 2009. When permission was denied for a third one, Tomoji and pals moved on, and ended up somewhere even more outlandish.
The first Guruguru Mawaru (literally, 'going round and round') festival was held in June last year, at a venue that will be more familiar to footie fans than indie kids. 'I think Saitama Stadium's okay, because it's a really big soccer stadium, and it's famous because it was the opening game for the World Cup,' says Tomoji, grinning. 'But nobody used it for music. "Where are you going to do your next festival?" "It's Saitama Stadium." "Really?" (Laughs) So it's not like Ajinomoto Stadium or Tokyo Dome, because these are used for many events, but nobody used Saitama Stadium for music events.'
When his crew descended on the 63,700-capacity venue in 2010, however, things didn't turn out quite as you might have expected. Rather than use the central pitch, Guruguru Mawaru spread out along the stadium's concourse, with small stages littered throughout the building and a larger one outside that hosted some of the bigger names on the bill, including theatrical jazz ensemble Shibusashirazu Orchestra. One of the undoubted highlights of the day was the 100-Nin Beatles (100-Man Beatles), in which audience members were encouraged to pick up instruments and join in with renditions of popular hits by the Fab Four.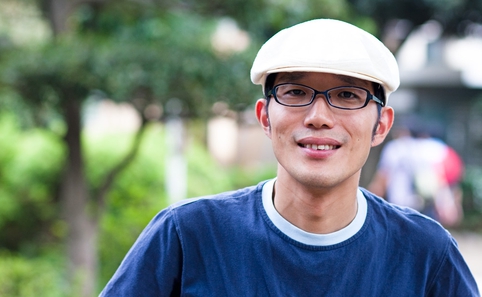 'In audience size, it's one of the smallest festivals in Japan, but it got attention, and people saw the bands who played at the event,' says Tomoji. 'These bands – nobody noticed them when they played in Koenji or Shimokitazawa, but when they played in Guruguru Mawaru, their names were on many websites, and sometimes in magazines. They got an opportunity to make their name [more widely known]. It's not about Tokyo's indie scene, because nobody cares about indie bands outside the indie scene.'
Yet if the first Guruguru Mawaru was considered a success by those involved, the second one very nearly didn't happen. Tomoji lists a few of the grievances that the venue's management had, including noise complaints from neighbours and an unfortunate incident in which one of his staff members passed out drunk in a toilet, then attempted to break out of the locked stadium complex when he came round in the middle of the night.
'I started negotiating with them from February, but they were stubborn,' he says of his tussles with the management. 'So I wrote letters to the governor of Saitama, and he gave me back letters and called the office in Saitama Stadium. Then they changed their attitude.' He laughs again. In the end, it was the rescheduling of a match between Urawa Reds and Kashiwa Antlers that clinched things, freeing up an all-important weekend slot in the stadium's calendar.
When the festival returns on Saturday, it'll be with a few tweaks: they decided not to have the main stage outdoors this time around, and have also ditched the stages on the upper floors of the stadium (not that most people realised they were there anyway). Don't expect to see the same bands, either: curators and the aforementioned 100-Nin Beatles aside, the event has a policy not to book people who played the previous year. 'I don't want to make my festival like Rock in Japan,' Tomoji says. 'It's always the same.'
Regular gig-goers will probably recognise some of the artists appearing this year: indie rock heavyweights Sokabe Keiichi Band, Hoff Dylan and Hideki Kaji are all playing, along with rising stars The Cigavettes and Odotte Bakari no Kuni. But it's the nobodies who Tomoji is most excited about. 'What I really want is to introduce many new bands to fans who never [saw them],' he says. I'f I did it more business style – if I thought about being profitable – I'd just book Shibuya-AX or Akasaka Blitz or Liquidroom and book famous bands like Sokabe or Kaji Hideki or Hoff Dylan. It's more profitable and it's easier. Using a soccer stadium and booking more than 60 bands is a hard job.'
Yet it's a job that, he feels, must be done. He speaks admiringly of offbeat festivals including All Tomorrow's Parties and South By Southwest, even doffing his cap to last year's MtyMx, an indie shindig in Mexico that, by all accounts, was a logistical and financial disaster.
'Doing gigs in Japan is very easy,' he says. 'They just pay the money and book the venue… You don't need any ideas. Did you watch the movie No One Knows About Persian Cats? It's about the indie scene in Tehran. It's really tough to play rock in Tehran, but sometimes they've got a sense that we can never get in Tokyo. For them, just playing rock'n'roll is a really exciting thing.'
For terminally obscure indie bands in Tokyo, however, playing in a world-class stadium might rank a close second.
Guruguru Mawaru 2011, Saitama Stadium 2002, Sept 24