Ever since the days of Flower Travellin' Band and Les Rallizes Dénudes, there's been no shortage of abundantly maned Japanese fellows peddling music of quite brain-altering potency. Bo Ningen, however, must be the only ones who get to sport a 'From UK' tag. The quartet first met each other in London, and since starting the band in 2007 have become a familiar face on the city's live circuit, as apt to play at hipster parties and art galleries as in conventional gig venues. Just don't mistake this lot for a bunch of effete posers: Bo Ningen's live shows meld crushing sonics with a well honed sense of brute theatricality, possibly the result of bassist/vocalist Taigen's passion for pro wrestling.

Time Out sat down with the group's members – Taigen, Yuki (guitar), Kohhei (guitar) and Mon-Chan (drums) – just before the opening gig of their current tour, on a lineup that included psych scene overlord Keiji Haino. The tour wraps up this weekend at Style Band Tokyo 4th Anniversary, where Bo Ningen will appear alongside many of the bands featured on the recently released Style Band Tokyo Compilation vol. 1.

Where did you first meet?
Taigen: We all met in London. Me and Kohhei met at a sort of Japanese music night in London. We were in different bands, and we had a friend in common who introduced us to each other, and we found that our taste in music was quite similar.

What kind of stuff were you listening to at that time?
Taigen: Noise music. Kind of experimental, contemporary stuff.

What's the Japanese community like in London? Is it small enough that most people know each other?
Taigen: Yeah, especially if you do music. We three [Taigen, Kohhei and Yuki] graduated from art university. Creative people are kind of connected.

As a band, when did you start to feel that people were paying attention to what you were doing?
Taigen: I think the first one was Vice magazine. We played their lounge party, in a venue called The Old Blue Last in East London. It was the first time we'd played in East London, in front of real East Londoner types. It's like young, trendy... (Everyone laughs)
Yuki: Partygoers, like fashionistas... Before that, we were completely no-one, I think. We played a lot of places, like empty pubs, normal pubs – not real music venues.

I think that's quite normal for bands starting out in the UK. It seems crazy that they have so many upfront costs for bands in Tokyo.
Taigen: Yeah, so it was kind of good for us. Even though no-one knew us, we could play quite a lot of shows. We didn't have any ticket noruma [quota], that kind of stuff.

Even before I came to Japan, I'd heard of Acid Mothers, Keiji Haino and Boredoms. Do you feel like there's more of an audience for that kind of music in the UK or Europe than there is here?
Taigen: Yeah, totally, totally. I first listened to Keiji Haino in Finland – and [veteran noise artist] Merzbow, as well. There was more chance to encounter that kind of extreme Japanese music in the UK, or outside of Japan. That's quite interesting, because they're not underground here, but they're not as famous as in Europe.

Do you think that helps get people interested in Bo Ningen as well?
Taigen: Yep, I think so.

The first time I saw you, I was surprised by how much of a spectacle it was. Are you conscious about putting on an impressive show?
Taigen: We try to keep it natural. If we were going to do the same actions as we did yesterday or something, it's already kind of fake, so we didn't prepare, like, 'Yeah, we're gonna rock out' or whatever. We haven't really decided.

Do you have any kind of ritual before you go on stage?
Yuki: We sometimes do some silly things, like make a circle, shout some really dirty words. It's not a ritual – just sometimes, it happens.

Since you started the band, have you seen any other bands playing and thought, 'Shit, we need to step up.'
Taigen: When we had our first show in Japan in 2007 or 2008, I was quite surprised by the technical ability of the Japanese bands. Personally, I thought we had to practice a bit more. It's kind of a culture, as well. Here, before you go to play in front of people in a venue, Japanese musicians unconsciously think, 'Oh, I have to play to at least this kind of level.' But in London, you kind of just show what you've got right now, in a pub or whatever. And that's kind of a good thing as well, because playing in front of people is definitely good experience, good practice.

I'm interested in how you develop your songs: the image with heavy psych bands is always of people jamming in the studio, but with Bo Ningen it feels like there's a level of complexity to some of the songs that I guess you must have had to sit down and work out…
Taigen: We normally start with jamming, as you said. We never sit down like this and talk about structure. Because if you do these kind of things – decide everything on paper or whatever – you have to play it in your mind, but in the rehearsal studio you can just try it. If we discuss which is better, it's kind of a waste of time: you should just try both ideas and decide which one is better.
Yuki: He brings a recorder every time, so we always record each rehearsal, and when we get back home we can listen to it, and be like, 'Oh, this part is quite good, this is quite nice, let's put it together…'

Do you ever get the problem when you played something in a jam session and it sounded great, but then you'll find you can't do it again?
Yuki: Yeah, yeah, it always happens. 'How did I make this sound?' All the pedals, all the settings…

For the Style Band Tokyo compilation, did you feel that much connection to the other bands featured, in terms of what you're doing?
Yuki: To me, Bo Ningen is kind of a rare creature. Looking through the compilation – not carefully, but – we kind of stand out. That can be a good and a bad thing, but we're kind of different.

Do you think if they were going to do another Tokyo Flashback [seminal Japanese psych rock series] compilation, you'd stand out then?
(Everyone laughs)
Yuki: Probably… we might be different from that kind of stuff as well. As you said at the beginning, we're essentially a British band, but we're Japanese.
Taigen: I think [we're different] musically, as well, because we don't want to be categorized as one genre. 'Are you guys post-punk? Psychedelic? Metal?' It's quite hard. If you're going to listen to the compilation, it's quite easy to work out: This band is kind of post-punk, this one's indie-influenced…
Yuki: ...new wave-oriented...
Kohhei: It's very easy to, like, point out.

You've been living in London for a while now. Where would you recommend Japanese people to go when they visit?
Taigen: In terms of music, we strongly recommend two venues. One is called Cafe Oto, in Dalston, which brings quite a lot of great Japanese improvisational music, and also local experimental improv music as well. It's run by a British guy and a Japanese lady. The vibes there are amazing, and the audience is pretty amazing too. The other one is called Corsica Studios, which is a great venue. The manager who runs the place organizes great nights: he brings quite a lot of psych bands from everywhere – from the States, from Europe – and the sound is great. Even if you don't know who's going to play at Cafe Oto or Corsica Studios tonight, you can still go and have fun.

One more thing: is it true that you're a pro wrestling fan?
Taigen: Yeah, yeah. When I went back to Japan last time, in February, I went to see it for the first time in five, six years. It was great to see what they're doing. Some people say they're doing kind of fake fighting or something, but the pain they feel is true. And after the match, with all the blood... I saw a real bloody one, the death match sort of stuff, but the wrestlers would talk to the audience after fighting. I was amazed by their… I dunno, their passion about what they're doing, and pride in what they're doing. I feel what most musicians are doing is kind of lazy, especially in the UK. It's like they're not 100% about what they're doing. So, in terms of that, I prefer to watch pro wrestling.

Do you think he's crazy?
Kohhei: Er… yeah.
Yuki: He's the craziest.
Taigen: That's kind of my musical background, as well. Because when I watched pro wrestling when I was a junior high school student, I wasn't into music at all. I just listened to the entry scene music. That's how I listened to Black Sabbath or Metallica – they just use what they like. Maybe that's why I could listen to lots of music, like techno to metal to hardcore. That could be my influence.

Bo Ningen play at Style Band Tokyo 4th Anniversary, Club Asia, August 7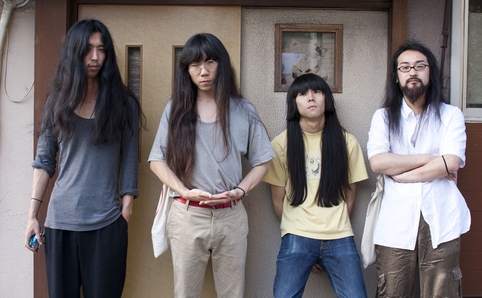 Interview & photos by James Hadfield