'It's an odd one, really, to find oneself doing something thirty-odd years later,' says Graham Lewis, bassist and principal lyricist for British art-rock survivors Wire. 'How would one possibly have thought it could be so?'

First formed in London in 1976, the group are an anomaly in the lexicon of rock, post-punk, or whichever category you attempt to squeeze them into. Guitar bands don't tend to age well: the promising debut album is generally a foretaste for a career marked by bloat, wasted opportunities and ever-diminishing returns. So it's odd to find Wire, in 2011, getting the strongest set of reviews they've seen in decades for their new album, Red Barked Tree. Not only that: they've been touring with a vigour not seen since the late '70s.

'Look at any "classic" band,' says Colin Newman, the group's guitarist and main songwriter. 'Did the Rolling Stones make a record in the last five years? I have no idea. I have no idea whether it was very good, but nobody's going to be saying, "Hey, the Rolling Stones have just done another Beggars Banquet" or something like that… And so the fact that we've been getting lauded in that way, because we've stuck at it, really – I mean, there's been a method in our madness.'

The history of Wire can be divided into a number of phases, each punctuated by lengthy hiatuses where the members devoted themselves to other musical and artistic projects. There was the extraordinary purple patch in the late-'70s, when they released a trio of albums – Pink Flag, Chairs Missing and 154 – that have come to be recognised as classics of the era. Then there was the mid-'80s phase, when the group returned from an extended sabbatical wielding synthesizers, samplers, and a policy not to play their older material in live shows. (Famously, they enlisted a band for their US tour that played Pink Flag in its entirety, leading one reviewer to comment that the support act had better material.) After taking the '90s off, they reemerged on the live circuit in 2000, and released an abrasive album of new material, Send, on their own Pinkflag label three years later.

'The idea was that initially, we would do a few EPs and then we would compile them into albums, and we'd sell a couple of thousand of each EP and then we'd put them onto the album,' says Newman, who's responsible for running the label. '[The first EP] Read & Burn 01 sold 17,000 in the first two weeks, and it was like, "Woah…" That strategy went out the window. You suddenly realized there was an appetite out there already, in 2002, 2003, for new Wire material, and people were excited about it.'

It wasn't like they eased effortlessly back into the limelight, however: the release of Send was followed by what Lewis describes as 'quite a dark period' for the band, leading to the departure of founder member Bruce Gilbert in 2004. 'That was as close as it came to oblivion, I suppose,' Lewis continues. 'I think that was the first time when I actually thought the possibility of being able to work together again… was as small as it ever had been.'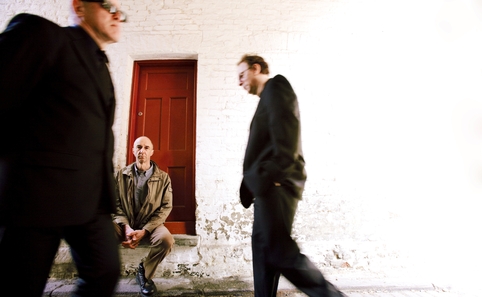 Photo by Adam Scott


They managed it, though: Wire reconvened in 2006 and released a new album, Object 47, two years later. Gilbert's departure wasn't the only change: they also had a stronger focus on touring.

'One of the things I said was that if we're going to do this, we have to think seriously about how much we're going to play live,' says Newman. 'Because it was so obvious from the way the industry was going that the live show had become paramount… I think that we were sometimes brilliant but sometimes rubbish in the '80s, and I think in the '70s we were actually pretty good live sometimes, but we felt that the live show wasn't really that important, it was just to promote the albums. But that's '70s thinking. We're in the second decade of the third millennium: it's all about now, you can't not respond to how the conditions are.'

So much for the assumption that bands only need to hammer the live circuit until they've 'made it': in the first six months of 2011 alone, Wire have already played more shows than in any year since 1978. With a second UK tour due later in the year – and at bigger venues this time, too – they look set to beat even that record. 'The band is in a very, very strong position right now,' says Newman.

The benefits of this relentless gig schedule became clear when the group entered the studio to record Red Barked Tree. While Object 47 and Send were stitched together from individually recorded tracks, the new album found the band returning to a method they hadn't used for decades. Newman wrote the majority of the songs on acoustic guitar, then Wire's three members worked out the arrangements and recorded them together as a group. Amazingly, it took just three days to cut most of the tracks for the album, although Newman would spend nearly six months in post-production.

'I think this new record… and the first three records we made, they all benefitted from that experience of doing road work,' says Lewis. 'Because, particularly if you're working with new material, when you come to the studio then you have a very solid base to work on. And I think that means that you capture a certain energy which is very, very difficult to generate purely in the studio.'

'I was absolutely convinced this was going to be a brilliant process,' says Newman. 'Initially, I did send out some acoustic guitar songs, and Robert said, "It sounds like the '70s" and Graham said, "I hate acoustic guitars." That's classic Wire, really. But as soon as they engaged with the material, it was like everybody owned it.'
Of course, the latest phase of Wire's career comes in the midst of an unprecedented wave of nostalgia. Reissues of classic albums aren't enough any more: now bands are reuniting and playing the same albums in their entirety. The live circuit is glutted with revivals: punters at this year's Fuji Rock can see everyone from Faces to YMO to Big Audio Dynamite, while at Summer Sonic you can catch two of Wire's former contemporaries, Public Image Limited and The Pop Group – bands that were last heard from in 1993 and 1981, respectively.

'There are a lot of groups of, shall we say, a certain vintage who realize that you can play your old records, and people will come and see it and they'll pay you quite a lot of money for it,' says Newman. 'But unfortunately, the problem with the "back from the dead" approach is that it's pretty much a one shot. Basically, people go – to be brutal – because they want to see you before you die, and after they've seen it, what is there left for you to do? If you haven't made a record for 30 years or something like that, nobody's going to like any new records that you make. You've got yourself in a trap. I think Wire have finally managed to successfully avoid that trap.'

That said, when they play at Unit's 7th anniversary party in Daikanyama this weekend, it will be in a slot that was filled last year by ambient Krautrockers Cluster (heyday: 1971-1981), and in 2009 by electric psychedelic outfit Silver Apples (heyday: 1967-1969). Surely that counts as a nostalgia ticket?

'Obviously they're going after the last-man-standing, living legends, aren't they?' says Newman, before recalling a disappointing Cluster gig he saw a couple of years ago. 'But it's not good to just take the easy option, and get out the machines and kind of stand there and be a legend. You've gotta do more than that.'

Wire play at the Unit 7th Anniversary on July 2. Red Barked Tree is out now on P-Vine Records and available for download via Pinkflag.com

You can read transcripts of our interviews with Colin Newman and Graham Lewis here