Two of the world's greatest fast foods have finally been united. On May 20, Japanese fast food chain Lotteria – whose recent culinary atrocities innovations include the nine-patty Evangelion: Q cheeseburger – will be launching what's being billed (inaccurately, we might add) as the first ever ramen burger. They've even got a famous noodle shop to help them out, Shinjuku's Menya Musashi.
Drum roll, please... The Menya Musashi Ramen Burger (¥634) comes as a lightly charred noodle patty, topped with a slice of well-stewed chashu pork and served in a bun smeared with mayonnaise. This unlikely concoction is accompanied by a side order of katsuo (bonito) flavoured soup, and – in keeping with time-honoured ramen traditions – you can get an extra 'kaedama' serving of noodles (well, a noodle patty) for ¥100.

The ramen burger will be on sale until mid-June, by which point savvy consumers should have realised that it isn't all that different from an old convenience store staple, yakisoba pan.

See the Lotteria website for more details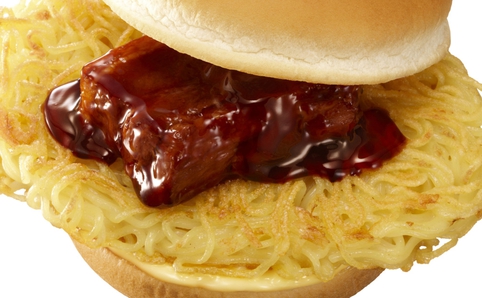 The Menya Musashi Ramen Burger: this spring's most confusing fast food