Renowned Sydney restaurant Bills, reportedly popular with Hollywood stars such as Tom Cruise, Nicole Kidman, Kate Blanchett and Leonardo DiCaprio, is regarded by its fans as making some of the best breakfasts in the world. On March 27, 2010, Bills opened its second restaurant in Japan, at Yokohama's Red Brick Warehouse.

This widely acclaimed restaurant chain began in 1993, when Bill Granger, thinking to share his cooking with a wider audience, opened his first Bills restaurant in Darlinghurst, Syndey. Since then, Granger has gone on to open two more Sydney restaurants and the first Bills restaurant outside of Australia, in Tokyo's Shichigahama – a restaurant which, since opening in 2008, has attracted more than 230,000 customers.

One of the secrets to Granger's success is his simple breakfasts that bring out the very best flavours of their ingredients. Breakfast favourites at Bills include the restaurant's signature scrambled eggs and their ricotta hotcakes with fresh banana and honeycomb butter.

At the Yokohama press preview, which took place before the opening of Bills at the Red Brick Warehouse opening, Granger kindly explained how to make great tasting scrambled eggs. Granger says, 'The trick is to use fresh eggs with plenty of cream in the mix and to use butter for the scrambling. Rather than actually stirring, gently bring the egg mixture from the outer edges of the pan into the centre as it cooks – being really gentle here is key'.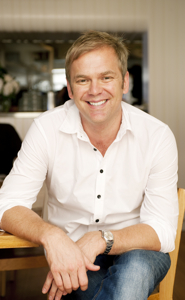 (C)Masahiro Okamura
Granger is also offering a unique addition to the Yokohama restaurant menu, an item described as 'Berry Berry Pancakes with Berry Butter' – a favourite of his daughters' that Granger often makes at home. Also adding a playful twist to the Yokohama restaurant is the colour of the menu, which, in line with the colour of the warehouse in which the restaurant resides, is coloured red.

Another noteworthy feature of Bills in Yokohama is the view of the sea from the restaurant's terrace – a view that, on the right day, can add that little something extra to a breakfast at Bills. The restaurant's 120 seats, 32 of which are out on the terrace, include a private space available that accommodates up to six people.

Decorating an interior wall of the restaurant is a circular blackboard that reads 'Sit back, relax and enjoy the latest addition to the bills family!'– signed, 'Bill Granger'. To sample some of the best breakfasts in the world, take up the offer and pay Bills a visit.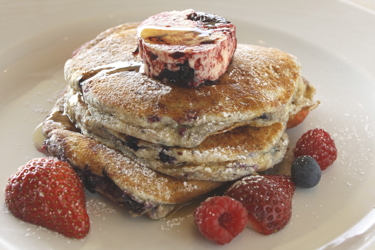 The Red Brick Warehouse generally opens at 11am; however, since Bills is a breakfast spot, the restaurant opens at 9am.

Bills, Yokohama Red Brick Warehouse (Full details & map)
Translated by Brin Wilson