The Annual Keith Haring Special Exhibition is being shown at Heartland, marking fourth year that the Nakamura Keith Haring Collection has co-sponsored this display of Haring's poster art with Heartland.

As 2010 marks the 20th anniversary of Haring's untimely death at the age of 31, they have put even more work into this exhibition in the hopes of making it especially noteworthy. For this year's theme Kazuo Nakamura, the curator of the Nakamura Collection, has selected from the collection that he so carefully assembled over the years – works that Haring collaborated on with other artists in the 80s.

We asked Michio Nakamura, Heartland's creative director, about the significance of hosting a Keith Haring exhibit in Roppongi.

You also have a special connection with Keith Haring, right?
MN: Well it's purely by chance that I have the same last name as the director of the Nakamura Keith Haring Collection. [Laughs]

But back when I was going to school in Hiroshima, I was volunteering for a nuclear disarmament event called Peace Concert. Keith Haring was in charge of the visuals for the event. He came to Hiroshima, and this was around the time that Pop Shop was in Harajuku, and I was in charge of looking after him. This was in 1989, the year before his death, and I actually got to meet him. I was still just a student at the time, though, and here's this incredibly famous person – so I felt like such a poseur.

What I was really interested in was this Peace Concert. What was important to me was spreading the message 'Peace is definitely best'. The problems that Keith was wrestling with were not very important to me at that time, so when the Peace Concert that I had been working so hard on changed into the event Act Against AIDS, I had this feeling of helplessness, and I just took off for Europe for four years. It was while I was travelling that I heard that Keith Haring had died, Freddy Mercury had as well. It wasn't until then that AIDS and its role in Keith Haring's life took on a sense of reality for me.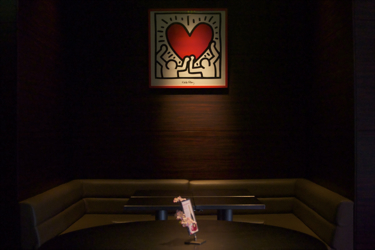 (C) Keith Haring Foundation
What is the special significance of holding a Keith Haring poster exhibition in Roppongi?
MN: The thing about poster exhibitions is that posters are good, t-shirts are good, and even one dollar works of art are good. These works are made by Keith Haring, who started Pop Shop, because he wanted to spread art throughout the world.

I also think that Roppongi works really well with the time and place that these artworks were made – it's not exactly the Tower of Babel, but there are a lot of businesses in Roppongi that have invited this financial crisis upon themselves. The employees of these companies hang out at Heartland, which is decorated with these works of modern art that are like symbols from the bubble period, so it all fits together really well.

All of our customers from abroad have responded really positively as well. It's clear that even in New York you aren't going to be able to find a collection this large all under one roof.

And of course this all comes down to how wonderful all these works that you have access to through the Nakamura Keith Haring Collection are, right?
MN: With that many works all in a private collection, it really is the world's first Keith Haring museum. It really is amazing. I would encourage everyone to visit it.

The museum is this work of modern architecture that harmonizes perfectly with the natural beauty of Yatsugatake. It is connected with the Art Village in Kobuchizawa, with its tennis courts and fields and open-air spa. You can throw a party and make us much noise as you want, so there's this real feeling of liberation. It just has this wonderful atmosphere. It feels like the street art of this artist who was born and raised in New York City has found a place where it can be at peace in Yatsugatake.

It's strange, isn't it, that something from a huge city like New York could fit in so well out in the middle of nature.
MN: Actually, the Jomon culture once flourished in what is now Kobuchizawa. I think that it is really interesting that works of art from a city of immigrants like New York can fit in so peacefully in this land that's overflowing with the energy of an ancient culture.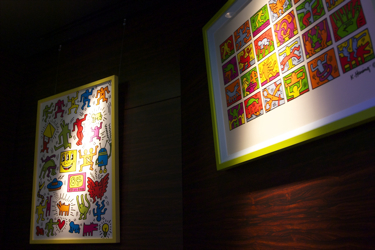 (C) Keith Haring Foundation
Heartland Gallery's 7 Year Anniversary 'Keith Haring Special Exhibition'
Date: Until Tue Apr 27
Location: Heartland

An Exhibit in Honor of Keith Haring, 20 Years After his Death 'Kizuna (Connect) -People, Love & Peace-'
Date: Until Mon Jan 10, 2011
Location: Nakamura Keith Haring Collection (Full details & map)

Translated by E. Kavanagh