When I meet Mondo Okumura (aka Mondo-kun), he's wearing faded denim dungarees over a multi-coloured striped T-shirt and he's playing a game of paper-cup telephone. He's just like any other 10-year-old. Except for the fact that the person on the other side of the paper-cup phone is his publisher, Daisuke Kobayashi of Parco Publishing, and we're meeting at the young artist's first solo exhibition.
This is the first time I've interviewed a child for an article, but, sitting across from this characterful wunderkind, surrounded by his unbelievably detailed and expressive portrait illustrations, there are moments when it feels like I'm talking to an adult in a child's body. Like when he tells me about how he chooses when to add colour accents to his pictures, which are mostly black and white. 'If there's something that I find very characteristic about the person, then I'll colour in that part,' he answers as if he's been answering interview questions for years. The next minute he pulls a face for the camera as our photographer snaps away and he's 10 years old again.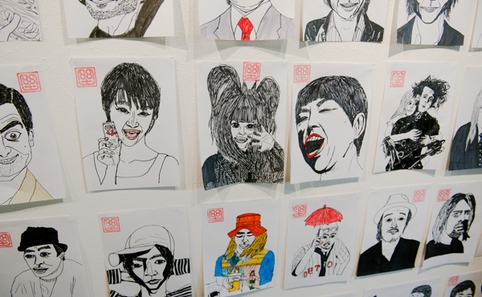 Mondo-kun, who lives in Fukuoka, has been drawing since he was three. He has never taken art lessons and his line-drawing style is completely self-developed. He was inspired to start drawing portraits – especially of world-famous musicians including David Bowie, John Lennon and Bob Marley – by his father's extensive record collection. In April 2013, his musician father, who goes by the name Bogggey, challenged his talented son to draw one portrait every day, selected by Dad, and post it on their father-son blog. Challenge accepted, Mondo-kun has been doing exactly that for over a year and his blog now gets over 40,000 hits per day. It also led to him publishing his book, 'Mondo-kun', and picking up part-time work as cover designer and illustrator for the magazine 'Yoreyore'.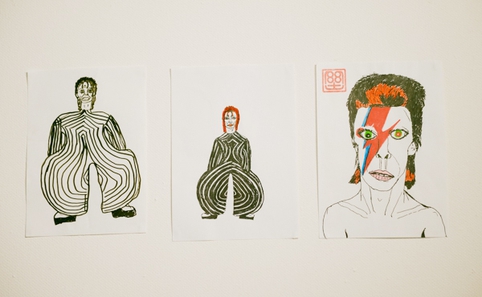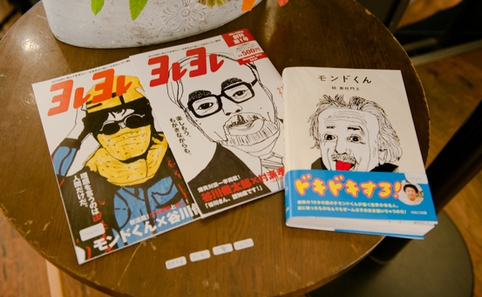 What happens if he misses a day of drawing? He tells me this has only happened once, when he felt 'too sleepy to draw', but he simply made up for it by drawing two pictures the following day. Each picture takes him only about 15 to 20 minutes to complete, with the exception of his drawing of The Beatles's 'Sgt. Pepper's Lonely Hearts Club Band' album cover, which took him a week to finish. The first picture he ever drew was of Japanese avant-pop band Hikashu, and his favourite of all those on display at his exhibition is his Vincent Van Gogh portrait, which he drew on January 7, 2014. The red logo you see in the corner of his pictures was created for him by Japanese artist and musician Makoto Kawabata, who was so impressed by Mondo-kun's work that he offered to design the logo stamp for him for free in exchange for a portrait of himself by the little artist.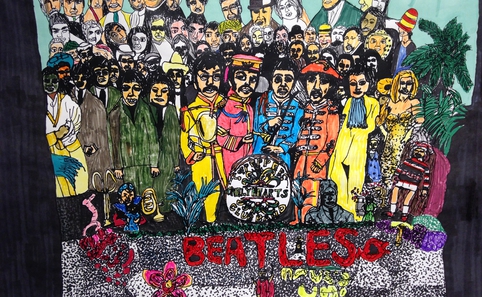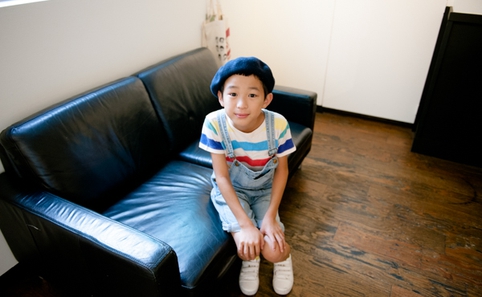 I ask him what kind of pens he uses to draw and he jumps up to fetch his pencil case from his backpack. He unzips it and out spills a humble set of black markers – ¥108 for a set of three, he tells me. Proof that passion and a piece of paper are all you really need to be an artist. Then I ask him what he wants to be when he grows up. 'When I was younger, I wanted to be a sushi chef or a carpenter, but right now I'm enjoying drawing, so I haven't really decided yet,' he says thoughtfully. If you ask me, his future is already paved in black-and-white brilliance.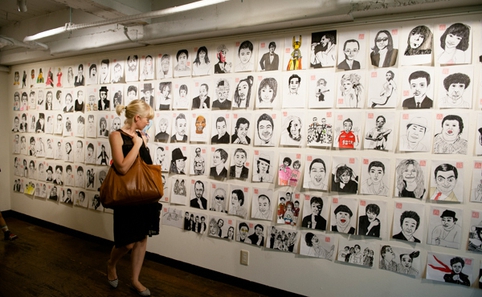 For details of Mondo-kun's exhibition, click here. Copies of his book, 'Mondo-kun' (¥1,600, Parco Publishing), as well as postcards, stickers and tote bags printed with his artwork are all on sale at the gallery.